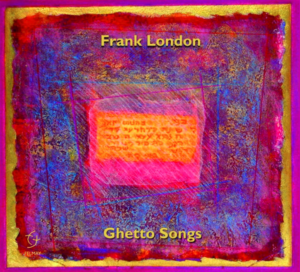 Ghetto Songs is het nieuwe album van de Amerikaanse (klezmer) trompettist Frank London. Een all-round musicus die altijd op zoek is naar crossovers met Joodse muziek.
English version below
Frank London is de oprichter van de legendarische Klezmatics en de The Chassidic New Wave (met de geweldige gitarist David Fiuczynski). Frank London is een avontuurlijk muzikant die voortdurend de randen van de Joodse muziek opzoekt met musici als John Zorn, Mel Torme, Lester Bowie, David Byrne (Talking Heads), gitarist Mark Ribot en de Algerijnse pianist Maurice El Medioni.
Op zijn nieuwe album Ghetto Songs doet hij niets anders. In 2016 bestond het Joodse getto in Venetië 500 jaar. Ter gelegenheid hiervan kreeg Frank London de opdracht om muziek te componeren voor Shakespeare's The Merchant of Venice, waaronder het lied Amore an, waarmee deze CD opent. De uitvoering van The Merchant of Venice beviel zo goed dat men besloot om het getto breder te belichten. Op het album Ghetto Songs is derhalve niet alleen muziek te horen uit het getto van Venetië maar uit de vele getto's in de wereld, waaronder de getto's in Warschau en Krakau in Polen, Marrakesh in Marokko, Harlem in New York, Cape Town in Zuid Afrika en natuurlijk Venetië. Zowel bestaande muziek als nieuw, door Frank London, gecomponeerd werk is te horen op deze CD. Het resultaat is een bonte en gevarieerde mix. Zo is het tweede stuk O dolcezz'amarissime een werk van de Renaissance componist Salomone Rossi. Een Joodse componist die werkte in Venetië. Dit werk wordt prachtig in het Italiaans wordt gezongen door Karim Sulayman en Sveta Kundish. Gevolgd door het Jiddische volksliedje Minutn fun Bitokhn van Mordechai Gebirtig. Zeer fraai is ook Nirdi Natan Rekho uit Marrakesh dat begint met een ûd-intro (Arabische luit), gevolgd door pulserende accordeon en een unisono gezongen melodie. Accordion Jive uit Zuid Afrika heeft weer een heel ander timbre, waarin de repeterende accordeon-akkoorden met opzwepend slagwerk en vervormde gitaar zorgen voor een feestelijk geheel. Het jazz, funk en rhythm and blues lied The World is a Ghetto, waarmee de Amerikaanse groep WAR een hit scoorde begin jaren '70, is warm gearrangeerd en brengt Harlem heel dichtbij. Het album sluit af met een bijna klassieke uitvoering van het liturgisch werk Ma'oz Tzur van de Italiaanse componist Benedetto Marcello. Ghetto Songs is een verrassend en opzienbarend album waar je in 12 stukken niet alleen een wereldreis, maar ook een tijdreis maakt. Het begeleidende boekje vol informatie en de prachtige vormgeving zijn je reisleider en maken het album tijdloos!
Klik hier voor het beluisteren van de CD via

YouTube
English version
Ghetto Songs is the new album by the American klezmer trumpet player Frank London. An all-round musician who is always looking for crossovers with Jewish music.
Frank London is the founder of the legendary Klezmatics and the wonderful band Chassidic New Wave (with the great guitarist David Fiuczynski). Frank London is an adventurous musician who constantly pushes the boundaries of Jewish music with musicians such as John Zorn, Mel Torme, Lester Bowie, David Byrne (Talking Heads), guitarist Mark Ribot and Algerian pianist Maurice El Medioni.
There's no different approach on his new album Ghetto Songs. In 2016, the Jewish ghetto in Venice celebrated its 500th anniversary. On this occasion Frank London was commissioned to compose music for Shakespeare's The Merchant of Venice, including the Amore an, which is the opening song on this CD. The performance of The Merchant of Venice was such a success that it was decided to take a broader view to the ghetto. The album Ghetto Songs therefore features music not only from the ghetto of Venice but from the many ghettos in the world, including the ghettos in Warsaw and Krakow in Poland, Marrakesh in Morocco, Harlem in New York, Cape Town in South Africa and of course Venice. Both old and traditional music but also new work composed by Frank London can be heard on this CD. The result is a colorful and varied wonderful mix. The second piece O dolcezz'amarissime, for example, is a work by the Renaissance musician Salomone Rossi. A Jewish composer who worked in Venice. It is beautifully sung in Italian by Karim Sulayman and Sveta Kundish. Followed by the Yiddish folk song Minutn fun Bitokhn by Mordechai Gebirtig. Very nice is also Nirdi Natan Rekho from Marrakesh, which starts with an ûd intro (Arabic lute), followed by a pulsating accordion and a melody sung in unison. Accordion Jive from South Africa has a completely different timbre, in which the repeating accordion chords with stirring percussion and distorted guitar create a festive piece of music. The jazz, funk and rhythm and blues song The World is a Ghetto with which the American group WAR had a hit in the early 1970s. This song is warmly arranged and brings Harlem very close. The album closes with an almost classical rendition of the liturgical work Ma'oz Tzur, composed by the Italian composer Benedetto Marcello. Ghetto Songs is a surprising and sensational album. In 12 pieces you not only travel around the world, but also through time. The accompanying booklet full of information and the beautiful design are your tour guide and makes the CD timeless!
Click here to 

listen

 to the album on YouTube
Frank London: Ghetto Songs (Felmay)
© Mattie Poels.