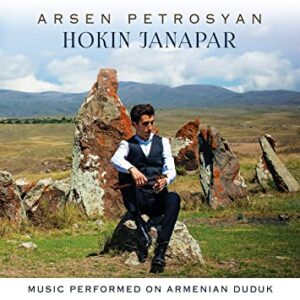 De Armeense musicus Arsen Petrosyan is uitgegroeid tot een van de beste dudukspelers van zijn land. Hokin Janapar is zijn tweede solo-album waarop hij prachtige stukken speelt op dit weergaloze instrument.
English version below
De duduk uit Armenië is wel het meest lyrische instrument dat er bestaat. Met de tedere aanzet, het zachte timbre en de subtiele vibrato raakt dit instrument met gemak de ziel van iedere luisteraar. De duduk lijkt enigszins op de hobo: ook een dubbelriet-instrument, alleen niet gemaakt van ebben- of buks- maar van het zachtere abrikozenhout. De duduk kreeg internationale bekendheid door Jivan Gasparyan die meerdere duduk-versies ontwikkelde en er zelfs een duduk-kwartet mee vormde. Bovendien was hij te horen tijdens de Armeense inzending van het Songfestival in 2010.
De duduk is op dit schitterde album Hokin Janapar (De Reis van mijn Ziel) van Arsen Petrosyan te horen in diverse instrument-combinaties. Zo zijn het openingswerk I Nnjmaned en Mayr Araqsi Aperov solostukken met drone-begeleiding. De drone is een lange, zacht klinkende aangehouden toon die gespeeld wordt op een tweede duduk. Door middel van circular breathing: doorblazen, terwijl je door je neus ademhaalt, klinkt er een milde, voortdurend klinkende duduk-klank op de achtergrond. Het effect is adembenemend. De melodie vleit en krult zich om de drone (de tonica), waardoor er een soort fraaie twee-stemmigheid ontstaat. Het repertoire op Hokin Janapar bestaat uit oud, traditioneel en nieuw werk. Opmerkelijk daarbij is de Komitas medley. Komitas Vardapet was een monnik die jarenlang door Armenië op zoek ging naar traditionele Armeense, Turkse en Georgische melodieën waarvan hij er zo'n 3000 optekende. Hij was zogezegd een etnomusicoloog avant la lettre. Door de Armeense genocide van 1914 is veel van zijn werk verloren gegaan. Nog steeds wordt Komitas gezien als een van de belangrijkste Armeense musici. Op Hokin Janapar staat een gevarieerde Komitas dansmedley met kanun (cembalon), santur (dulcimer) en dhol (vaastrommel)-begeleiding. Ook de combinatie harp, qanun en duduk vinden we terug op dit album en is ongebruikelijk. In de stukken Hin Oreri Ergguh en Alagyaz & Khnki Tsar werkt het erg goed. Een mooi contrast van de tokkelende arpeggio's van de harp, de tremolo's van qanun tegen de lange melodie-noten van de duduk. Adembenemend. Arsen Petrosyan is een bevlogen en voortreffelijk duduk speler met het juiste vibrato, warme klank en verzorgd timbre. Zowel in de snelle dansmelodieën als de gedragen stukken horen we een vakman die met de duduk een uitgelezen muzikaal verhaal vertelt van het prachtige Armenië. Muziek die snijdt recht in het hart van de luisteraar, recht uit het hart van Petrosyan in De Reis door zijn Ziel: Hokin Janapar.
English version
The Armenian musician Arsen Petrosyan has become one of the best duduk players in his country. Recently he released his second solo album Hokin Janapar with beautiful pieces on this unparalleled instrument.
The duduk from Armenia is the most lyrical instrument there is. With its tender attack, soft timbre and subtle vibrato, this instrument easily touches the soul of every listener. The duduk is somewhat like the oboe: also a double reed instrument, just not made of ebony or boxwood but of the softer apricot wood. The duduk gained international fame through Jivan Gasparyan, who developed several duduk versions and even formed a duduk quartet with it. In addition, he could be heard during the Armenian Eurovision Song Contest entry in 2010.
In various instrument combinations the duduk can be heard on this brilliant album Hokin Janapar (The Journey of my Soul) by Arsen Petrosyan. For example, the opening solo pieces I Nnjmaned and Mayr Araqsi Aperov with drone as accompaniment instrument. The drone is a long, soft-sounding sustained tone played on a second duduk. Through circular breathing: blowing through, as you breathe through your nose at the same time. This creates a soft continuous duduk sound in the background. The effect is breathtaking. The melody flatters and curls around the drone (the tonic), creating a kind of beautiful two-part atmosphere. The repertoire on Hokin Janapar consists of old, traditional and new work. Remarkable is the Komitas medley. Komitas Vardapet was a monk who spent years exploring Armenia in search of traditional Armenian, Turkish and Georgian melodies, of which he recorded about 3000. He was an ethnomusicologist avant la lettre. Much of his work was lost due to the Armenian Genocide of 1914. Komitas is still regarded as one of the most important Armenian musicians. Hokin Janapar features a varied Komitas dance medley with kanun (cembalon), santur (dulcimer) and dhol (vase drum) accompaniment. The combination of harp, qanun and duduk is unusual. In the pieces Hin Oreri Erguh and Alagyaz & Khnki Tsar it works very well. A lovely contrast of the plucking arpeggios of the harp, the tremolos of qanun against the long melody notes of the duduk. Magnificent. Arsen Petrosyan is an excellent and inspired duduk player with the right vibrato, warm sound and timbre. In both the fast dance melodies and the slow pieces we hear a craftsman who tells an exquisite musical story of beautiful Armenia with the duduk. Music that cuts straight into the heart of the listener, straight from the heart of Petrosyan in The Journey through his Soul: Hokin Janapar.
Arsen Petrosyan: Hokin Janapar (ARC Music / Music&Words)
Photo ensemble by Lyuda Avagyan.
© Mattie Poels.