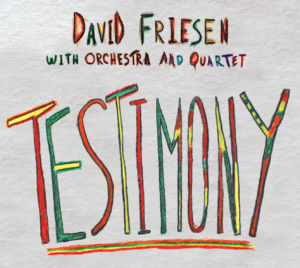 In een prachtig concert horen we jazzbassist en pianist David Friesen uit de Oekraïne samen met zijn kwartet en de National Academic Symphonic Band of Ukraine.
English version below
Op het album Testimony horen we twee concerten die beiden werden opgenomen in de Oekraïne (Kiev) waar de bassist, pianist en arrangeur David Friesen vandaan komt. Friesen is een meester van de thema's: goed in het gehoor liggende melodieën die vertrouwd en werelds klinken. Zijn timing doet denken aan dat van de Zuid-Afrikaanse pianist Abdullah Ibrahim (Dollar Brand). Dezelfde spontaniteit en oprechtheid treffen we aan in zijn muziek met hier en daar een grote knipoog naar de gospel. Zeker in de werken die zijn gearrangeerd voor de National Academic Symphonic Band of Ukraine (N.A.S.B. of Ukraine). Zoals gezegd, er staan twee concerten op Testimony. Het ene concert gaf hij in de herfst van 2019 met zijn kwartet, bestaande uit Friesen op bas en piano, de vibrafonist Eugene Dobrovolskyi, drummer Alex Fantaev en saxofonist Mykole Ryshkov. Het andere concert werd gegeven in 2018, samen met het blaasorkest N.A.S.B. of Ukraine. Het repertoire van beiden concerten is gemixt op het album, waardoor je per track van het ene in het andere concert belandt en daarmee in een andere sfeer. Bijzonder fraai zijn de stukken met de N.A.S.B. of Ukraine, waar het blazers-arrangement zorgt voor een brede, warme klank met gospel-invloeden zoals te horen in Still Waters en Another Time, Another Place of de schitterende waltz My Faith, My Life. David Friesen heeft een fijne lazy timing, zowel in zijn bas- als pianospel. Een wijze van soleren waarin hij de tijd en rust neemt om zijn noten te kiezen en de luisteraar mee te nemen in fraaie muzikale volzinnen. David Friesen speelt op een Hemage bas (ontwikkeld door Hermann Erlacher uit Oostenrijk). Een elektrische contrabas (zonder klankkast) die wordt versterkt met een element. Hierdoor is zijn toonkleur helder en transparant zoals in Make believe. Bijzonder is ook het stuk New Ballad. Een beweeglijk duo-compositie waarin we Friesen op piano en Dobrovolskyi op vibrafoon horen. Het slotstuk Lament for the lost / Procession is een dynamisch werk, waar alles lijkt samen te komen. Ambient sounds, met een ostinaat gespeeld patroon op de vibrafoon, gelardeerd met indrukwekkende blazers, bassolo, en fluit. David Friesen ten voeten uit: herkenbaar, maar toch even anders. Smullen!
English version
In a beautiful concert we hear jazz bassist and pianist David Friesen from the Ukraine together with his quartet and the National Academic Symphonic Band of Ukraine.
On the album Testimony there are two concerts, both recorded in Ukraine (Kiev), where bassist, pianist and arranger David Friesen comes from. Friesen is a master of themes: catchy melodies that sound familiar and worldly. His timing and way of playing is reminiscent of the South African pianist Abdullah Ibrahim (Dollar Brand). We find the same spontaneity and sincerity in his music with a slight touch of gospel. For sure, in the pieces that are arranged for the National Academic Symphonic Band of Ukraine (N.A.S.B. of Ukraine). As said before, there are two concerts on Testimony. One concert was recorded in fall of 2019 with his quartet consisting of Friesen on bass and piano, the vibraphonist Eugene Dobrovolskyi, drummer Alex Fantaev and saxophonist Mykole Ryshkov. The other concert was given in 2018 together with the wind orchestra, the N.A.S.B. of Ukraine. The repertoire of both concerts is mixed on the album, so that you go from one track to another, into another musical atmosphere. Particularly beautiful are the pieces with the N.A.S.B. of Ukraine, where the wind arrangement provides a broad, warm sound with lovely gospel influences, as can be heard in Still Waters and Another Time, Another Place or the beautiful waltz My Faith, My Life. David Friesen has a nice lazy timing, both in his bass and piano playing. A way of soloing in which he takes the time and rest to choose his notes and take the listener along in beautiful musical sentences. David Friesen plays on a Hemage bass (developed by Hermann Erlacher from Austria). An electric double bass (without sound box) that is amplified with an element. This makes his tone color clear and transparent as in Make believe. Also special is the piece New Ballad. A lively duo composition in which we hear Friesen on piano and Dobrovolskyi on vibraphone. The final piece Lament for the lost / Procession is a dynamic work, where everything seems to come together. Ambient sounds with an ostinate pattern played on the vibraphone, laced with impressive wind section, bass solo and flute. This is David Friesen in a nutshell: recognizable, yet slightly different. Great music!
David Friesen: Testimony (Origin Records/Challenge Records)
© Mattie Poels.