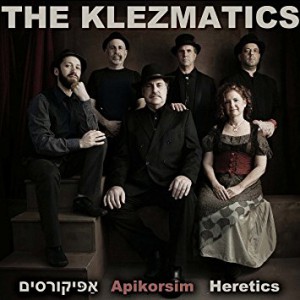 Zo'n 30 jaar geleden werd in New York de band The Klezmatics opgericht die aan het begin stond van de klezmer-rivival. Joodse muziek die van origine gespeeld werd tijdens bruiloften en ceremonies. Nog steeds blinkt dit Amerikaans gezelschap uit in vitaliteit en muzikale souplesse, hoorbaar op hun laatste CD 'Apikorsim (Heretics)'.
English version below
Klezmer is gevoelsmuziek, die, mits goed gespeeld, je gelooft of niet. Al decennia lang zijn The Klezmatics in staat een breed klezmer-geluid te laten horen dat het hele scala bestrijkt van deze beweeglijke muziek. Tegenwoordig bestaat het sextet uit rietblazer Matt Darriau, trompettist Frank London, bassist/cimbalist Paul Morrissett, zanger Lorin Sklamberg, violiste Lisa Gutkin en drummer Richie Barshay. De groep speelt op  'Apikorsim (Heretics)' traditionals en nieuwe composities, opgenomen in Brooklyn 2014, twee jaar later gemastered en uitgebracht op CD in 2016. De muziek is vitaal en wordt verdraaid strak gespeeld en gezongen in het Jiddisch, de Joodse taal van Ashkenazi Joden uit Oost-Europa. Een taal die klinkt als een soort Duits dialect. Tegenwoordig wordt deze taal door zo'n 3 miljoen Joden gesproken over de hele wereld waaronder New York. The Klezmatics heeft een lange staat van dienst die terug te horen is in de gedegen kwaliteit van hun muziek. De arrangementen hebben een doorgewinterde structuur waarbij diverse delen fraai worden ondersteund door blazers, mooie instrument-combinaties, meerstemmige zang (schitterend in 'Ver firt di ale shifn') en de lead vocalen van Lorin Sklamberg, zoals in 'Der yokh'. Zeer vakkundig zijn de Joodse viool-versieringen in 'Di Nakht' dat met cimbaal begeleiding en trage melodie door de ziel snijdt. The Klezmatics tillen de klezmer naar een hoger plan. Onverwachte wendingen, virtuoze improvisaties en innovatieve (jazz)bewerkingen geven de muziek een eigentijds karakter. Bovendien klinkt de muziek zo vanzelfsprekend dat je bijna vergeet met wat voor goede musici we hier te maken hebben. The Klezmatics vieren met 'Apikorsim (Heretics)' hun 30-jarig bestaan, waarmee de groep nog steeds voorop loopt in deze bijzondere Joodse muziektraditie.
Als je van deze muziek houdt check Frank London's Hasidic New Wave.
English version
Some 30 years ago The Klezmatics was founded in New York. They stood at the beginning of the klezmer Revival. Jewish music that was played originally during weddings and ceremonies. Still this American band excels in vitality and musical flexibility, like on their latest album 'Apikorsim (Heretics)' released in 2016.
Klezmer music is kind of musical feeling, you believe it or not. For decades The Klezmatics have been able to have a wide klezmer sound that covers the entire range of these flexible music. Today, the sextet consists of reed player Matt Darriau, trumpeter Frank London, bassist / cymbalist Paul Morrissett, singer Lorin Sklamberg, violinist Lisa Gutkin and drummer Richie Barshay. The group plays traditional songs and new compositions. Their album 'Apikorsim (Heretics)' is recorded in Brooklyn in 2014, two years later mastered and released on CD in 2016. The music is vital, tightly played and sung in Yiddish, the Jewish language of Ashkenazi Jews from Eastern Europe that resembles a kind of German dialect. Today, this language is spoken by some 3 million Jews all over the world including New York. The arrangements on 'Apikorsim (Heretics)' have varied structures in which various parts are beautifully supported by brass, fine instrument combinations, vocal harmonies (resplendent in 'Far firt di ale shifn') and the lead vocals of Lorin Sklamberg, as in 'Der yokh'. Very beautiful are the Jewish violin ornaments in 'Di Nakht' that really moves the soul with great cymbal accompaniment and a fine slow melody. The Klezmatics lift the klezmer to a higher level. Virtuosic parts and innovative (jazz) improvisations give the music a contemporary character. Moreover, the music sounds so natural that you almost forget what good and qualified musicians we have here. The Klezmatics celebrate with 'Apikorsim (Heretics)' their 30th anniversary on which the group still proves to be at the forefront of this wonderful Jewish musical tradition.
If you like this music, also check Frank London's Hasidic New Wave.
The Klezmatics: 'Apikorsim (Heretics)' (World Village/Harmonia Mundi)
© Mattie Poels.