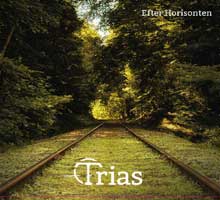 Ook met het nieuwe album 'Efter Horisonten' bewijst het kwartet Trias dat de Deense folk springlevend is en vol zit met innovatieve elementen. De muziek heeft ondanks zijn vrolijk temperament steeds een ietwat meewarig karakter. De groep valt op door zijn dubbele viool-bezetting, aangevuld met contrabas, piano, harmonium en snaarinstrumenten.
English version below
De muziek van Trias is gebaseerd op traditionele Deense folk. Het is weliswaar nieuw gecomponeerd werk maar de traditie vindt met gemak zijn weg binnen deze fraaie melodieuze muziek. Stevige stukken en ballads wisselen elkaar af met als hoogtepunt het openingswerk 'Et nyt Kapitel' van violist Jonas Kongsted. Een ongelooflijk mooi thema dat aanvankelijk wordt gespeeld op mandoline, later aangevuld met viool. De meeste stukken op 'Efter Horisonten' zijn instrumentale liedjes met thema's die klinken alsof je ze al een keer eerder hebt gehoord. Maar het is juist die herkenning die je op het verkeerde been zet, want in elk stuk is wel een wending te ontdekken die de compositie anders laat verlopen dan je verwacht. Zoals de plotselinge tempo-wisselingen, de ostinato mandoline-partij in 'New Daddy' of het ostinato viool-ritme in 'Stam Willum'. Daarnaast maakt de groep veelvuldig gebruik van akkoord-omkeringen waardoor de basnoot niet de grondtoon van het akkoord is. Dat zal velen allemaal een zorg zijn, maar het resulteert wel in een innovatieve en speelse sfeer die ervoor zorgt dat het muzikale hart net even iets sneller gaat kloppen; zeker als gastzangeres Camilla Skjaerbaek twee stukken zingt, houd je graag even je adem in om geen noot te missen. 'Efter Horisonten' is een innovatief folk-album waarop deze vier musici steeds op zoek gaan naar nieuwe folky wegen. De traditie is, zoals gezegd, nooit ver weg en komt in de compositie 'Evindelighedens Polska' zelfs helemaal bovendrijven waarmee de violisten Jonas Kongsted en Søren Østergaars Pedersen bewijzen dat ze de Deense muziektraditie volledig beheersen!
Meer Trias: klik hier.
English version
The new album 'Efter Horisonten' by Trias prove to be one of the finest of today's Danish folk music. Music with a lovely cheerful temperament added with fine slices of melancholic atmosphere. The group is distinguished by its double violin-occupancy, plus double-bass, piano, harmonium and string instruments.
Trias' music is based on traditional Danish folk music. The band plays newly composed pieces with beautiful melodious lines, that fits easily in the Danish tradition. Solid music and ballads alternate with the exciting opening work 'Et nyt Kapitel' written by violinist Jonas Kongsted. An incredibly beautiful theme that is initially played on mandolin, later supplemented by the violin. Most of the pieces on 'Efter Horisonten' are instrumental songs with melodies that sound like you've already heard them before. But it is precisely this recognition that puts you on the wrong track. Lovely are the sudden tempo changes, the ostinato mandolin-lines 'New Daddy' or the violin ostinato rhythm in 'Stam Willum'. Also the use of chord inversions in which the bass note is not the root of the chord. Most of the listeners don't mind about these musical elements, but the results is an innovative and lovely atmosphere that makes your the musical heart just beat a little faster. Even more when vocalist Camilla Skjærbæk starts to sing in two pieces, which really takes your breath away. 'Efter Horisonten' is an innovative folk album on which these four musicians still invent new folk. The tradition, as mentioned, is never far away and in the composition 'Evindelighedens Polska' the violinists Jonas Kongsted and Søren Pedersen Østergaars even prove to be fully masters of the Danish music tradition. Great music!
More Trias: click here (only in Dutch).
Trias: 'Efter Horisonten' (GO'Danish Folk Music / Xango)
© Mattie Poels.