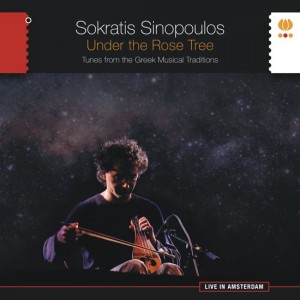 In Bulgarije heet het rechtop-bespeelde-strijkinstrument de gadulka, in het midden oosten de rebab en in Griekenland (vooral Kreta) de lyra. Deze laatste variant wordt bespeeld door Sokratis Sinopoulos die met zijn drie-snarige viool in kwartetvorm het fraaie album 'Under the Rose Tree' maakte waarop hij een bijzondere muzikale schildering laat horen van muziek uit o.a. Griekenland, Macedonië en Bulgarije.
English version below
Sokratis Sinopoulos (1974) wordt geboren in Athene en studeert aanvankelijk klassiek gitaar. In 1988 ontdekt hij de lyra en gaat in de leer bij Ross Daly. Een op Kreta residerend musicus die zich heeft ontwikkeld tot een van de bekendste lyra-musici van zijn generatie. Sinopoulos blijkt zo getalenteerd, dat hij eind jaren '80 toetreedt tot de begeleidingsgroep van Daly. In 1999 wint Sinopoulos de Melina Mercouri Award. Een prijs voor jonge artiesten, vernoemd naar de actrice Melina Mercouri die in 1994, op 72 jarige leeftijd, overleed.
Sokratis Sinopolous laat zijn instrument magnifiek huilen, wenen, dansen en zwieren met een virtuoos gemak, steeds met de juiste dosering emotionele spanning. Zeer verfijnd spel waarin hij moeiteloos de versieringen laat horen die zo herkenbaar zijn voor de Griekse en Zuid-Bulgaarse (Thracië) muziek. Voeg daar de musici op piano, slagwerk en ûd (Arabische luit) aan toe en het album 'Under the Rose Tree' ontpopt zich tot een voortreffelijk Zuid/Oost Europees album met jazz invloeden. Traditionele muziek gebaseerd op vooral de Griekse en Bulgaarse signatuur (met zijn verfijnde 7-tels maten), Live opgenomen in het Tropentheater van Amsterdam september 2010. Maar wat zegt een jaartal; dit is tijdloze muziek!
Meer muziek op de lyra Ross Daly klik hier
Bulgaarse gadulka van  Hristina Beleva en Petar Milanov klik hier
English version
In Bulgaria the upright-stringed instrument is called the gadulka, in the middle east they call it the rebab and in Greece (especially Crete) the lyre. This last variant is played by Sokratis Sinopoulos who uses this three-string violin with his quartet. He recorded the beautiful album 'Under the Rose Tree' on which he plays a special musical mixture of music from Greece, Macedonia and Bulgaria.
Sokratis Sinopoulos (1974) is born in Athens and initially studied classical guitar. In 1988 he discovers the lyre and was educated by Ross Daly. A musician living on Crete who has developed into one of the most famous lyra musicians of his generation. Sinopoulos proved to be so talented that he joined Daly's band at the end of the 1980s. In 1999 Sinopoulos won the Melina Mercouri Award. A prize for young artists, named after the actress Melina Mercouri who died in 1994, at the age of 72.
In a virtuoso way Sokratis Sinopolous let his instrument cry, weep or dance, always with the right dose of emotional tension. Very refined playing in which he effortlessly show the ornaments that are so recognizable for Greek and Southern Bulgarian (Thrace) music. His wonderful sound adds magnificent to the piano, percussion and ûd (Arabic lute) and the album 'Under the Rose Tree' turns out to be an excellent South / East European album with jazz influences. Traditional music based mainly on the Greek and Bulgarian signature (with its refined 7-count sizes), recorded live in the Tropentheater of Amsterdam September 2010. But never mind the date: this is timeless music!
Sokratis Sinopoulos: 'Under the Rose Tree' (Saphrane/Music&Words)
© Mattie Poels.