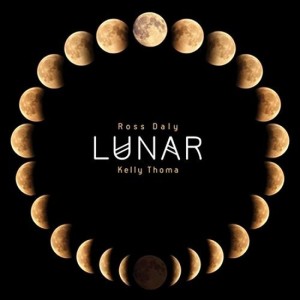 Lunar is de titel van de nieuwe CD van snarenspeler Ross Daly. De Kretense musicus die op dit album zijn derde samenwerking aangaat met Kelly Thoma. Zij bespeelt de sopraan-lyra: het driesnarig strijkinstrument dat het nationaal instrument is van Kreta. Naast Daly en Thoma horen we de percussionisten Saam Schlamminger, Marijia Katsouna en Zohar Fresco op bendir (frame-drum).
English version below
De Engelse (met Ierse achtergrond) musicus Ross Daly woont al jaren op Kreta. Naast een voortreffelijk lyra-speler is hij een specialist op diverse snaarinstrumenten zoals de Afghaanse rabab, de Turkse saz, de tarhu (in de jaren '80 ontwikkeld door de Australiër Peter Biffin), de Indiase tanpura en natuurlijk de lyra, die met zijn authentieke klank de ziel van Kretenzer muziek raakt. Ross Daly is een begenadigd musicus die al meer dan dertig jaar op het grootste Griekse eiland woont. Hij is een muzikaal ontdekkingsreiziger die een dozijn muziekinstrumenten bespeelt en de Griekse en Turkse folkmuziek een nieuw elan heeft gegeven. Voor zijn album Lunar componeerde hij bijna alle stukken die een ode zijn aan de maan, die met haar licht, grootte en steeds veranderende vorm het meest fascinerende hemellichaam is. De composities zijn sferisch en door het gebruik van een arsenaal aan snaarinstrumenten zeer divers van klankkleur waarbij de (sopraan)lyra steeds de verbindende factor is. Dit instrument wordt (naast Daly zelf) in elk nummer bespeeld door Kelly Thoma, een oud leerling van Ross Daly. Deze Ode aan de maan is een prachtig dubbel-album waarbij de maan in alle kleuren en vormen wonderschoon aan de hemel voorbij komt, muzikaal gezien vanuit een Turks, Grieks, Afghaans en Indiaas perspectief.
English version
Lunar is the title of the new CD released by the great string player Ross Daly. The Cretan musician who enters his third collaboration on this album with Kelly Thoma. She plays the soprano lyra: the three-string string instrument, the national instrument of Crete. Besides Daly and Thoma we also hear percussionists Saam Schlamminger, Marijia Katsouna and Zohar Fresco on bendir (frame drum).
For years the English (with Irish background) musician Ross Daly lives at Crete. He's an excellent lyra player, but also a specialist on various string instruments such as the Afghan rabab, the Turkish saz, the tarhu (developed by the Australian Peter Biffin in the 1980s), the Indian tanpura and of course the lyra, an instrument with an authentic sound that touches the soul of Cretan music. Ross Daly is a gifted musician who lives on the largest Greek island for over thirty years. He is a musical explorer who plays a dozen musical instruments. He brought a new élan to Greek and Turkish folk music. For his album Lunar he composed almost all the pieces that are an ode to the moon, which with its light, size and ever-changing shape is the most fascinating celestial body. The compositions are spherical and due to the use of an arsenal of stringed instruments very diverse in timbre, the (soprano) lyra is always the connecting factor. This instrument is (besides Daly himself) played on every piece by Kelly Thoma, an old student of Ross Daly. This ode to the moon is a beautiful double album in which the moon appears in all colors and shapes and wonderfully passed in the sky, musically seen from a Turkish, Greek, Afghan and Indian perspective.
Ross Daly & Kelly Thoma: 'Lunar' (Ross Daly – Kelly Thoma / Xango).
Picture
© Mattie Poels.