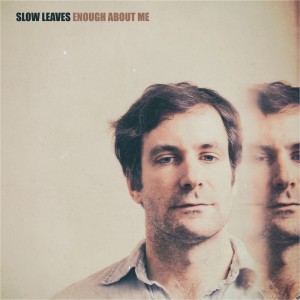 De Canadese singer-song writer Slow Leaves intrigeert met zijn derde album 'Enough about me' waarmee hij paradoxaal juist het tegenovergestelde bewerkstelligt. Wie is deze Grant Davidson die in een kelder in Winnipeg (Canada) zijn demo's opneemt, ze aanvult met gastmusici en langzaam de wereld laat zien dat sobere melodieën nog het beste werken?
English version below
Aanvankelijk bracht Grant Davidson albums uit onder zijn eigen naam maar vanaf 2014 verandert hij zijn naam in Slow Leaves. Een pseudoniem dat vragen oproept, waarom 'Slow' (langzaam), en waarom 'Leaves' (blaadjes)? Het is een poëtische verwijzing naar muzikale ideeën/blaadjes die langzaam door de wind worden meegevoerd en je ontroeren in een klankwereld die bekend voorkomt en met een liefdevolle souplesse wordt gebracht. Melancholische country-folk waarin hij met eenvoud het maximale bereikt. Mijmerende, dromerige en zeer persoonlijke liedjes over het alledaagse leven. Grant Davidson is een begaafd zanger, warm in de laagte en sprankelend in de kopstem wat met het gebruik van slide-gitaar een fraaie combinatie oplevert. Hij wordt bijgestaan door drummer Jason Tait, Rusty Matyas op toetsen, violiste Julie Penner en prachtige background zang van Natalie Bohrn. Na tien songs 'Enough about me' (Genoeg over mij) is er muzikaal nog lang niet alles gezegd, dus we zien uit naar het volgende album van Slow Leaves.
Op 26 feb. 2018 geeft Slow Leaves een concert in Paradiso.
English version
The Canadian singer-song writer Slow Leaves intrigues with his third album 'Enough about me' with which he paradoxically accomplishes the opposite. Who is this Grant Davidson who records his demos in a basement in Winnipeg (Canada)?, supplements them with guest musicians and slowly shows the world that sober music and melodies still work best.
Initially, Grant Davidson released albums under his own name but from 2014 on he changed his name to Slow Leaves. A pseudonym that raises questions, why 'Slow' and why 'Leaves'? A poetic reference to musical ideas that are slowly carried away by the wind and move you in a well known lovely music world. Melancholic country-folk in which he reaches the maximum with simplicity. Mingling, dreamy and very personal songs about everyday life. Grant Davidson is a gifted singer, warm in the low voice and sparkling in the head voice that makes a nice combination with the use of slide-guitar. He is assisted by drummer Jason Tait, Rusty Matyas on keyboards, violinist Julie Penner and beautiful background vocals by Natalie Bohrn. After ten songs 'Enough about me' not everything has been musically said, so we look forward to the next great album!
Slow Leaves: 'Enough About Me' (MFM/Manitoba Film&Music)