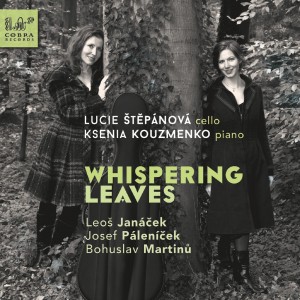 Op het album Whispering Leaves horen we krachtige en solide kamermuziek van de pianiste Ksenia Kouzmenko en celliste Lucie Štĕpánová. Zij spelen werk van Leoš Janáçek, Josef Paleníçek en Bohuslav Martinů. Drie componisten uit Moravië, waarmee het duo terugkeert naar hun geboorteland ten zuid-oosten van Tsjechië.
English version below
Het album Whispering Leaves opent met het lyrische werk Fairy Tales van Leoš Janáçek, dat doorspekt is met folk-melodieën waar Janáçek dol op was, waarbij piano en cello elkaar voortreffelijk aanvullen met beknopte fragmenten, ritmische passages en korte melodieën. Iets soortgelijks treffen we aan in de muziek van de Hongaarse componisten Bartok en Kodaly die ook volksmuziek in hun composities verwerkten. In Choral Variations van Josef Paleníçek is het Bach's koraal Oh Haupt voll Blutt und Wunden uit de Mattheus Passion dat gearrangeerd is tot negen op zichzelf staande variaties met elk een eigen karakter dat soms behoorlijk afwijkt van origineel. Overigens begint de variatie al bij het openingsstuk Thema Largamente waar weliswaar de melodie hetzelfde is (cantabile gespeeld op de cello) maar waar de piano-akkoorden heerlijk alle kanten opgaan; een arrangeer-methode die Paleníçek ook gebruikt in deel 5 Adagio. Werkelijk schitterend hoe cello en piano elkaar organisch complementeren, meegaan in de sfeer en de muzikale lijn volgen waardoor de muziek voortreffelijk ademt en lucht krijgt. Sonata no. 2 van Bohuslav Martinů is een luisterrijk werk met een gedragen middendeel dat simpelweg Largo (bet. langzaam en breed gespeeld) heet, met imposante lage piano akkoorden en een sprankelende cello. Tot slot vormt A Blown-Away Leaf (van Janáçek) de inspiratie voor de titel Whispering Leaves waarop de geweldige musici Ksenia Kouzmenko en Lucie Štĕpánová onbekende Moravische stukken kristal helder uitvoeren en deze een enorme impuls bezorgen. Geweldig album, aanrader!
Presentatie-concerten: 16 maart Nijmegen (Boskapel), 17 maart Rotterdam (Fenix Music Factory) en 8 april Splendor Amsterdam
English version
Pianist Ksenia Kouzmenko and cellist Lucie Štĕpánová play powerful and solid chamber music on their wonderful album Whispering Leaves. Music composed by Leoš Janáçek, Josef Paleníçek and Bohuslav Martinů. Three composers from Moravia, with whom Kouzmenko en Štĕpánová return to their homeland Moravia, southeast of the Czech Republic.
The opening piece Fairy Tales is a splendid lyrical work by Leoš Janáçek, which is full of folk melodies where Janáçek was fond of. Piano and cello play perfectly with concise fragments, rhythmic passages and short melodies. Something similar can be found in the music of the Hungarian composers Bartok and Kodaly who also incorporated folk music into their compositions. In Choral Variations, by Josef Paleníçek Bach's chorale Oh Haupt is voll Blutt und Wunden from the Mattheus Passion, you'll find nine independent variations, each with its own character that sometimes differs from the original. Incidentally, the variation starts already with the opening piece Theme Largamente where, although the melody is the same (cantabile played on the cello) the piano chords go in all directions, a way of arranging that Paleníçek also uses in part 5 Adagio. Really splendid how cello and piano complement each other organically, following the atmosphere and the musical line which makes the music runs lovely through your whole body. Sonata no. 2 by Bohuslav Martinů is a splendid work with a slow middle part that is simply called Largo (means: play slow mellow voiced), with imposing low piano chords and a sparkling cello. Finally, A Blown-Away Leaf (by Janáçek) is the inspiration for the title Whispering Leaves, an album on which the great musicians Ksenia Kouzmenko and Lucie Štĕpánová show the beauty of unknown Moravian pieces. Absolutely great record!
Lucie Štĕpánová en Ksenia Kouzmenko: Whispering Leaves (Cobra Records).
© Mattie Poels.