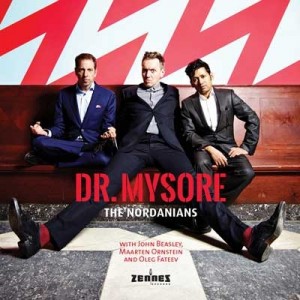 The Nordanians is een trio dat zich gedraagt als een kwartet maar uiteindelijk klinkt als een volledig orkest. Zo zou je in het kort dit mega-trio uit Amsterdam-Noord (vandaar The Nordanians) kunnen beschrijven, dat met hun nieuwe album Dr. Mysore een vette deuk slaat in het Nederlands improvisatie- & compositie-talent. Avontuurlijk, gedurfd en authentiek.
English version below
The Nordanians bestaan uit altviolist Oene van Geel, gitarist Mark Tuinstra en Niti Ranjan Biswas op tabla (Indiase handtrommel). Op Dr. Mysore horen we ook nog de gastmusici basclarinettist Maarten Ornstein, pianist John Beasley en bayan-speler (Russisch knoppen-accordeon) Oleg Fateev. De leden van The Nordanians hebben hun sporen binnen de muziek allang verdiend; zo is van Geel een vast lid van het strijkkwartet Zapp 4, Estafest en werkte hij samen met flamencogitarsit Eric Vaarzon Morel. Tuinstra vinden we in een mblax-band met de Senegalese zanger Omar Ka en in de Afrojazzband Atanga Boom. Ranjan Biswas werkte samen met het Nederlands Blazers Ensemble en het Concertgebouw Jazz Orchestra.
De combinatie altviool, gitaar en tabla is uniek en wordt tot op de muzikale bodem uitgediept. De tabla is weliswaar sfeerbepalend voor het Indiase timbre maar daar is dan ook alles mee gezegd. The Nordanians spelen funk, pop, rock, Balkan (Choro Cubano), Indonesische signatuur in het stuk Ara, Zouman is doorspekt met de West Afrikaanse en Frevo Nordo heeft een zweem van Hot Club de France. Al krijg je soms het gevoel 'waar zit ik nu weer naar te luisteren?', toch zijn deze cross-overs zo organisch gecomponeerd en worden ze met zo veel verve gebracht dat de muzikale vervreemding werkt als een warm bad waarin je heerlijk wordt ondergedompeld en ontvoerd naar nieuwe opwindende klankkleuren. Zoals de abrupte overgangen, maatwisselingen, modulaties, strakke solo's en effecten die van Dr. Mysore een magisch mooi wereldalbum maken!
English version
The Nordanians is a trio that acts like a quartet but ultimately sounds like a complete orchestra. In this way you briefly describe this mega-trio from Amsterdam-North (that's why they call themselfs The Nordanians), with their new album Dr. Mysore on which they make a great impression on the Dutch improvisation & composition talent scene: adventurous, daring and authentic.
The Nordanians are of viola player Oene van Geel, guitarist Mark Tuinstra and Niti Ranjan Biswas on tabla (Indian hand percussion). On their album Dr. Mysore we also hear the guest musicians bass clarinettist Maarten Ornstein, pianist John Beasley and bayan player (Russian buttons accordion) Oleg Fateev. The members of The Nordanians have already found their way into the music; Van Geel is a permanent member of the string quartet Zapp 4, Estafest and he worked together with flamenco guitarist Eric Vaarzon Morel. We find Tuinstra in a mblax band with the Senegalese singer Omar Ka and in the Afro Jazz band Atanga Boom. Ranjan Biswas collaborated with the Netherlands Wind Ensemble and the Concertgebouw Jazz Orchestra.
The combination viola, guitar and tabla is unique and found it's way through all kind of combinations. The tabla puts the music into an Indian timbre, but there's a lot more. The Nordanians play funk, pop, rock, Balkan (Choro Cubano), Indonesian signature in the piece Ara, the composition Zouman is interspersed with the West African and Frevo Nordo shows a little of Hot Club de France music. Even though you sometimes get the feeling 'what am I listening to, right now?', these crossovers are so organically composed and played with so much verve that the musical alienation makes you feel coming home, where you are immersed and kidnapped to new exciting timbres, like the abrupt transitions, gauge changes, modulations, effects and the tight solos that turns Dr. Mysore into a magical world music album!
The Nordanians: 'Dr. Mysore' (Zennes Records)
© Mattie Poels.