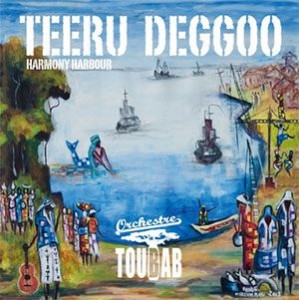 Orchestre Toubab brengt met hun tweede album 'Teeru Deggoo' een ode aan de haven, waar musici uit alle windstreken bij elkaar komen en muziek spelen die een samensmelting is van (Afrikaanse) wereldmuziek, jazz en folk. Dit uitdagend kwartet (gitaar, viool, bas en percussie) deinst muzikaal nergens voor terug.
English version below
Gitarist Robert Falk is de grote inspirator achter Orchestre Toubab. Deze in Parijs geboren muzikant woont al jaren in België en kwamen we al tegen op CD's van ngoni-speler (West-Afrikaanse banjo) Malick Pathé Sow en fluittist Pierre Bernard. Hij schreef alle stukken op dit nieuwe album van Orchestre Toubab met muziek die zich beweegt op de scheidingslijn van folk, jazz en wereldse (Afrikaanse) melodieën. Muziek die soms moeilijk te vangen is in een stijl, maar daardoor des te interessanter. Zoals 'El sombrereo del Gato' wat een ode is aan de Argentijnse saxofonist Gato Barbieri (1932-2016). Een compositie met een filmisch intro maar uiteindelijk met een vette knipoog naar de tango. Veel improvisatie van viool en gitaar: heerlijk in het soukous-aandoende 'Article 16' en het op reggae gebaseerde 'Peace Street' waar viool en gitaar elkaar complementair aanvullen. We horen de gastvocalen van Aida Dao, Manssata Sora en Ben Ngabo en de tintel-frisse kora van Bao Sissoko in het sluitstuk 'Sanaa' dat met zijn herhalende melodie hypnotiserend werkt. Orchestra Toubab is een muzikale belevenis voor de avontuurlijke luisteraar!
English version
Through their second album 'Teeru Deggoo' Orchestre Toubab presents an ode to the harbor, where musicians from all over the world come together and play a fusion of (African) world music, jazz and folk. This challenging quartet of guitar, violin, bass and percussion presents a musical experience.
Guitarist Robert Falk is the great inspiration behind Orchester Toubab. For years this Parisian born musician lives in Belgium and we already heard him on CD's of ngoni-player (West African banjo) Malick Pathé Sow and flute player Pierre Bernard. He wrote all the pieces for this new album by Orchester Toubab with music that moves on the fine line of folk, jazz and worldly (African) melodies. Music that is sometimes difficult to define into one style, but that makes this music so interesting. Like 'El sombrereo del Gato' which is an ode to saxophonist Gato Barbieri (1932-2016) from Argentina. A composition with a cinematic intro but eventually with a big wink to the tango. A lot of improvisation of violin and guitar: wonderful in the soukous-like 'Article 16' and the reggae feel in 'Peace Street', with a fine violin and guitar complementary. We hear the guest vocals of Aida Dao, Manssata Sora and Ben Ngabo and the tingling-fresh kora of Bao Sissoko in the final piece 'Sanaa', which is lovely hypnotic with its repetitive melody. Orchestra Toubab is a musical experience for the adventurous listener!
Orchestre Toubab: 'Teeru Deggoo' (Eigen Beheer/Xango)
© Mattie Poels.