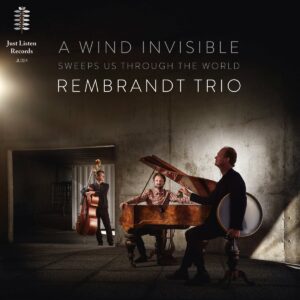 A Wind Invisible Sweeps Us Through The World is het ongelooflijk mooie, nieuwe album van het Rembrandt Trio met pianist Rembrandt Frerichs, bassist Tony Overwater en slagwerker Vinsent Planjer.
English version below
Práchtig hoe drie musici elkaar zo feilloos aanvoelen in sfeer, karakter, intonatie en metier op het album A Wind Invisible Sweeps Us Through The World. Een titel die verwijst naar een quote uit een gedicht van de Perzische sufi-dichter Rumi die leefde in de 13de eeuw.  Hij was o.a. de grondlegger van de Mevlevi, de fascinerende dansende derwishen (de islamitische soefi-geestelijke). Op twee na zijn alle stukken van Frerichs. Composities die bewegen op de scheidingslijn van jazz, klassieke (Barok en Renaissance), geïmproviseerde en wereldmuziek. De muziek bezit een flinke dosis weemoed die af en toe nog wordt versterkt door het orgel. Het album werd opgenomen in het Orgelpark. Een gerestaureerde kerk aan de rand van het Amsterdamse Vondelpark, waar zich een grote collectie (kerk)orgels bevindt. Deze pracht-instrumenten worden bij enkele stukken ingezet. Dit nieuwe album zit vol schitterende thema's zoals Melodie Antique waar het pianothema rijkelijk wordt ondersteund met een tegen-melodie op de contrabas van Tony Overwater, subtiel begeleid door Vinsent Planjer op o.a. de Perzische tombak (bekertrommel). Deze aanpak treffen we ook aan in Bohemia Theme dat hier en daar excelleert met modale uitstapjes. Bijzonder is ook Bleib Bei Uns waarin Frerichs zich liet inspireren door J.S. Bach en improviseert over een op-het-orgel-gespeeld koraal. Schitterend! Daarnaast is Fay Maria (opgedragen aan Frerichs dochter Fee) een twinkelende wals met een verderlicht touché en Goodbey If Only een kosmisch onderzoek tussen piano en slagwerk. A Wind Invisible Sweeps Us Through The World staat vol prachtige stukken, juweeltjes die uitblinken in compositie, instrumentatie en uitvoering, wat zorgt voor een prikkelende, muzikale verwondering!
English version
A Wind Invisible Sweeps Us Through The World is the incredibly beautiful new album by the Rembrandt Trio with pianist Rembrandt Frerichs, bassist Tony Overwater and percussionist Vinsent Planjer.
Wonderful how three musicians contact each other so flawlessly in atmosphere, character, intonation and metier on the album A Wind Invisible Sweeps Us Through The World. A title that refers to a quote from a poem by the Persian Sufi poet Rumi who lived in the 13th century. He was the founder of the Mevlevi, the fascinating dancing dervishes (the Islamic Sufi cleric). All but two pieces are written by Frerichs. Compositions that move on the dividing line between jazz, classical (Baroque and Renaissance), improvised and world music. The music has a good dose of melancholy, which is occasionally enhanced by the organ. The album was recorded in the Orgelpark. A restored church on the edge of Amsterdam's Vondelpark, which houses a large collection of (church) organs. These beautiful instruments are used in some pieces. This new album is full of beautiful themes such as Melodie Antique where the piano theme is richly supported with a counter-melody on the double bass by Tony Overwater, subtly accompanied by Vinsent Planjer on the Persian tombak (vase drum). We also find this approach in Bohemia Theme, which excels here and there with modal trips. Bleib Bei Uns is also special, in which Frerichs was inspired by J.S. Bach and improvises over a chorale played on the organ. Really splendid! In addition, Fay Maria (dedicated to Frerich's daughter Fee) is a twinkling waltz with a dim touché while Goodbey If Only is a cosmic investigation between piano and percussion. A Wind Invisible Sweeps Us Through The World is full of beautiful pieces that excel in composition, instrumentation and performance. A tantalizing musical wonder indeed!
*A Wind Invisible Sweeps Us Through The World: Rembrandt Trio (Just Listen Records)
© Mattie Poels.