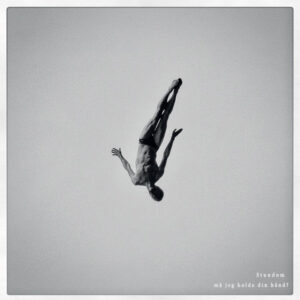 Het Deense trio Stundom nam een adembenemende cross-over op van Scandinavische folk met klassieke en pop-invloeden.
English version below
Op mijn zoektocht naar nieuwe, interessante muziek kijk ik (ook) altijd eerst naar de hoes van een CD. De cover is het uithangbord van de groep en van de muziek die, als het goed is, de muzikale lading dekt. Het nieuwe album van de groep Stundom is opvallend en bijzonder. Een man zweeft door de lucht, op zijn kop, sierlijk, bijna acrobatisch, met in de binnenhoes nog allerlei zweef-variaties. Dat trekt de aandacht en maakt nieuwsgierig. Het is de tweede CD Må jeg holde din hånd? (Mag ik je hand vasthouden?) van het Deense trio Stundom. Ze spelen eigen werken met een intense schoonheid. Mijmerend, bedachtzaam, vindingrijk en zeer melodieus. Aan het duo Elmøe & Hoffmann, respectievelijk violiste Emma Elmøe en cittern/gitaar-speler Villads Hoffmann, werd in 2017 pianist Julian Svejgaard toegevoegd en Stundom was een feit. Hun muziek is een lust voor het oor waarin je wordt meegenomen over een glooiend fris muzikaal en groen landschap. Erg fraai zijn de onverwachte harmonieën in Regfaldet en Fotorama die worden gelardeerd met chromatische thema's. Het werk Belvedere valt op door zijn stemmingswisselingen die van zeer ritmisch, naar legato gaan om vervolgens een vleugje Bach te laten horen. Maar ook het openingswerk Stjerner (Sterren, waar de piano-arpeggio's de sterren even écht laat stralen) en Frigear, vallen op door de voortreffelijke thema's, met mooie variaties en omspelingen. Stundom speelt kamermuziek-folk die multi-inzetbaar is, die goed tot zijn recht komt tijdens een (folk)festival of in een concertzaal.

English version
The Danish trio Stundom recorded a breathtaking crossover of Scandinavian folk with classical and pop influences.
In my search for new, interesting music, I (also) always look first at the cover of a CD. The cover is the sign of the group and their music, which should cover the musical load. The cover of the new album of the group Stundom is special and striking. A man floats through the air, upside down, gracefully, almost acrobatic, with all kinds of floating variations in the inner sleeve. That attracts attention and makes curious. It is the second CD Må jeg holde din hånd? (May I hold your hand?) by the Danish trio Stundom. They play their own compositions with an intense beauty. Musing, thoughtful, resourceful and very melodic music. In 2017 pianist Julian Svejgaard was added to the duo Elmøe & Hoffmann, of Emma Elmøe and cittern/guitar player Villads Hoffmann and so Stundom was born. Their music is a feast for the ears in which you are taken over a sloping fresh musically and green landscape. Very nice are the unexpected harmonies in Regfaldet and Fotorama, which are interlarded with chromatic themes. Belvedere is notable for its mood swings, ranging from very rhythmic to legato, followed by a hint of Bach. But also the opening work Stjerner (Stars, where the piano arpeggios really make the stars shine for a moment) and Frigear, stand out because of the excellent themes, with beautiful variations. Stundom plays exciting folk chamber music, very suitable for a (folk) festival or a concert hall.
Stundom: Må jeg holde din hånd? (GO Danish Folk / Xango)
© Mattie Poels.