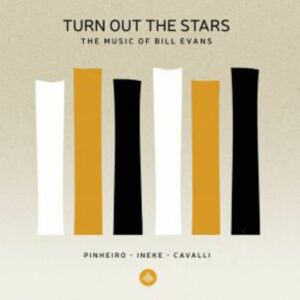 Turn out the stars is het fantastische trio-album van Pinheiro, Ineke en Cavalli met stukken van jazz-pianist Bill Evans.
English version below
Turn out the stars is de titel van het album dat pianist Bill Evans opnam in 1980 in Ronnie Scott's Jazz Club in Londen met bassist Marc Johnson en drummer Joe LaBarbera. Maar Turn out the stars is ook de titel van de voortreffelijke CD die de Portugese gitarist Ricardo Pinheiro maakte met de Nederlandse drummer Eric Ineke en de Italiaanse bassist Massimo Cavalli. Een album van drie perfect op elkaar ingespeelde musici. Op Turn out the stars horen we veelal stukken van Bill Evans  (en een werk van Michel Legrand en een van Leonard Bernstein). Alle stukken in nieuwe arrangementen van het Pinheiro-Ineke-Cavalli-trio. Pinheiro's gitaar heeft een warme, mooie ronde sound, hier en daar verzonken in een fijne galm. Zijn spel is verzorgd met een uitgelezen zinsbouw in zijn solo's, fraaie dissonanten en sterke ritmische variaties, zoals te horen in Waltz for Debby, het subtiel zwevende gitaarspel in Some other time en het titelstuk. Hier omspeelt de gitaar mooi het thema en de bas en drums, die klinken als één tandem, haken daar moeiteloos op in en volgen zijn spel nauwgezet. Daarbij laat bassist Massimo Cavalli zijn sonore basgeluid ronken en blinkt hij uit in melodische soli zoals in Interplay en Some other Time. Drummer Eric Ineke (voortreffelijk in Very Early) swingt als de beste. Strak en organisch, maar dat zijn we al jaren van hem gewend!
Meer muziek van dit trio i.s.m. pianist Mário Laginha en saxofonist David Liebman klik hier.
English version
Turn out the stars is the fantastic trio album by Pinheiro, Ineke and Cavalli with pieces by jazz pianist Bill Evans.
Turn out the stars is the title of the album pianist Bill Evans recorded in 1980 at Ronnie Scott's Jazz Club in London with bassist Marc Johnson and drummer Joe LaBarbera. But Turn out the stars is also the title of the excellent CD that the Portuguese guitarist Ricardo Pinheiro made with the Dutch drummer Eric Ineke and the Italian bassist Massimo Cavalli. An album by three perfectly attuned musicians. Most of there pieces on Turn out the stars were written by Bill Evans (and a work by Michel Legrand and one by Leonard Bernstein). All pieces in new arrangements by the Pinheiro-Ineke-Cavalli-trio. Pinheiro's guitar has a beautiful warm sound, here and there put in to a nice reverberation. His playing is very diligent, with an exquisite musical phrase structure in his solos, beautiful dissonances and strong rhythmic variations. Like in Waltz for Debby, the smooth and subtle floating guitar sound in Some other time and the title piece. The guitar variates on the theme and the bass and drums, which sound like óne tandem, effortlessly respond to this and closely follow his playing. In addition, bassist Massimo Cavalli lets his sonorous bass sound roar and he excels in melodic solos like in Interplay and Some other Time. Drummer Eric Ineke swings like the best (superb in Very Early). Tight and organic, but we have been used to that from him for years!
More music by this trio and pianist Mário Laginha and saxophone player David Liebman click here.
Pinheiro – Ineke – Cavalli: Turn out the stars (Challenge Records Int.)
© Mattie Poels.