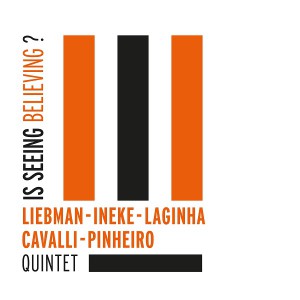 Het kwintet Liebman – Ineke – Laginha – Cavalli – Pinheiro is een internationaal gezelschap met musici uit vier verschillende landen. Eind 2014 namen deze doorgewinterde jazzmusici doorgewinterde stukken op, waaronder enkele klassiekers maar ook nieuw werk. Muziek die excelleert in strakke ritmische jazz met fraaie kleuringen en interessante arrangementen.
English version below
De Amerikaanse saxofonist David Liebman is wel de meest bekende musicus uit dit kwintet. HIj kreeg les van Charles Lloyd en Lennie Tristano en studeerde aan de Universitiet van New York. Hij speelde begin jaren '70 bij trompettist Miles Davis, gaat vanaf 1975 zijn eigen weg met o.a. de geweldige pianist Richard Beirach en ontwikkelt zich tot een eigenzinnig saxofonist die zich met groot gemak beweegt door de jazz & geïmproviseerde muziek. Zijn saxofoonspel heeft een uitgesproken karakter met soms een wat snerpende toon, zeer beweeglijk en dynamisch en steeds met affect gespeeld wat ook op 'Is Seeing Believing?' duidelijk hoorbaar is op sopraan- en tenorsax. Het kwintet 'Liebman – Ineke – Laginha – Cavalli – Pinheiro' bestaat naast de Portugese pianist Mário Laginha en gitarist Ricardo Pinheiro uit de Italiaanse bassist Massimo Cavalli en de Nederlands drummer Eric Ineke die jarenlang speelde met de Groningse bebop-pianist Rein de Graaff. Opmerkelijk is de souplesse van de muziek waarbij de instrumenten zich vleien als een muzikaal jazzweb, zoals in de collectieve improvisaties uit het slot van 'Rainy Sunday' of het intro van 'I remember you'. Bovendien geven piano en gitaar (twee akkoordinstrumenten) elkaar de ruimte waardoor er geen akkoorden-brei ontstaat maar een glooiend harmonisch landschap waar beide instrumenten elkaar met respect tegemoet treden. Eric Ineke is ook op deze opname een dienstbaar drummer die goed luistert. Zo verschuift hij inventief de maat in 'Everybody's song but my own', switcht hij soepel van half- naar double-time en volgt hij de gitaarsolo in 'Skylark' met o-zo-subtiele triolen. 'Is Seeing Believing?' zit vol met gekruide jazzheerlijkheden die het tot een smul-album maakt: 'Is Zien geloven?' – nou zeker is dat 'Luisteren' in dit geval 'Genieten' is!
English version
David Liebman's quintet – Ineke – Laginha – Cavalli – Pinheiro is an international band with musicians from four different countries. At the end of 2014 these fine jazz musicians recorded some fine pieces, including some classics as well as new compoitions. Music that excels in tight rhythmic jazz with beautiful colouring and interesting arrangements.
The American saxophonist David Liebman is the most famous musician of this quintet. He was educated by Charles Lloyd and Lennie Tristano and studied at the University of New York. In the early 70s he played with trumpeter Miles Davis and from 1975 he created his own jazz way with, among others the great pianist Richard Beirach. He became an idiosyncratic saxophonist who plays with ease all kind of jazz and improvised music. His saxophone playing has a distinct character, sometimes with a slightly shrill tone, very agile and dynamic and always played with affect also to be heard on 'Is Seeing Believing?' on soprano and tenor sax. In the quintet 'Liebman – Ineke – Laginha – Cavalli – Pinheiro' there's the Portuguese pianist Mário Laginha and guitarist Ricardo Pinheiro. the Italian bassist Massimo Cavalli and the Dutch drummer Eric Ineke who played for years with the bebop pianist Rein de Graaff. Noteworthy is the flexibility of the music with instruments that flatter as a musical jazz web, as in the collective improvisations at the end of 'Rainy Sunday' or the intro of 'I remember you'. Moreover, the piano and guitar (two chord instruments) create a splendid harmonic landscape where both instruments meet each other with respect. Eric Ineke is a subservient drummer who listens very carefully. He easily change the rhythmic patterns in 'Everybody's song but my own'. He switches smoothly between half and double-time and follows the guitar solo in 'Skylark' with very subtle triplets. 'Is Seeing Believing?' is a wonderful jazz record – a splendid album for those who love the fine art of great jazz music!
Liebman-Ineke-Laginha-Cavalli-Pinheiro: 'Is Seeing Believing?' (Daybreak/Challenge Records)
© Mattie Poels.