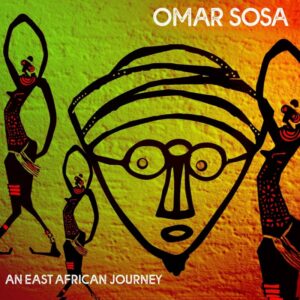 Omar Sosa is al jaren een muzikale duizendpoot die zijn pianospel plaatst binnen diverse muzikale perspectieven. Op An East African Journey horen we hem in opnames die hij maakte in 2009 in Oost Afrika. Weergaloos!
English version below
Tijdens een tour in 2009 maakte de Cubaanse pianist Omar Sosa opnames van musici uit Oost Afrika: Madagascar, Kenya, Sudan, Ethiopia, Burundi, Zambia, and Mauritius. Deze opnames zijn dus locatie-opnames waar Sosa 'omheen-speelt' en op varieert op zijn nieuwe album An East African Journey. Dat doet hij samen met drummer Steve Arguëlles en bassist en keyboardspeler Christophe 'Disco' Minck. Op een bijzondere subtiele wijze transformeert hij de muziek naar de westerse signatuur, zonder de oorspronkelijke muziek aan te tasten, deze blijft ongewijzigd. Zo horen we bijvoorbeeld Rajeri uit Madagascar op de valiha (buiszither), de Keniaanse zanger Olith Ratego op de harp, Seleshe Damessae op de Ethiopische krar (harp) of Steven Sogo uit Burundi op de één-snarige umuduri. Omar Soso varieert op de muziek met prachtige akkoorden en brengt zo een soort muzikale dubbele lading aan. Een soort begeleidende 'filmmuziek', waardoor de muziek een prachtige extra laag krijgt. Het geheel is adembenemend mooi. Door de verschillende instrumenten, ritmes en (Afrikaanse) timbres heeft elk stuk een heel eigen kleur. Drummer Steve Arguëlles voegt ritmes toe en mengt zich moeiteloos in de ritmische Afrikaanse structuren, wat ook geldt voor bassist Christophe Minck die af en toe ook kleurt met effecten. Omar Sosa is al jaren een voortreffelijke wereldmuzikant die zich niets aantrekt van muziek-grenzen, maar de randen juist opzoekt. En dat maakt An East African Journey weer zo'n Sosa-aanrader!
Voor andere CD-recensies van de muziek van Omar Sosa klik hier.
English version
For years Omar Sosa is a musical jack-of-all-trades who places his piano playing in various musical setting and perspectives. On An East African Journey we hear him in (local) recordings he made in East Africa in 2009. Peerless!
During a tour in 2009, Cuban pianist Omar Sosa recorded the music of musicians from East Africa: Madagascar, Kenya, Sudan, Ethiopia, Burundi, Zambia, and Mauritius. These recordings are therefore location recordings on which Sosa varies on his new album An East African Journey. He is assisted by drummer Steve Arguëlles and bassist and keyboard player Christophe 'Disco' Minck. In a very subtle and special way he transforms the music into a kind of Western signature, without affecting the original music, which remains unchanged. For example, we hear Rajeri from Madagascar on the valiha (buiszither), the Kenyan singer Olith Ratego on the harp, Seleshe Damessae on the Ethiopian krar (harp) or Steven Sogo from Burundi on the one-string umuduri. Omar Soso varies to the music with beautiful chords and adds a lovely kind of double musical connotation. A kind of accompanying 'film music', which gives the music a double layer. The whole is breathtaking and absolutely beautiful. Due to the different instruments, rhythms and (African) timbres, each piece has its own color. Drummer Steve Arguëlles adds rhythms and effortlessly blends into the African rhythmic structures, which also applies to bassist Christophe Minck who occasionally colors with effects. For years Omar Sosa has been an excellent world musician who does not mind about music boundaries. Instead, he explores the edges. And that makes his CD An East African Journey again such a Sosa recommendation!
For other CD reviews of the music by Omar Sosa click here.
Omar Sosa: An East African Journey (OTA Records MDC / PIAS)
© Mattie Poels.