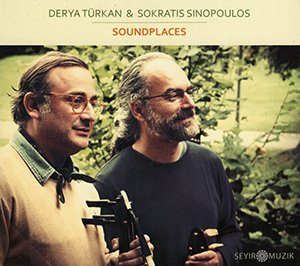 Daar waar de Turkse en Griekse politici elkaar soms het licht in de ogen niet gunnen, gaan de Turk Derya Türkan en de Griek Sokratis Sinopoulos een schitterende samenwerking aan op hun album Soundplaces.
English version below
Derya Türkan en Sokratis Sinopoulos spelen op een drie-snarig strijkinstrument dat lijkt op de Iraanse spike-fiddle. Alleen heet deze in het Turks kemençe en in het Grieks de lyra. Een prachtig instrument met een zangerige, warme en weemoedige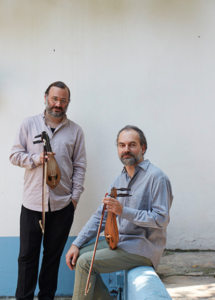 klank. Derya Türkan en Sokratis Sinopoulos werken al jaren samen, maar nemen met Soundplaces hun duo-debuut op. In een prachtige muzikale reis nemen ze de luisteraar mee in de klankdynamiek van dit ongelooflijk mooie instrument. De muziek huilt, lacht, danst, vertelt en improviseert over het leven in Mytlini en Izmir waar de dansmuziek rebetiko vandaan komt. In Konya, waar de derwishen hun religieuze Sufi dansen. We horen de dans- en feestmuziek uit Istanbul met als slotstuk Fernelmont. Een compositie die opgedragen is aan Neva Driessens en refereert aan de opname-lokatie; de kerk van Sint Remi in Fernelmont in België. De stukken op Soundplaces zijn sober en intens gespeeld op twee instrumenten die elkaar liefdevol ondersteunen. Fraai zijn daarbij de improvisaties waarbij de één een obligaat ritme speelt en de ander erop improviseert. Subtiel, virtuoos en prikkelend om te vervolgen in een duo-improvisatie. Beiden musici hebben de muzikale kennis, spelen virtuoos en exploiteren een veerkracht en respect voor elkaars achtergrond. Dat hoor je, voel je en is kippenvel-creërend.
Meer muziek van Sokratis Sinopoulos klik hier
English version
While the Turkish and Greek politicians are in trouble sometimes, the musicians Derya Türkan (Turkish) Sokratis Sinopoulos (Greek) enter into a wonderful collaboration on their album Soundplaces.
More music by Sokratis Sinopoulos click here
Derya Türkan and Sokratis Sinopoulos play a three-string string instrument similar to the Iranian spike fiddle. Only in Turkish it is called kemençe and in Greek the lyra. A beautiful instrument with a lilting, warm and melancholic sound. Derya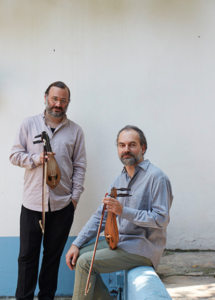 Türkan and Sokratis Sinopoulos have been working together for years, but now they record their duo debut album Soundplaces. It is a wonderful musical journey in which they take the listener into the sound dynamics of this incredibly beautiful instrument. The music weeps, laughs, dances, tells and improvises about life in Mytlini and Izmir, where the dance music rebetiko comes from. In Konya, where the dervishes dance their religious Sufi. We hear dance and party music from Istanbul, with Fernelmont as the final piece. A composition that is dedicated to Neva Driessens and refers to the recording location; the church of Saint Remi in Fernelmont in Belgium. The pieces on Soundplaces are sober and intense played on two instruments that lovingly support each other. Beautiful are the improvisations in which one plays an obligatory rhythm and the other improvises over the melody. Subtle, virtuoso and stimulating to continue in a duo improvisation. In a musical knowledge both musicians developed a resilience and respect for each other's background. You can hear it, feel it and it creates goosebumps.
Derya Türkan & Sokratis Sinopoulos: Soundplaces (Seyir Müzik / Xango Records)
© Mattie Poels.