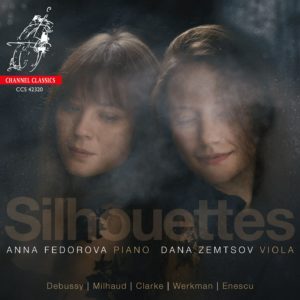 Ja, wat krijg je als je twee super talenten een album laat opnemen: inderdaad een super CD! Op Silhouettes horen we Anna Fedorova en Dana Zemtsov. Twee musici die hun sporen binnen het klassiek repertoire hebben verdiend k(b)linken nu samen in Frans georiënteerd repertoire.
English version below
Silhouettes is de titel van de nieuwe Channel Classics Records CD van pianiste Anna Fedorova (30) en altvioliste Dana Zemtsov (28). Alhoewel er maar twee componisten van Franse afkomst representatief zijn op deze CD (Debussy en Milhaud), is dit toch een Frans georiënteerd album, aangezien Rebecca Clarke, Arne Werkman en George Enescu ook een link hebben met het Frans klassiek repertoire. Zo werd het openingswerk Sonate for Viola & piano gecomponeerd door Clarke. Dit werk is geïnspireerd op La Nuit de Mai van Alfred de Musset. Een gedicht over de muzikant en zijn muze van deze Frans romantische dichter die leefde in het begin van de 19de eeuw. De Nederlandse componist Arne Werkman (1960) groeide op in Frankrijk en Genève waar hij ook studeerde. Tenslotte de Roemeense componist George Enescu. Hij studeerde bij de Franse componisten George Massenet en Gabriel Fauré in Parijs waar hij ook werkte, waarmee ook zijn link naar de Franse muziek is verklaard.
Voor alle opnames van Silhouettes klik hier
Nog een review van Anna Fedorova
Nog een review van Dana Zemtsov
Als je luistert naar Silhouttes heb je amper in de gaten hoe ongelooflijk knap het is wat Anna Fedorova en Dana Zemtsov laten horen. De muziek is organisch en klinkt als vanzelf. De composities zijn verhalend, melodisch en zeer thematisch, met een breed spectrum aan dynamiek en sfeerwisselingen. Elke finesse, elk detail is met zorg uitgewerkt. Een fraaie cohesie tussen klavier en altviool. Sprankelend in hoogte en majestueus in laagte, in helder uitgekristalliseerd spel. Zoals in de Suite for Viola and Piano Op.51 van Arne Werkman. Een 4-delig werk met prachtig contrasterende passages. Zo is de Pavane een plechtig en gedragen dans, voorafgegaan door een motorische Branle, gevolgd door de Tarantella. Een snelle, energieke Zuid Italiaanse dans, zeer dynamisch uitgevoerd. Werkman componeerde dit werk in opdracht voor de familie Zemtsov. Vader en moeder van Dana zijn ook altviolist. Piano en altviool klinken op Silhouttes ingetogen, verfijnd en subtiel maar ook breed en orkestraal. Sprankelend in Enescu's Concert Piece for Viola and Piano en zelfs imposant in de 3-delig Sonata For Viola & Piano van de Engelse componiste Rebecca Clarke.
English version
What do you get when you ask two super talents to record an album? Yes indeed, a super CD! On Silhouttes we hear Anna Fedorova and Dana Zemtsov. Two musicians who have earned their spurs in the classical repertoire. They perform together in French-oriented album.
Silhouettes is the title of the new Channel Classics Records CD by pianist Anna Fedorova (30) and viola player Dana Zemtsov (28). Although there are only two composers of French descent (Debussy and Milhaud) on this CD, it is still a French oriented album. Since Rebecca Clarke, Arne Werkman and George Enescu have also a link with the French classical repertoire. For example, the opening work Sonata for Viola & piano was composed by Clarke and inspired by Alfred de Musset's La Nuit de Mai. A poem about the musician and his muse, written by this French romantic poet, who lived in the early 19th century. The Dutch composer Arne Werkman (1960) grew up in France and Geneva where he also studied. Finally, the Romanian composer George Enescu. He studied with the French composers George Massenet and Gabriel Fauré in Paris where he also worked. This also explains his link to French music.
For all the recording of Silhouttes click here
Another review of Anna Fedorova
Another review of Dana Zemtsov
If you listen to Silhouettes, you hardly notice that it is so incredibly beautiful how Anna Fedorova and Dana Zemtsov perform the music. It sounds so organic and natural. The compositions are narrative in a way, melodic and very thematic, with a wide spectrum of dynamics and mood changes. Every detail has been carefully performed. A beautiful cohesion between grand piano and viola. Sparkling in the heigh notes and majestic in low, crystal clear played. As in Arne Werkman's Suite for Viola and Piano Op.51. A 4-part work with beautifully contrasting passages. For example, the Pavane is a slow dance, preceded by the rhythmic Branle, followed by the Tarantella. A fast and energetic Southern Italian dance, performed very dynamically. Werkman composed this work for the Zemtsov family: Dana's father and mother also play the viola. Piano and viola on Silhouttes sound modest, refined and subtle, but also broad and orchestral. Sparkling in Enescu's Concert Piece for Viola and Piano and even imposing in the 3-part Sonata by the English composer Rebecca Clarke. Splendid album, indeed!
Anna Fedorova / Dana Zemtsov: Silhouettes (Channel Classics Records)
Fotograaf: Nicholas Schwartz
© Mattie Poels.