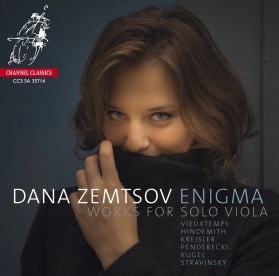 Dana Zemtsov (Mexico, 1992) brengt een ode aan de altviool, de grote broer van de viool. Zemtsov is pas tweeëntwintig jaar oud en geeft met 'Enigma-Works for solo Viola' een mooi overzicht van solo werken voor altviool gecomponeerd in de twintigste eeuw: op 'Chromatic Fantasy' van J.S. Bach na, in een transcriptie van Zoltán Kodály uit 1951.
English version below
Alhoewel altvioliste Dana Zemtsov nog maar begin twintig is en ze aan het begin van haar carrière staat, klinkt ze op 'Enigma-Works for solo Viola' als een volwaardig musicus. Ze heeft een krachtige en persoonlijke manier van spelen. Haar muzikale interpretatie is overtuigend met heldere expressie waarmee ze de altviool laat ronken in de laagte en schitteren in de hoogte. Les kreeg Zemtsov van de Russische (in België wonende) altviolist Michael Kugel van wie we ook twee enerverende composities aantreffen op dit album ('Prelude-Ysaye' zie youtube). Bovendien bewerkte hij het 'Recitatievo Scherzo' van Fritz Kreisler. Een werk oorspronkelijk geschreven voor soloviool maar dat voor altviool (5 tonen lager) een stuk meeslepender klinkt. Zemtsov suggereert met deze compositie prachtig een volledig strijkorkest. Bijzonder fraai is ook 'Viola Sonate op. 25' van componist en altviolist Paul Hindemith. Een exposerend werk waarin Dana de veelzijdigheid van de altviool laat horen. Vervolgens klinkt het lyrische 'Hommaga à Paganini' van Henri Vieuwtemps, een compositie van Penderecki (met imposante dubbelgrepen), een werk van Stravinsky en een voor solo altviool bewerkt klavecimbel stuk van J.S. Bach. Alhoewel het best gewaagd is om een (debuut)album uit te brengen met werken voor solo altviool, is 'Enigma-Works for solo Viola' een excellent exposé voor dit bijzondere instrument.
English version
Dana Zemtsov (Mexico, 1992) gives an ode to the viola, the big brother of the violin. She gives with 'Enigma-Works for solo Viola' a wonderful view of solo works for viola, composed in the twentieth century: besides the 'Chromatic Fantasy' of J.S. Bach in a transcription of Zoltán Kodály from 1951.
Although viola player Dana Zemtsov is only twenty two years old and she's just starting her career, she sounds on 'Enigma-Works for solo Viola' as a full musician. She has a powerful and personal way a playing. Her musical interpretation and clear expression are convinced with a snoring and shining viola. Zemtsov got lessons from the Belgium based Russian viola player Michael Kugel who wrote two exciting compositions on this album ('Prelude-Ysaye' see youtube). Above all, he arranged the 'Recitatievo Scherzo' of Fritz Kreisler. A work originally written for solo violin but arranged for viola (5 tones lower), which makes the piece sound more immersive. Semtsov suggest beautiful a whole string orchestra here. Especially fine is also the 'Viola Sonate op. 25' of composer and viola player Paul Hindemith. An exposé in which Dana shows the diversity of the viola. We also hear the lyrical composition 'Hommaga à Paganini' of Henri Vieuwtemps, a piece by Penderecki (with impressive double tones), a composition of Stravinsky and a solo work for harpsichord written by J.S. Bach arranged for viola. Although it's really adventurous to release a (début) record for viola solo, 'Enigma-Works for solo Viola' is an excellent album for this wonderful instrument.
Dana Zemtsov: 'Enigma-Works for solo Viola' (Channel Classics/New Arts International)
© Mattie Poels.