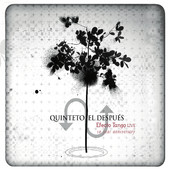 Quinteto El Después; eindelijk weer eens tangomuziek die beukt, mept, vlamt maar ook lyrisch, ingetogen en sober is. Het jubileumalbum 'Efecto Tango Live – 10 year anniversary' werd live opgenomen in 2011 en 2006, respectievelijk in de Dru-Fabriek in Ulft en Estudio Cosentino in Buenos Aires.

English version below
Het Quinteto El Después werd opgericht door bandoneonist Victor (Hugo) Villena (1979) en gitarist/componist Alejandro Schwarz. Beiden komen oorspronkelijk uit Argentinië en emigreren min of meer gelijktijdig naar Parijs waar ze in 2004 El Después oprichten. Alejandro Schwarz schrijft de meeste composities voor de groep die verder uit pianist Ivo de Greef (Diest-België), violist Cyril Garac (Cannes-1970) en contrabassist Bernard Lanaspèze bestaat. Ze geven
concerten in Argentinië, Japan, Kroatië, Duitsland, Engeland en Frankrijk en brengen in 2006 hun debuut cd 'Reunion' uit, in 2013 gevolgd door 'Calles Lejanas'. Het jubileum album 'Efecto Tango Live' is een live opgenomen compilatie van beide cd's. De groep borduurt voort op de 'tango nuevo' waar Astor Piazzolla in de jaren '50 mee begon; waar de bandoneon belangrijker werd, de stukken inventiever en ingewikkelder en de muziek zich verplaatste van de dans- naar de concertzaal. De prachtige verhalende composities van El Después zitten vol tempowisselingen, modulaties en virtuoos samenspel aangevuld met verrukkelijke solo's op bandoneon en piano. De groep graaft in de ziel van tango en laat het kloppend hart hevig tekeer gaan. Opmerkelijk is het trefzekere spel van bandoneonist Victor Villena, sensitief en kwetsbaar even als het pianowerk van Ivo de Greef. Hij laat zijn klavier twinkelen met zo nu en dan 'n heerlijk rollend en beukende linkerhand. In 'Efecto tango I' horen we in zijn (solo)spel zelfs een vleugje jazz, een ontwikkeling die voortgang verdient! Het album 'Efecto Tango – Live' geeft precies het (nuevo)tango effect dat je van deze Zuid-Amerikaanse muziek mag verwachten: avontuurlijk spannend.
More great tango: La Sieste du Dromadaire – Helena Rüegg – Sandra Rumolino
English version below
Quinteto El Después; finally tango music that bashes, hits, shines but also can be lyrical, modest and sober. The jubilee record 'Efecto Tango Live – 10 year anniversary' was recorded live in 2011 and 2006 in the Dru-Fabriek at Ulft (Netherlands) and Estudio Cosentino at Buenos Aires.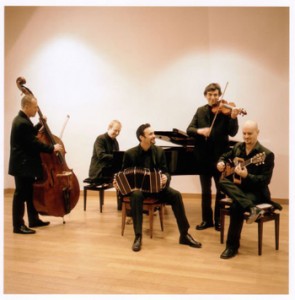 El Después was established by bandoneon player Victor (Hugo) Villena (1979) and guitarist/composer Alejandro Schwarz. Both originally from Argentina. At almost the same time they emigrated to Paris and started El Después in 2004. Alejandro Schwarz writes almost all the compositions for the group which consists of pianist Ivo de Greef (Diest-België), violinist Cyril Garac (Cannes-1970) and Bernard Lanaspèze on double bass. They give concerts in Argentina, Japan, Croatia, Germany, England and France and released their début album 'Reunion' in 2006, followed by 'Calles Lejanas' from 2013. The jubilee record 'Efecto Tango Live' is a live recorded compilation of these two records. The group developed their style after the 'tango nuevo' that Astor Piazzolla started in '50's: the bandeneon became more important, the compositions became inventive and complex and the music became concert music instead of dance music. The wonderful narrative compositions of El Después are full of tempo changes, modulation, virtuoso teamwork and lovely solo's on bandoneon and piano. The group digs in the soul of the tango and shows a strong and vibrant heartbeat. Remarkable is the accurate playing of Victor Villena, sensitive and vulnerable like the piano playing of Ivo de Greef. He shows a twinkling sound with a lovely rolling and beating left hand and in 'Efecto tango I' even a few jazz sounds in his solo, which might get a follow up…! 'Efecto Tango – Live' is a wonderful (nuevo) tango album: adventurous and exciting.
El Después: 'Efecto Tango – LIVE – 10 year anniversary' (Silvox)
© Mattie Poels.