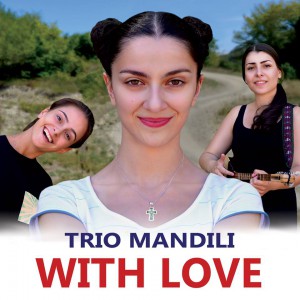 Het Trio Mandili uit Georgië plaatste september 2014 een filmpje op YouTube. Deze opname sloeg in als een bom, kreeg veel aandacht op sociale media en is inmiddels meer dan 10 miljoen keer bekeken. Het kon niet uitblijven; het album 'With Love' van Anna Chincharauli, Tatia Mgeladze en Shorena Tsikarauli. Een schitterend debuut!
English version below
Het zijn niet alleen de prachtige liedjes die dit innemende trio zo bijzonder maakt. Het is ook hun onberispelijke meerstemmigheid die zo fraai mêleert, waardoor het lijkt alsof je naar één stem luistert: één meerstemmige kleur. Het trio zingt nieuwe muziek in de Georgische polyfone traditie; een van origine overwegend mannen aangelegenheid in Georgië. De passie, gedrevenheid en energie spat er van af en toont een onmiskenbare liefde voor hun nationale muziek. Bijzonder strak en coherent gezongen waarbij het trio varieert door enkele stukken te starten met solo-zang, aangevuld met voor- en nazang en polyfonie. Dat zorgt voor een frisse afwisseling die het spannender maakt. Ze begeleiden zichzelf op de chonguri. Een driesnarig instrument, lijkend op de Russische balalaika. Georgië is een muzikaal rijk land, met veel polyfone muziek, zowel volks- als religieuze muziek. Voor elke gelegenheid een lied (met als begin altijd een toost-lied op God: Georgië is vanaf 330 een Christendom). Trio Mandili werd per 'toeval' ontdekt doordat ze een selfie-filmpje op YouTube plaatste dat zorgde voor nationale bekendheid. Deze bekendheid is meer dan verdiend en moet zich wereldwijd voortzetten, want dit trio is meer dan de moeite waard.
Meer Georgische muziek
klik hier
English version
In September 2014 Trio Mandili from Georgia put a movie on YouTube. This recording was a hit and got a lot of attention on social media and viewed over 10 million times. It was inevitable; Anna Chincharauli, Tatia Mgeladze and Shorena Tsikarauli recorded their album 'With Love'. A lovely début!
More music from Geogia
click here
It is not only the wonderful songs what makes this charming trio so special. It is also their splendid harmonies which makes you feel like listening to one voice, one polyphonic colour. The trio sings new music in the Georgian polyphonic tradition; in Georgia originally sung by male voices. The passion, drive and the energy is exciting and shows an unmistakable love for their national music. Very tight and coherent voices. The trio varies their music by starting some pieces with solo singing, with call-and-respond and polyphony. That brings a refreshing change and makes it even stronger. They accompany themselves on the chonguri. A three-stringed instrument, similar to the Russian balalaika. Georgia is a rich country with lots of wonderful polyphonic music, both folk and religious music. For every occasion – a different song (to start with a 'toast-song' to God: from 330 Georgia is a Christianity). Trio Mandili became famous overnight by a video selfie they put on YouTube that led to national fame. This fame is more than deserved, and should be continued worldwide, because this trio is more than worth it!
Trio Mandili; 'With Love' (www.triomandili.com)
© Mattie Poels.