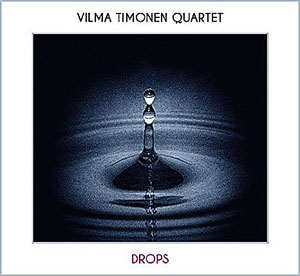 Zangeres Vilma Timonen behoort tot de nieuwe lichting kantele (tokkelinstrument) spelers die op zoek gaat naar hedendaagse cross-overs. 'Drops' is een fusie van contemporary folk met jazz, pop en improvisatie. Een ongekend innovatief resultaat. Kristalheldere muziek die tegen een eeuwenoude achtergrond de geschiedenis vertaalt en prachtig aanvult.
English version below
De kantele is een Fins tokkelinstrument. Varianten van dit bijzondere snaarinstrument komen we tegen in de Baltsche staten (Letse kokle en Litouwse kanklės) en in Rusland goesli. De kantele leent zich uitstekend voor diverse cross-overs. Zo gebruikt de Finse kantele speler Hannu Saha diverse soorten samen met een strijkkwartet. De Noorse zangeres Sinikka Langeland geeft het instrument in haar project 'Starflowers' een nieuwe kleur samen met trompet, saxofoon en percussie. De elektrische variant vinden we bij Timo Väänänen die bovendien allerlei elektronica toevoegt. Het Vilma Timonen Quartet kiest de richting van pop en improvisatie. Niet de improvisatie die je bij jazzmuziek verwacht, maar in een boog van bedachtzaamheid klinken er uitgelezen stukken, vakkundig gearrangeerd waar de kantele centraal staat. Contemporary folk met de heldere stem van Vilma Timonen die de meeste stukken schreef en ook de kantele bespeelt. De twinkeling van het instrument bezorgt de muziek een akoestische illusie die te vergelijken is met het 'dansen door ijswater op een snikhete dag'. Sferische melodieën, innemend gezongen, aangevuld met meerstemmige vocalen, (bas)gitaar, trompet, mandoline en percussie. 'Drops' is het derde album van het Vilma Timonen Quartet. Een CD waar de Finse muziek vanaf spat, maar net even anders, nieuwer en spannender en daardoor zo bijzonder.
English version
Singer Vilma Timonen belongs to the new generation kantele (plucked instrument) players. On her new album 'Drops' she recorded with her quartet a splendid fusion of contemporary folk with jazz, pop and improvisation with an unprecedented result. Crystal clear music which translates the history to the future.
The kantele is a Finnish plucked instrument. Variants of this particular stringed instrument can be found in the Baltic States; the Latvian kokle and Lithuanian kankles, and the Russian gusli. The kantele is an ideal instrument for various crossovers. The Finnish kantele player Hannu Saha used various kinds along with a string quartet. The Norwegian singer Sinikka Langeland gives the instrument in her project 'Star Flowers' a new color with trumpet, saxophone and percussion. The electric version can be found with Timo Väänänen which also adds all kinds of electronics. The Vilma Timonen Quartet chooses the direction of pop and improvisation. Not the improvisation you expect with jazz music. The quartet plays thoughtfulness music, expertly arranged with the kantele in the centre. Contemporary folk with the clear voice of Vilma Timonen, who wrote most of the pieces and also plays the kantele. The twinkling of the instrument gives the music a kind of acoustic illusion that can be compared with 'dancing in ice water on a sweltering day'. Sparkling fresh with spherical melodies, wonderful sung, supplemented with polyphonic vocals, (bass) guitar, trumpet, mandolin and percussion. 'Drops' is the third album of the Vilma Timonen Quartet. A CD with Finnish music, but slightly different, newer and more exciting and therefore so special!
Vilma Timonen Quartet: 'Drops' (Bafe's Factory)
© Mattie Poels.