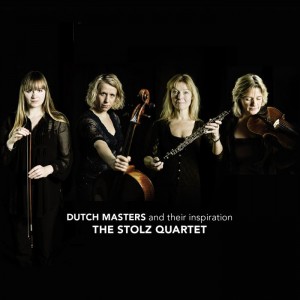 The Stolz Quartet (hobo en strijktrio) speelt op hun cd 'Dutch Masters and their inspiration' muziek van eigentijdse Nederlandse componisten. Nieuw werk maar ook door hen gearrangeerde stukken van Maurice Ravel, Alexander Skrajabin en Franz Liszt. Het resultaat is een fraaie en evenwichtige collectie van muziek uit de 20ste eeuw.
English version below
De cd opent met 'Tombeau de Couperin' (De gedenksteen voor Couperin) van Maurice Ravel. Een hommage aan deze Barok componist waarin Ravel in zes delen bevriende soldaten herdenkt die omkwamen tijdens de Eerste Wereldoorlog. Hij schreef het stuk aanvankelijk voor piano maar orkestreerde later vier delen voor orkest. Met oog voor details bewerkte de Nederlandse componist Robert Zuidam vijf delen voor het Stolz Quartet. Een oorverblindende schoonheid die het kwartet het timbre van een orkest bezorgd en daarmee de toon zet voor het hele album. Zo is het tweede werk een gedeelte uit het theaterstuk 'A Love Unsung' van Robert Zuidam (voltooiing 2014) waarin het Stolz Quartet een prachtig serene sfeer opbouwt. Iets soortgelijks gebeurt in 'Haiku's' van Klaas de Vries waar de muziek bijzondere filmische beelden oproept die helaas worden verstoord door overbodig voorgedragen Japanse gedichtjes. Componist Theo Verbey arrangeerde vier korte piano preludes van Skrjabin en componeerde '4 Preludes to Infinity'. Een vierluik waarin hij door middel van verschillende compositie technieken de vergankelijkheid aantoont.
Met veel gevoel voor kleur en samenklank speelt The Stoltz Quartet het werk van deze eigentijdse Nederlandse componisten. Een solide uitvoering die nergens scheurtjes vertoont maar klinkt als een coherent geheel. Dat het kwartet van deze muziek houdt, is overduidelijk en maakt daarmee ook de luisteraar enthousiast. Dat geldt overigens ook voor een live uitvoering van The Stolz Quartet waar de podium opstelling per compositie varieert, aangevuld met spontane aankondigingen en veelal gespeeld zonder bladmuziek. 'Dutch Masters and their inspiration' is een inspirerend album waarin Nederlandse meesters niet alleen schitteren als componist maar ook als arrangeur en waarbij ze oude composities plaatsen in een nieuw muzikaal daglicht. En The Stolz Quartet speelt ze en doet dat voortreffelijk!
English version
The Stolz Quartet (oboe and stringtrio) plays music from Dutch contemporary composers. New work but also arranged compositions by them from Maurice Ravel, Alexander Skrjabin and Franz Liszt. The result is an excellent and balanced collection of 20th century's music.
The first piece is 'Tombeau de Couperin' (A memorial stone for Couperin) written by Maurice Ravel. A homage to this Baroque composer. Ravel memorialized in six parts his friends who perished in World War I. He wrote this piece for piano solo but orchestrated four pieces. Very detailed the Dutch composer Robert Zuidam arranged five parts for The Stolz Quartet. Lovely ear-catching music which gives the quartet the sound of an orchestra. Zuidam also wrote 'A Love Unsung' (accomplishment 2014) in which he built a serene atmosphere. Also to be found in 'Haiku's' written by Klaas de Vries. A catchy composition, disturbed by spoken short Japanese poems. Composer Theo Verbey arranged four short piano preludes written by Skrjabin and composed '4 Preludes to Infinity'. Four compositions in which he used several compositions skills and shows the fragile sense of music.
The Stoltz Quartet has a great feeling of musical color and harmony. A coherent performance, played tight but also very transparent. It's obvious, this quartet loves the music they play which overleaps to the listener and make them enthusiastic as well. Remarkable as well is the stage setup which varies every piece, with spontaneous announcements and played without sheet music. 'Dutch Master and their inspiration' is an inspiring album with some great contemporary Dutch composers. And The Stolz Quartet performs and do it excellent!
The Stolz Quartet: 'Dutch Masters and their inspiration' (Challenge Classics)
© Mattie Poels.