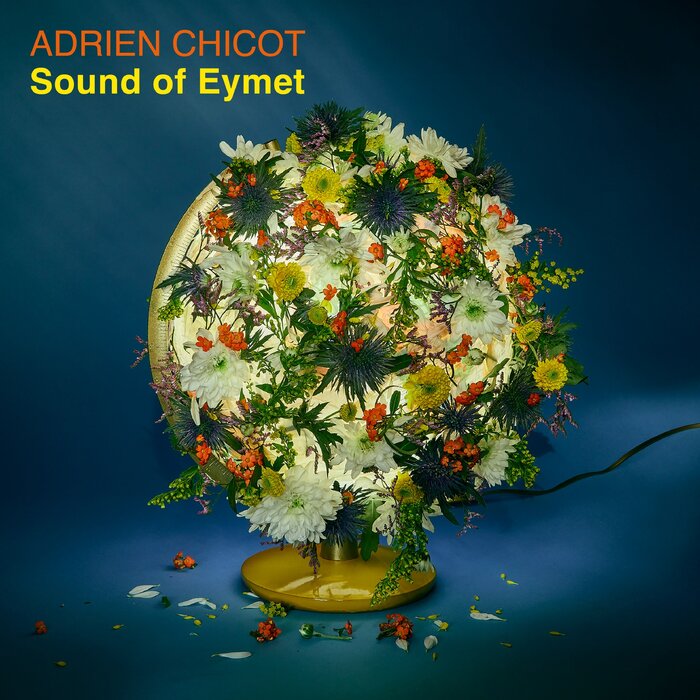 Op Sound of Eymet borduurt de Franse pianist Adrien Chicot voort op de oude jazz-traditie. Eigen composities, gehuld in een gevoelsmatig metier.
English version below
Pianist Adrien Chicot wordt geboren in Parijs in 1977. Gefascineerd door muziek, leert hij zichzelf aanvankelijk pianospelen, wat al vroeg leidde tot het spelen van jazz. Van hieruit ontwikkelt Chicot zich tot een modern jazz-musicus met oog en oor voor de traditie.
Op zijn nieuwe, vijfde album Sound of Eymet staan negen stukken, gecomponeerd door Chicot. Hij wordt bijgestaan door saxofonist Ricardo Izquierdo, trompettist Julien Alour, contrabassist Sylvian Romano en drummer Antoine Paganotti. De stukken excelleren in complementaire ritmiek (Searching the Sound), gebruik van hele toonstoonladder in het sferische Rainy Day. Onregelmatige ritmes in Fieste y Siesta met fraaie tweestemmige blazerspartijen. Een bijzonder stuk is Die with the Secret of the hidden Treasure. Een compositie die eigenlijk alleen maar een wonderlijk mooi thema is en waar, helaas, niet op wordt geïmproviseerd. In het slotstuk Funk for Slem heeft Chicot gekozen voor de elektrische (Fender Rhodes) piano. Een mooie keuze, maar vreemd genoeg wordt deze compositie weg-gefade, midden in de piano-solo.
De muziek op Sound of Eymet klinkt organisch en straalt een markante & zelfverzekerde inventiviteit uit. De composities zijn interessant, worden sympathiek en met aandacht gespeeld en hebben een natuurlijke flow, met uitgekiend notenwerk tijdens de solo's. Eymet is een kleine provinciestad in de buurt van de Franse stad Bordeaux, met iets minder dan 25.000 inwoners. Als Sound of Eymet een metafoor is voor de sfeer van deze stad, dan wordt het tijd eens af te reizen naar het zuiden van Frankrijk.
English version below
The music on the Sound of Eymet, by the French pianist Adrien Chicot is an elaboration on the old jazz tradition. Brand new compositions, wrapped in an emotional metier.
Pianist Adrien Chicot was born in Paris in 1977. Fascinated by music, he initially taught himself to play the piano, which led to playing jazz early on. From here, Chicot developed himself into a modern jazz musician with an eye and ear for tradition.
His new, fifth album Sound of Eymet contains nine pieces, composed by Chicot. He is assisted by saxophonist Ricardo Izquierdo, trumpeter Julien Alour, double bassist Sylvian Romano and drummer Antoine Paganotti. The pieces excel in complementary rhythm (Searching the Sound), the use of the whole tone scale in the spherical Rainy Day. Irregular rhythms in Fieste y Siesta with beautiful two-part wind instruments. A special piece is Die with the Secret of the hidden Treasure. A composition with a wonderful and beautiful melodie and with, unfortunately, no improvisation. In the final piece Funk for Slem, Chicot has opted for the electric (Fender Rhodes) piano. A nice choice, but strangely enough this composition is faded away in the middle of the piano solo.
The music on Sound of Eymet sounds organic and exudes a striking & confident inventiveness. The compositions are interesting, played sympathetically, with attention and have a natural flow, with sophisticated melodic phases during the solos. Eymet is a small provincial town near the French city Bordeaux, with a population of just under 25,000. If the music on Sound of Eymet is a metaphor for the atmosphere of this city, then it's time to travel to the south of France.
*Adrien Chicot: Sound of Eymet (Finger Snap)
© Mattie Poels.