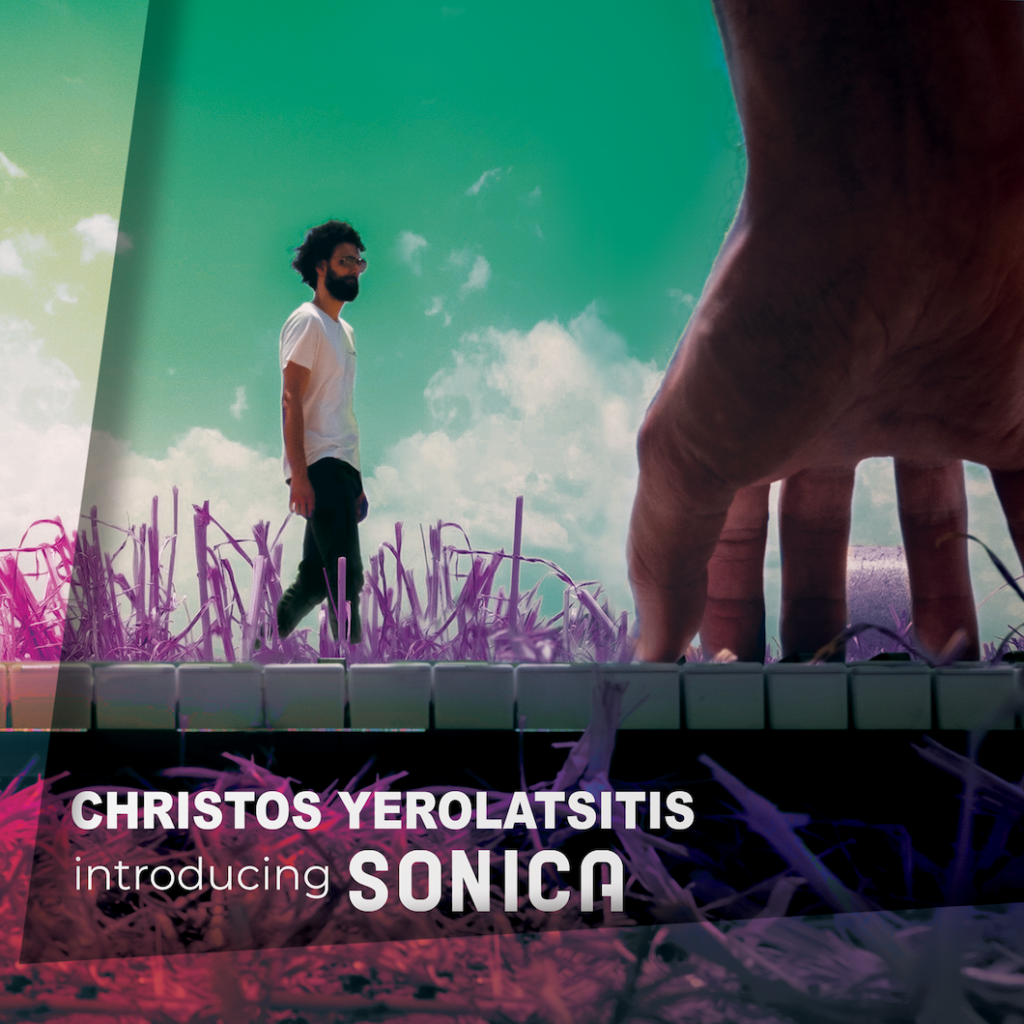 Introducing SONICA is een jazz-synth-pop album van de Cypriotische multi-keyboardspeler Christos Yerolatsitis.
English version below
In 2009 verruilde pianist Christos Yerolatsitis Cyprus voor Nederland en studeerde hij aan de Conservatoria van Den Haag en Amsterdam. Hij werkte samen met de saxofonisten Benjamin Herman, Ben van den Dungen, trompettist Eef van Breen en was hoofd van de pianoafdeling van de True School of Music in Mumbai, West India. Vervolgens keerde hij terug naar zijn geboorte-eiland Cyprus om de interesse voor de (analoge)synthesizer verder uit te breiden.
Hieruit ontstond, tijdens de lockdown, het album Introducing SONICA, in een tijd van (noodgedwongen) bezinning. Met titels als Announcement, Resistance, Separation of Tomorrow's Yesterday (De tijd uit het oog verliezen), A Long Drive (Ontsnapping aan vandaag) of Virtual Party (Feest Online) is Introducing SONICA een retrospectief voor deze indringende periode.
De muziek heeft een rijk geschakeerd sfeerbeeld, dat veelal wordt gecreëerd door analoge synthesizer-sounds, waardoor de muziek wat gedateerd aandoet. Dat is natuurlijk helemaal niet erg, mits goed gespeeld. En dat wordt er. Christos Yerolatsitis schreef alle stukken en bespeelt ook alle (synthesizer)partijen. Virtuoze passages, strakke solo's, gehuld in lopende (saw-tooth)bas-sounds, Fender Rhodes met effecten, galm, echo en tremolo, aangevuld met ferme, stuwende en markante (poly)ritmiek van slagwerker Stelio Xydias. Bijzonder is dat de stukken geen thema's hebben. Er klinkt een overall-ambiance over 'geïmproviseerde improvisaties', licht vervreemdend, afwisselend met uiteenlopende ritmiek- en akkoordgebruik. Met Introducing SONICA heeft Christos Yerolatsitis een fantastisch debuut-album afgeleverd, dat hij live aanvult met Andreas Panteli (keys) en Andreas Rodosthenous (bass/electronics).
English version
Introducing SONICA is a jazz synth pop album by Cypriot multi-keyboard player Christos Yerolatsitis.
In 2009, pianist Christos Yerolatsitis moved from Cyprus to the Netherlands and studied at the Conservatories of The Hague and Amsterdam. He has collaborated with saxophonists Benjamin Herman, Ben van den Dungen, trumpeter Eef van Breen and was head of the piano department at the True School of Music in Mumbai, West India. He then returned to his native island of Cyprus to further expand his interest in the (analogue) synthesizer.
This resulted is the album Introducing SONICA, develloped during the lockdown, in a time of (forced) reflection. With titles like Announcement, Resistance, Separation or Tomorrow's Yesterday (losing track of time), A Long Drive (Escape from today) or Virtual Party (Party online), Introducing SONICA became a retrospective of this intense period.
The music has a richly varied atmosphere, which is often created by analog synthesizer sounds, which makes the music sound a bit dated. That is of course not bad at all, if the music is well played. And that what it is. Christos Yerolatsitis wrote all pieces and also plays all (synthesizer) parts. Virtuoso passages, tight solos, wrapped in running (saw-tooth) bass sounds, Fender Rhodes with effects, reverb, echo and tremolo, supplemented with firm, driving and striking (poly)rhythms by percussionist Stelio Xydias. Special is that the pieces have no themes. There is an overall atmosphere in 'improvised improvisations', slightly alienating, alternating with different rhythms and chords. With Introducing SONICA Christos Yerolatsitis has delivered a fantastic debut album, live supplemented with Andreas Panteli (keys) and Andreas Rodosthenous (bass/electronics).
*Christos Yerolatsitis: Introducing SONICA (Eigen Beheer)
© Mattie Poels.