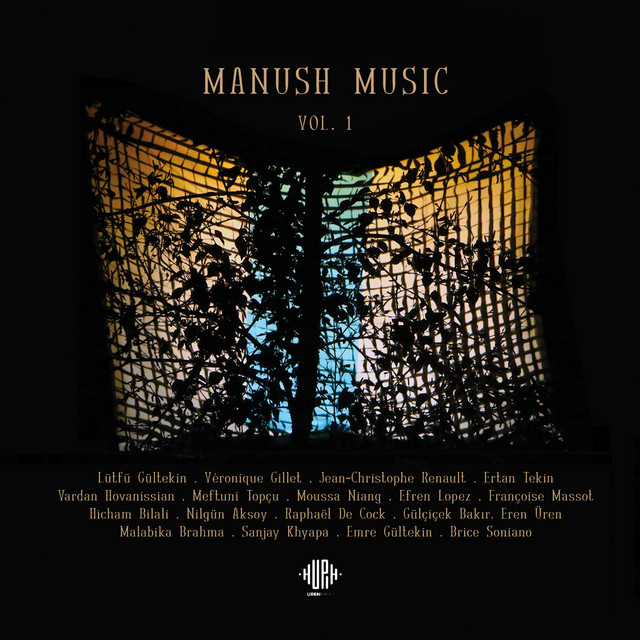 Het album Manush Music VOL. 1 is een fraai expose met muziek uit o.a. Turkije, Armenië, India en (Noord) Afrika.
English version below
Manush Music VOL. 1 is een met zorg samengesteld compilatiealbum met musici uit Senegal, Turkije, België, Spanje, Marokko, Frankrijk, Armenië en India. Het album is uitgegeven door het recent opgerichte Franse label Uren Production. Met deze CD Manush Music VOL 1 presenteert het label 18 artiesten. Manush betekent mens in het Bengaals, dat op dit album gebruikt wordt als metafoor, waarin de mens centraal staat, ongeacht ras, kleur of gender. Daar hoort natuurlijk ook muziek bij, die in veel landen zeer verschillend is. Een gegeven dat onze wereld zo uniek maakt en op dit album, door zijn variatie, fraai tot zijn recht komt.
Bijzonder is bijvoorbeeld de warme stem van de Senegalese zanger Moussa Niang die in Mama Sama zingt over de Senegalese spiritueel leider Mama Khalifa, gecomponeerd en begeleid door de Belgische gitariste Véronique Gillet. De Turkse zanger Meftuni Topçi zingt in Topragin Töresi over de gebruiken in zijn land waarin hij zichzelf begeleidt op de baglama. En dan is er opeens de opzwepende gnawa uit Noord-Afrika, waarin Mira wordt bezongen die opvalt door haar innemende lach, gezongen door Hisham Bilali uit Marokko. Indringend is ook het lied Dal Dala met het duduk-spel (dubbelrietinstrument uit Armenië) van Ertan Tekin en vocalen van Nilgün Aksoy. In dit lied horen we ook multi-instrumentalist Efran Lopez (op draailier) van de legendarische Spaanse folkgroep L'Ham de Foc. Tot slot is er de combinatie piano (compositie en spel Christophe Renault) en de hartverscheurende en ongekend mooie Indiase stem van Malabika Brahma in het lied Smell of India, opgedragen aan de Indiase zangeres Begum Parveen Sultana. Manush Music VOL. 1 is een artistiek verantwoorde compilatie voor de avontuurlijke muziekliefhebber. Mocht een stuk je toch niet bevallen, geen paniek, er zijn er nog 12.
English version
The album Manush Music VOL. 1 contains a beautiful collection with music from Turkey, Armenia, India and (North) Africa.
Manush Music VOL. 1 is a carefully selected compilation album with musicians from Senegal, Turkey, Belgium, Spain, Morocco, France, Armenia and India. The album is released by the recently founded French label Uren Production. With this CD Manush Music VOL 1 the label presents 18 artists. Manush means human in Bengali. Used on this album as a metaphor in which people are central, regardless of race, color or gender. Of course, this also includes music, which is very different in many countries. A fact that makes our world so unique and comes into its own on this album, due to its variety.
Special, for example, is the warm voice of the Senegalese singer Moussa Niang who sings in Mama Sama about the Senegalese spiritual leader Mama Khalifa, composed and played by the Belgian guitarist Véronique Gillet. The Turkish singer Meftuni Topçi sings in Topragin Töresi about the customs in his country in which he accompanies himself on the baglama. And then suddenly there is the rousing gnawa from North Africa. A song about Mira, who stands out for her captivating laugh, sung by Hisham Bilali from Morocco. Also penetrating is the song Dal Dala with the duduk playing (double reed instrument from Armenia) by Ertan Tekin and vocals by Nilgün Aksoy. In this song we also hear multi-instrumentalist Efran Lopez (on hurdy-gurdy) of the legendary Spanish folk group L'Ham de Foc. Finally, there is the combination of piano (composition and performance Christophe Renault) and the heartbreaking and incredibly beautiful Indian voice of Malabika Brahma in the song Smell of India, dedicated to the Indian singer Begum Parveen Sultana. Manush Music VOL. 1 is an artistically CD compilation for the adventurous music lover. And if you don't like a piece, don't panic, we still have 12 more to go.
*Manush Music: VOL. 1 (Uren Production & Arts des Mondes / Xango)
© Mattie Poels.