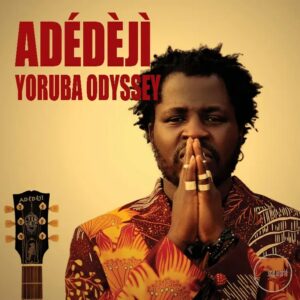 De Nigeriaanse zanger, gitarist en componist Adédèjí brengt op zijn album Yoruba Odyssey een bruisende Yoruba-mix.
English version below
Wie de muziek van Ebenezer Obey, King Sunny Ade en natuurlijk Fela Kuti kent, zal genieten van dit derde album YorubOdyssey van Adédèjí (Adetayo). Hij begon in het kerkkoor van Lagos. Als hij 15 is, leert hij gitaarspelen en studeert muziek aan de Universiteit van Lagos. Hij werkte o.a. met Tony Allen (drummer van Fela Kuti), Fred Wesley (meest funky trombonist, speelde met James Brown, Maceo Parker en zijn JB's), de Nederlandse band Fra Fra Sound en nam zijn debuut-album op met gitarist Lionel Loueke uit Benin.
Op Yoruba Odyssey horen we een doorwrochte mix van Yoruba, afrobeat, funk, soul, blues, jazz, gospel (prachtig in langzame Lagos Blues) en soukous in het slotstuk Tales of Agege. De Yoruba muziek is kenmerkend door zijn opzwepende en gepuncteerde ritmiek die vooral te horen is op de talking drum. Een kleine trommel die van toonhoogte veranderd kan worden en bespeeld wordt met een klein, hoekvormige stick. De muziek op Yoruba Odyssey is energiek en wordt dynamisch gespeeld. De vakkundigheid spat uit de luidsprekers. Puntige ritmes op percussie tegen strak gespeelde (bas)gitaar- en blazer-thema's worden omlijst met synthesizer-partijen, solo-vocalen en meerstemmige achtergrondzang. Er wordt gezongen in het Yoruba en het Engels over de indentiteit van Yoruba-cultuur en Yoruba-bevolking met veel voor- en nazang. De muziek van Adédèjì is oprecht en eerlijk, een wervelend geheel, met liefde uitgevoerd in onuitputtelijke energie!
English version
The Nigerian singer, guitarist and composer Adédèjí brings a vibrant Yoruba mix on his album Yoruba Odyssey.
Those who know the music of Ebenezer Obey, King Sunny Ade and of course Fela Kuti will enjoy this third album Yoruba Odyssey by Adédèjí (Adetayo). He started in the church choir of Lagos. When he was 15, he learned to play the guitar and studied music at the University of Lagos. He worked with, among others, Tony Allen (drummer of Fela Kuti), Fred Wesley (great funky trombonist of James Brown, Maceo Parker and his JB's), the Dutch band Fra Fra Sound and recorded his debut album with guitarist Lionel Loueke from Benin.
On Yoruba Odyssey, we hear a well thought-out mix of yoruba, afrobeat, funk, soul, blues, jazz, gospel (beautiful in slow Lagos Blues) and soukous in the closing piece Tales of Agege. Yoruba music is characterized by its exciting and punctuated rhythm, which can mainly be heard on the talking drum. A small drum that can be pitched and played with a small, angled stick. The music on Yoruba Odyssey is uplifting, energetic and dynamic. The expertise is bursting from the loudspeakers. Tight rhythms on percussion and well played (bass) guitar and horn themes are framed with synthesizer parts, solo vocals and polyphonic background vocals. Vocals are in Yoruba and English and lyrics are about the identity of Yoruba culture and the Yoruba people, with a lot of call- and respond-singing. The music of Adédèjì is sincere and honest, great swirling music, performed with joy and inexhaustible energy!
Adédèjì: Yoruba Odyssey (One World Records/Xango)
© Mattie Poels.