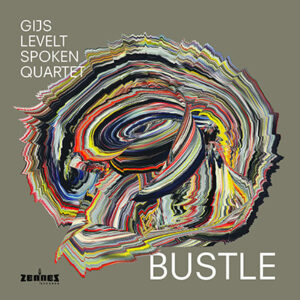 De Amsterdamse trompettist Gijs Levelt vindt zichzelf steeds opnieuw uit. In 2021 deed hij dat met zijn Spoken. Een album dat hij nu aanvult met de bijzondere CD Bustle met zijn Gijs Levelt Spoken Quartet.
English version below
De coronatijd heeft voor veel musici het muziekveld (volledig) veranderd. Aangezien muzikanten elkaar in Coronatijd niet mochten ontmoeten, ontstond er voor Gijs Levelt een grensverleggende uitdaging: op zoek gaan naar nieuwe solo-wegen voor trompet. Dat resulteerde in zijn album Spoken waar hij op innovatieve wijze gebruik maakt van loop-station, effectpedalen en samplers. Nu, weer een jaar later, breidt hij die werkwijze verder uit met zijn Spoken Quartet met bassist/gitarist Mark Haanstra, drummer/percussionist Joost Lijbaart en pianist en geluids-wizard Stefan Schmid die we ook al tegenkwamen als producer van de CD Blitzmash van de AKB en natuurlijk bij ZUCO103 met zangeres Lilian Vieira. 
Het album Bustle zit vol muzikale heerlijkheden. Tempo's worden verdubbeld en gehalveerd, in Signal Chain horen we zelfs de weinig voorkomende 15/4 maatsoort. Daarnaast klinkt er stuwende ostinato bas en synthesizer-ritmiek (Also Known as Moon en Bustle). Dit alles ruim overgoten met degelijk trompet-werk en vette Fender Rhodes-solo zoals in het slotstuk Pedal Pusher. Opvallend is de snare-klank. Joost Lijbaart maakt gebruik van smaakvolle ghostnotes op een hoog gestemde snare-trommel, die hierdoor een fris gemêleerde Bill Bruford-sound krijgt.
Bustle staat vol eigen werk van Levelt. Zo ook het traditioneel aandoende Dolmus Havasi dat hij tegen een Turkse achtergrond componeerde voor de AKB, geïnspireerd op de psychedelische muziek van de band BaBa Zula uit Istanboel. Bustle is een luisterrijke CD die, zonder repetitie vooraf, in drie dagen werd opgenomen. Knap werk! Een aanpak die doet denken aan de klassieker Kind of Blue (1959) van Miles Davis waar de musici ook in de studio pas te horen kregen wat de bedoeling was. Dat vraagt om vakkundigheid en inlevingsvermogen van de muzikanten, die goed naar elkaar moeten luisteren en 'on-the-spot' hun spel zó moeten aanpassen dat het de muziek, het geheel, ten goede komt. Alleen op deze wijze krijg je muziek die klinkt als één voortreffelijk geheel. Een werkwijze waar veel politici eens naar moeten luisteren!
English version
Gijs Levelt is a trumpet player from Amsterdam who keeps reinventing himself. In 2021 he recorded his album Spoken, which he now supplements with the special CD Bustle with his Gijs Levelt Spoken Quartet.
We mainly know Gijs Levelt from the Amsterdam Klezmer Band (AKB). A very successful party band that has been touring all over the world since 1997, released 15 albums and collaborated with the Galata Gypsy Band and musicians like saxophonist Benjamin Herman, cymbalist Bokkie Vink and ûd (Arabic lute) player Haitham Safia. He is also co-founder of crossover bands where world music, jazz and improvised music are mixed in an original way, such as in STriCat, Spinifex and the Axyz Ensemble. It's fantastic how Levelt is always looking for new musical paths!
The corona time has (completely) changed the music field for many musicians. Since musicians were not allowed to meet, Gijs Levelt faced a groundbreaking challenge: to look for new ways for trumpet solo. This resulted in his album Spoken, where he uses loop stations, effects pedals and samplers in an innovative way. Now, one year later, he is expanding that method further with his Spoken Quartet with bassist/guitarist Mark Haanstra, drummer/percussionist Joost Lijbaart and pianist and sound wizard Stefan Schmid, who we also encountered as producer of the CD Blitzmash of the AKB and of course at ZUCO103 with singer Lilian Vieira.
The album Bustle is full of musical delights. Tempos are doubled and halved, in Signal Chain we even hear the rare 15/4 time signature. In addition, there is driving ostinato bass and synthesizer rhythms (Also Known as Moon and Bustle). All this generously topped with decent trumpet work and a fat Fender Rhodes solo, as in the final piece Pedal Pusher. Another fine thing is the snare sound, which is striking. Joost Lijbaart uses tasteful ghost notes on a high-tuned snare drum, which gives a fresh mixed Bill Bruford sound.
Bustle is full of Levelt's own compositions. This includes the traditional-sounding Dolmus Havasi, which he composed for the AKB against a Turkish background, inspired by the psychedelic music of the band BaBa Zula from Istanbul. Bustle is a magnificent CD that was recorded in three days, without any rehearsal. Great job! An approach that is reminiscent of Miles Davis' classical album Kind of Blue (1959), where the musicians were only told what the intention was in the studio. This requires skill and empathy from the musicians, who have to listen carefully to each other and adapt their playing 'on-the-spot' in such a way that it benefits the music. Only in this way music will sound like óne excellent unity. A method that many politicians should listen to!
If you want to experience it live: the album will be officially presented on September 21 ('22) in the Bimhuis Amsterdam and October 25 ('22) in TivoliVredenburg Utrecht.
Gijs Levelt Spoken Quartet: Bustle (ZenneZ Records)
Foto Spoken Quartet: Thomas Huisman
© Mattie Poels.