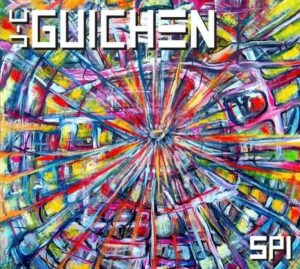 Spi (Hoop) is de titel van het nieuwe album van de Bretonse muziek-icoon Jean-Charles Guichen. Een dans-album van een Bretons musicus in hart en nieren.
English version below
English version
Spi (Hope) is the title of the new album by Breton music icon Jean-Charles Guichen. A dance album by a Breton musician in heart and soul.
In the after days of the folk revival, Jean-Charles Guichen founded the group Ar Re Yaouank together with his brother Fred in 1986. As far as that revival is concerned: there are locations in Europe where the folk has always been and is alive and so there is hardly any question of a revival. Brittany developed, together with Galicia (NW-Spain) and Ireland, into one of the most folk-minded regions in Europe. The Guichen brothers of the group Ar Re Yaouank accompanied themselves on guitar and accordion and were assisted on bagpipes (bombard) later supplemented with electric bass. They have also revived the Fez-Noz (folk dance dancing events). Festivities that still take place in Brittany, for example during the Festival Interceltique de Lorient. A phenomenon that has also spread to Belgium and the Netherlands. As for dancing, it's still in Jean-Charles' blood. His new album Spi is also full of bold folk (rock) music. In striking repertoire he plays his (own) arranged works that are suffused with Breton folk, now and then enhanced with solid rock elements. In this way he creates a musical color that is not only cheerful and festive, but also carries a certain melancholy. This double-sidedness makes his music so very strong. Jean-Charles is assisted by outstanding musicians, including guitarists Norbert Krief (great solo in Hollvedel) and Dan ar Braz (guitarist for Alan Stivell). But there's also Neven Sebille Kernaudour on bombarde (a kind of oboe) and bagpipes (biniou and Uilleann pipes) supplemented with solid bass and drums work. The instrumental music is full of (unexpected) accents, striking transitions, rhythmic alternations and variations and of course flamboyant melodies. In addition to being an inspired musician (wonderful playing in Lok, Lamm-ael and A Galon Laouen), Jean-Charles is also a gifted painter, as witnessed by the beautiful paintings printed in the accompanying booklet. Colorful work that most tends to a kind of creative cubism. Works that are adventurous, imaginative and dynamic and therefore they fit seamlessly with his music.
J-C Guichen: Spi / Espoir (Glaz Music / Xango)
© Mattie Poels.