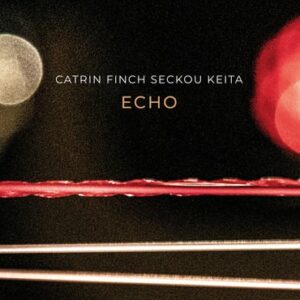 ECHO is de titel het nieuwe album van harpiste Catrin Finch en Sengalese kora-speler Seckou Keita.
English version below
De kora, de west-Afrikaanse harp, kwamen we al tegen in diverse westerse combinaties. De kora in combinatie met harp en strijkers is nieuw en biedt een innovatief landschap met oneindig fraai snarenspel. De kora-avonturier Seckou Keita is steeds op zoek naar een nieuw klank-landschap. Zo nam hij een album op met de Cubaanse pianist Omar Sosa, het AKA trio, enkele tracks met de Italiaanse gitarist Antonio Forcione en zijn prachtige solo-CD 22-Strings uit 2015.
ECHO is het nieuwe, derde album dat kora-speler Seckou Keita opnam met harpiste Catrin Finch uit Wales. De muziek is een cross-over van folk gemengd met een lichte west-Afrikaanse signatuur. Filmische melodische stukken waar beide harpen excelleren in vervlochten en verrassend snaren-spel. De instrumenten flaneren in sierlijk getokkel dat heen en weer beweegt, soms over enkele akkoorden maar steeds in een duidelijke structuur, waardoor de muziek transparant en helder klinkt. Thema's worden rijkelijk aangevuld met arpeggio's, al dan niet simultaan gespeeld. Naast de vocalen van Keita (overtuigend meerstemmig in Chaminuka) wordt in 4 van de 7 stukken het duo aangevuld met een strijkseptet. De langen lijnen van de (alt)violen, cello en contrabas geven de muziek een zachte glooiing die hypnotiserend en fraai contrasterend werkt, maar hierdoor verdwijnt wel enigszins de diepgang van de muziek. Maar ECHO is een album dat opvalt. Het is een sublimatie in virtuoze soberheid. Een weerklank waarin west-Afrikaanse muziek en folk elkaar met veel liefde en genegenheid afstoten en opzoeken.
English version
ECHO is the title of the new album by harpist Catrin Finch and Sengalese kora player Seckou Keita.
We have already come across the kora, the West African harp in various western combinations. The kora in combination with harp and strings is new and offers an innovative landscape with infinitely beautiful string playing. The kora adventurer Seckou Keita is always looking for a new soundscape. He recorded an album with the Cuban pianist Omar Sosa, the AKA trio, several tracks with the Italian guitarist Antonio Forcione and his beautiful solo CD 22-Strings from 2015.
ECHO is the new, third album that kora player Seckou Keita recorded with Welsh harpist Catrin Finch. The music is a crossover of folk, mixed with a slight West African signature. Cinematic melodic pieces where both harps excel in braided and surprising string playing. The instruments stroll in graceful strumming that moves back and forth, sometimes over a few chords but always in a clear structure, making the music sound transparent and clear. Themes are lavishly supplemented by arpeggios, played simultaneously or otherwise. In addition to Keita's vocals (convincing and polyphony in Chaminuka), in 4 of the 7 pieces the duo is supplemented by a string septet. The long lines of the violins, violas, cello and double bass give the music a soft curve that creates a hypnotic and beautifully contrasting effect. ECHO is an album that really stands out. It is a sublimation in virtuoso sobriety. A resonance in which West African music and folk repel and seek each other out with great love and affection.
ECHO: Catrin Finch & Seckou Keita (Bendigedig)
Photo by Jennie Caldwell
Live Photo by Garith Griffiths
© Mattie Poels.