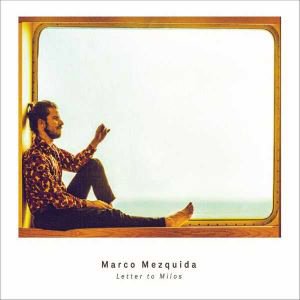 De Catalaanse pianist Marco Mezquida schiet met zijn nieuwe album Letter to Milos in de spreekwoordelijke roos. Een uiterst muzikale CD in trio piano, cello en slagwerk-bezetting.
English version below
Marco Mezquida wordt geboren op de Balearen (Menorca) in 1987. Studeert in 2009 af aan het Escola Superior de Música de Catalunya (ESMUC) in Barcelona en brengt meer dan twintig gevarieerde albums uit. Niet zo vreemd want muzikaal deinst hij nergens voor terug. Geen enkele stijl is veilig voor deze piano-leeuw. Sterker nog, hij creëert een royale cross-over van jazz, vrije improvisatie, romantisch, impressionistisch, hedendaagse muziek, flamenco, pop en zelfs gospel. Deze mix van stijlen komen we ook tegen op zijn laatste album Letter to Milos. Opgedragen aan zijn zoon Milos (te horen in Charrada de la vida), met als doel om hem met liefde kennis te laten maken met de diversiteit van muziek. En dat is, werkelijk, wonderlijk goed gelukt. Diverse stijlen werkt Mezquida vakkundig uit en laat ze kristalliseren tot volwaardige composities, met fraaie themathiek, gegoten in originele en verrassende arrangementen. Bijzonder bekwaam en gedurfd. Opvallend daarbij is het gebruik van de ritmiek, die logischerwijze bij elke stijl anders is, maar door drummer/percussionist Aleix Tobias zeer inventief wordt ingevuld. Dat geldt ook voor cellist Martín Meléndez die zijn cello con arco (met strijkstok) en pizzicato (getokkeld) bespeelt en het instrument zelfs percussief gebruikt door er licht op te trommelen. Marco Mezquida is een uitmuntend pianist met een strak en trefzeker spel. Hij heeft een verzorgd touché, fraaie linkerhand (Pecebes y zamburñas) en een voortreffelijk gebruik van harmonieën. Akkoorden die zo vertrouwd klinken, maar waar hij plotseling een stuk modale jazz doorheen aan toevoegt. Vervreemdend? Zeker, maar heerlijk uitdagend en avontuurlijk en daarom zeer de moeite waard!
English version
The Catalan pianist Marco Mezquida hits the bull's eye with his new album Letter to Milos. An extremely musical CD in trio piano, cello and percussion line-up.
Marco Mezquida was born in the Balearic Islands (Menorca) in 1987. Graduated in 2009 from the Escola Superior de Música de Catalunya (ESMUC) in Barcelona and released more than twenty varied albums. This piano giant is musically not afraid of any musical style. In fact, he creates a generous a lovely crossover of jazz, free improvisation, romantic, impressionistic, contemporary music, flamenco, pop and even gospel. We also encounter this mix of styles on his latest CD Letter to Milos. An album that is dedicated to his son Milos (can be heard in Charrada de la vida). With love he introduces the diversity of music to Milos. And this really worked out very well. Mezquida skilfully elaborates various styles and allows them to crystallize into fully-fledged compositions, with beautiful thematics, put in original and surprising arrangements. Striking are the use of rhythms, which are logically different for every style, but is very inventively played by drummer/percussionist Aleix Tobias. The same applies to cellist Martín Meléndez, who plays his cello con arco (with bow) and pizzicato (plucked) and even uses the instrument percussive by lightly drumming on it. Marco Mezquida is an excellent pianist with tight and accurate playing. He has a neat touché, beautiful left hand (Pecebes y zamburñas) and an excellent use of harmonies. Chords that sound so familiar, but to which he suddenly adds modal jazz changes. Strange? It certainly is, but wonderfully challenging and adventurous and therefore very worthwhile!
Marco Mezquida: Letter to Milos (Marco Mezquida / Xango)
Photo Inma Casadelles
© Mattie Poels.