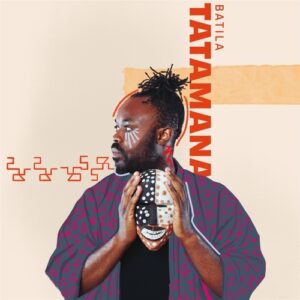 Geboren in Congo, wonende in Berlijn, maakt zanger en componist Batila een vitale cross-over van Congolese en westerse muziek.
English version below
Tatamana is de titel van Batila's nieuwe album en betekent Vasthouden waar je van houdt. Dat is precies wat deze muzikant doet. Op overtuigende wijze mengt hij de Congolese cultuur met de westerse. Hij is een singer-songwriter pur-sang die westerse muziek (jazzy sounds en R&B) doorspekt met Congolese ritmes als de rumba en de soukous. Dat levert opzwepende muziek op. Dat moet ook wel want zijn teksten (in Lingala en Engels) handelen over de liefde, over ouderliefde, persoonlijke vrijheid, het niet twijfelen aan je capaciteiten en oprecht geloof in religie (zoals te horen in het slot van Ressurection waar een vrouw zich terecht kwaad maakt over de racistische benadering van religie). Zijn muziek is eerlijk en oprecht met abrupte overgangen en prachtige meerstemmige vocalen. Tatamana is een afwisselende CD waar solo-stukken als Afreekan worden omlijst met de heerlijke soukous van Ba Nzambe Ya Sa, Awa en Labiko gelardeerd met frisse gitaarrifs gevolgd door het Zuid-Afrikaanse I need to go. Batila staat op de hoes afgebeeld met een Congolees masker dat symbool staat voor de kracht en schoonheid van Congolese cultuur. Zo vloeit de liefde voor de (Congolese) muziek door elke porie van dit bijzondere album. Muziek die de wereld over reisde: opgenomen in Kinshasa (hoofdstad van Congo) en gemixt in Berlijn. Dat proef je, ruik je en hoor je!

Luister hier naar het hele album via Bandcamp.
English version
Singer and composer Batila was born in Congo but now lives in Berlin. He recorded a vital crossover of Congolese and Western music.
Tatamana is the title of Batila's new album and means Hold on to what you love. That's exactly what this musician does. He convincingly mixes Congolese with Western music. He is a  singer-songwriter pur-sang, who intersperses Western music (jazzy sounds en R&B) with Congolese rhythms such as rumba and soukous. A very exciting cross-over. It has to be because his lyrics (in Lingala and English) deal with love, parental love, personal freedom, not doubting one's abilities and sincere belief in religion (as can be heard in the ending of the song Ressurection, where a woman is rightly angry about the racist approach to religion). His music is honest and sincere with abrupt transitions and beautiful polyphonic vocals. Tatamana is a varied CD where solo pieces such as Afreekan are framed with the delicious soukous of Ba Nzambe Ya Sa, Awa and Labiko larded with fresh guitar riffs followed by the South African sound of I need to go. Batila is depicted on the cover holding a Congolese mask that symbolizes the strength and beauty of Congolese culture. This is how the love for (Congolese) music flows through every pore of this special album. Music that traveled over the world: recorded in Kinshasa (capital of Congo) and mixed in Berlin. You can taste it, smell it and hear it!
Batila: Tatamana (Galileo)
© Mattie Poels.