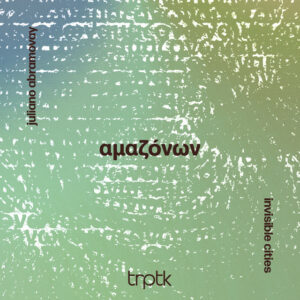 Het album Invisible Cities van gitarist Juliano Abramovay is het sprekende cross-over-verhaal van Braziliaanse, Turkse en Griekse muziek.
English version below
De Braziliaanse gitarist Juliano Abramovay is dol op cross-overmuziek. Met o.a. zijn projecten Mundus Quartet (oriëntaals), Musirque (circusmuziek) of het Grand Bazaar (Braziliaans/Balkan) zoekt hij naar de beste organische mix. Op zijn nieuwe CD Amazonon met het Magma Project heeft hij gekozen voor een bijzondere bezetting van: gitaar (en ûd/Arabische luit), basklarinet, (contra)bas, percussie en lyra, het prachtig 3-snarige strijkinstrument uit Griekenland met zijn larmoyante klank. De lyra komen we ook in diverse variaties tegen in het oostelijk deel van de Middelandse Zee: de Griekse en de Macedonische lyra, de Bulgaarse gadulka en de Turkse kemenche. Juliano Abramovay werd geboren in Sao Paulo in 1988 en studeerde aan het Codarts in Rotterdam onder supervisie van de geweldige ney (fluit)speler Kudsi Erguner. Naast gitaar bespeelt Juliano ook de ûd, de Arabische luit en is hij componist, arrangeur en bandleider. Op dit nieuwe album Amazonon – Invisible Cities met zijn Magma Project staan acht stukken. Werken van de legendarische Braziliaanse pianist Hermoto Pascoal en de Libanese ûd-speler Rabih Abou Khalil. Twee werken van de Amerikaanse (avant-garde) saxofonist John Zorn, een werk van gitarist Ralph Towner, de lyra-speler Chrysanthi Gkika van het Magma Project en twee werken van Juliano zelf. Alhoewel het een opsomming is van het repertoire, geeft deze keuze niet alleen aan hoe gedurfd hij is maar ook hoe vakkundig. Juliano Abramovay zorgt ervoor dat de muziek van Pascoal moeiteloos aansluit bij de composities van Zorn, Abou Khalil of Towner en creëert hiermee een compacte globaal Oriëntaalse sound.
Prachtig zijn de unisono improvisaties in Ravayah (Zorn) of de ûd en de lyra in Griekse Karri (Gkika). Het slotstuk Claraboia (Abramovay) is een overpeinzing van de Arabische luit, bas en percussie met innemend lyra-spel. Uitschieter is Sacred Place (Towner) waar de lyra je meeneemt over een azuurblauwe zee in een schitterde homofone en flinterdunne melodie. Het album Invisable Cities biedt een rijke beeldende klankwereld waar grenzen moeiteloos worden overschreden.
English version
Guitarist Juliano Abramovay's album Invisible Cities is the eloquent crossover story of Brazilian, Turkish and Greek music.
Brazilian guitarist Juliano Abramovay loves crossover music. He searches for the best organic mix with his projects Mundus Quartet (oriental), Musirque (circus music) or Grand Bazaar (Brazilian/Balkan). On his new CD Amazonon with the Magma Project, he has opted for a special line-up of: guitar (and ûd/Arabic lute), bass clarinet, bass, percussion and lyra, the beautiful 3-string string instrument from Greece with its larmoyant sound. The lyra can also be found in various variations in the eastern part of the Mediterranean: the Greek and Macedonian lyra, the Bulgarian gadulka and the Turkish kemenche. Juliano Abramovay was born in Sao Paulo in 1988 and studied at the Codarts in Rotterdam under the supervision of the great ney (flute) player Kudsi Erguner. In addition to being a guitarist, Juliano also plays the ûd, the Arabic lute, and is a composer, arranger and bandleader. There are eight pieces on this new album Amazonon with his Magma Project. Pieces written by the legendary Brazilian pianist Hermoto Pascoal and the Lebanese ûd player Rabih Abou Khalil. Two works by the American (avant-garde) saxophonist John Zorn, a work by guitarist Ralph Towner and the lyra player Chrysanthi Gkika of the Magma Project. Two works were composed by Juliano himself. Although it is a summary of the repertoire, this choice shows not only how daring Juliano Abramovay is, but also what a skilled musician he is. On this album Pascoal is connected effortlessly with the music of Zorn, Abou Khalil and Towner in a compact global Oriëntal sound.
Wonderful are the unison improvisations in Ravayah (Zorn) or the ûd and the lyra in Greek Karri (Gkika). The closing piece Claraboia (Abramovay) is a contemplation of the Arabic lute, bass and percussion with captivating lyra playing. The highlight is Sacred Place (Towner) where the lyra takes you over an azure blue sea in a glittering homophonic and wafer-thin melody. Amazonon – Invisable Cities offers a rich visual sound world where boundaries are effortlessly crossed, giving you a wonderful overview.
Juliano Abramovay: Amazonon – Invisable Cities (TRPTK)
© Mattie Poels.