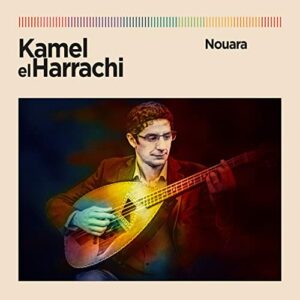 De Algerijnse zanger en componist Kamel el Harrachi nam het oor-verblindende tweede album Nouara op.
English version below
De zanger, componist en mandola-speler Kamel el Harrachi (Kamel Amrani) wordt geboren in Algerije in 1973. Hij groeit op in el Harrach, vandaar zijn artiestennaam. Kamel is de zoon van Dahmane El Harrachi (1926-1980) voor wie hij in 2010 het legendarische album Ghana Fenou (Hij zong zijn lied) opneemt. Het album is niet alleen een ode aan zijn vader, die veel stukken componeerde, maar ook aan de chaabi, de muziek van Algerije. Als Kamel in 1990 naar Parijs verhuist, neemt hij deel aan de chaabi-revival waar ook Rachid Taha en Cheb Khaled toe behoren, waarbij deze laatste in 1996 de wereldhit Aïsha scoorde. Een lied dat ook in Nederland een grote hit werd.
Kamel el Harrachi is een jonge muzikant. Een vernieuwer van chaabi waarmee hij een akoestische mix maakt van de traditionele chaabi en popmuziek. Hij is een bevlogen mandola-speler: een soort grote mandoline. Een instrument dat wordt bespeeld zoals de ûd, de Arabische luit, wordt bespeeld. Losse tonen die met een plectrum worden aangeslagen. Zijn liederen bestaan uit voor- en na-zang die fraai gelardeerd worden met instrumentale stukken op de mandola, aangevuld met viool, contrabas, percussie en af en toe piano. Op het klavier wordt overigens alleen unisono gespeeld; dus geen akkoorden. Zijn teksten zijn gebaseerd op het Zadjal: oude strofische poëzie en wijsheden. Kamel el Harrachi heeft jarenlange podiumervaring, speelde in diverse orkesten en schrijft zijn eigen stukken. Hij is een vakman die met organische bevlogenheid speelt en zingt. Zijn muziek is modern maar heeft de authenticiteit behouden. Dat maakt Kamel een muzikant die zijn verleden eert en met innovatieve passie en ontzag een hartstochtelijke brug slaat tussen het muzikale verleden en heden van de Algerijnse chaabi.
Voor meer chaabi

: klik hier voor 'Treasures of Algiers Chaâbi'.
Klik hier

voor de chaabi jazz van

Koum Tara.
English version
Algerian singer and composer Kamel el Harrachi recorded the dazzling second album Nouara.
The singer, composer and mandola player Kamel el Harrachi (Kamel Amrani) was born in Algeria in 1973. He grew up in el Harrach, hence his stage name. Kamel is the son of Dahmane El Harrachi (1926-1980) for whom he recorded the legendary album Ghana Fenou (He sang his song) in 2010. The album is not only an ode to his father, who composed many pieces, but also to the chaabi, the music of Algeria. When Kamel move to Paris in 1990, he participates in the chaabi revival that also includes Rachid Taha and Cheb Khaled. The latter scoring the world hit Aïsha in 1996. A song that also became a big hit in the Netherlands.
Kamel el Harrachi is a young musician. An innovator of chaabi with which he creates an acoustic mix of traditional chaabi and pop music. He is a passionate mandola player: a kind of large mandolin. An instrument that is played, like you play the ûd, the Arabic lute. Single notes struck with a plectrum. His songs consist of call- and respond-vocals that are beautifully interspersed with instrumental parts on the mandola, supplemented with violin, double bass, percussion and the occasional piano. Incidentally, the keyboard is only played in unison; so no chords. His lyrics are based on the Zadjal: ancient strophic poetry and wisdom. Kamel el Harrachi has many years of stage experience, played in various orchestras and writes his own pieces. He is a craftsman who plays and sings with organic enthusiasm. His music is modern but kept its authenticity. This makes Kamel a musician who honors his past and passionately bridges the gap between the musical past and present of the Algerian chaabi with innovative passion and awe.
For more chaabi:

click here for 'Treasures of Algiers Chaâbi'.
Click here

for the chaabi jazz by

Koum Tara.
Kamel el Harrachi: Nouara (Kamiyad / Xango)
© Mattie Poels.