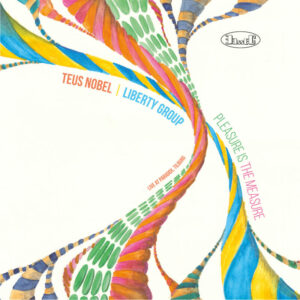 Pleasure is the Measure is de titel van de fantastische CD van trompettist Teus Nobel met zijn Liberty Group, live vanuit podium Paradox in Tilburg.
English version below
Het album Pleasure is the Measure werd live opgenomen in podium Paradox voor een klein publiek van zo'n vijftig man. Deze live-setting heeft zeker bijgedragen aan groepsdynamiek. Wat opvalt is het spel van de musici, dat zo ongelooflijk organisch in elkaar grijpt. Dat komt in de eerste plaats door het heerlijk bewegende drumwerk van Tuur Moens. Met een voortreffelijke timing, strak spel en een fijne souplesse creëert hij een glooiend fundament. Bovendien zit zijn spel vol ghosts-notes. Kleine ritmische versieringen waarmee hij zijn drumwerk verfraait. Samen met het beweeglijke spel van bassist Jeroen Vierdag (voortreffelijke solo in In Fruit) leggen zij een ritmische en organische basis voor pianist Alexander van Popta en trompettist Teus Nobel. Pianist Van Popta is een muzikaal vrij-denker. Hij heeft verzorgd touché en zijn spel is doordrenkt met tegen-ritmes, prachtige versieringen en modale uitstapjes zoals te horen in de solo van Wabi Sabi of zijn eigen compositie Merino (in 7-tels maat). Teus Nobel heeft een sprekende manier van spelen met uitgebalanceerde solo's die doen denken aan Freddy Hubbard. Een directe toon waarmee hij, zonder omhaal, zijn muzikaal verhaal vertelt. Als hij bugel speelt, geeft hij de klank meer ruimte en wordt zijn toon mooi rond en warm van timbre. Pleasure is the Measure: dat is inderdaad waar het om draait. Doen waar je plezier aan beleeft en dat laten deze geweldige musici horen!
English version
Pleasure is the Measure is the title of the fantastic CD by trumpeter Teus Nobel with his Liberty Group, recorded live at the Paradox stage in Tilburg.
The album Pleasure is the Measure was recorded live at the Paradox stage in front of a small audience of fifty people. This live setting certainly contributed to the group dynamics. The interplay of the musicians is striking and so incredibly organically. This is primarily due to the wonderful playing of drummer Tuur Moens. He has excellent timing, tight, with a nice flexibility and moreover his playing is full of ghost notes. Small rhythmic ornaments with which he embellishes his drumming. Together with the lively playing of bassist Jeroen Vierdag (excellent solo in In Fruit), they lay a rhythmic and organic basics for pianist Alexander van Popta and trumpet player Teus Nobel. Pianist Van Popta is a musical free thinker. He has an excellent touché and his playing is infused with counter-rhythms, beautiful ornaments and modal parts, as can be heard in the solo of Wabi Sabi or his own composition Merino (in 7-count measure). Teus Nobel has an expressive way of playing with splendid balanced solo's, which are reminiscent of Freddy Hubbard. A direct tone with which he tells his musical story without further ado. When he plays the flugelhorn, he gives the sound more space and creates a nice, round and warm tone. Pleasure is the Measure: that is indeed what it is all about. Do what you enjoy doing; these great musicians show how!
Teus Nobel: Pleasure is the Measure (Teus Nobel-Music / Pias)
© Mattie Poels.