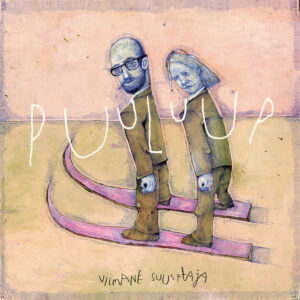 Puuluup is het duo uit Estland/Finland dat op geheel eigen wijze, met nieuw gecomponeerde stukken, refereert aan traditionele muziek op hun album Viimane Suusataja.
English version below
Het duo Puuluup bestaat uit Ramo Teder en Marko Velsson. Twee voortreffelijke zangers die met z'n tweëen een prachtige, pure, ongepolijste meerstemmigheid laten horen op hun derde album: Viimane Suusataja (De laatste langlaufer). Veelal een lage basstem en een hoge tenor. Een fraaie combinatie die, zelfs al zingen ze unisono in octaven, al bijzonder klinkt. Heerlijk authentiek. In de begeleiding horen we naast sample-loops, drums en percussie ook de tal harper. Een viersnarig strijkinstrument dat zowel met strijkstok als ook tokkelend wordt bespeeld. In een ongebreidelde fantasie experimenteren ze met ritmes, timbres en effecten. Zelf zien ze hun muziek als zombie folk. Zo zeggen ze zelf: muziek die gespeeld wordt op dood hout, is geïnspireerd op een dode traditie en de twee muzikanten zijn op weg naar de dood. Een grappig bedoelde metafoor, maar dit geldt zo ongeveer voor alle muziek. Wat dat betreft is de beeldspraak obligaat, maar het brengt wel originele muziek, met open geproduceerde arrangementen met mooie melodieën gebracht met hartstocht en verve. En daar gaat het om!
English version
Puuluup is the duo from Estonia/Finland whose newly composed pieces refer to traditional music in their own unique way on their album Viimane Suusataja.
The duo Puuluup consists of Ramo Teder and Marko Velsson. Two excellent singers who together, show a beautiful, pure, unpolished polyphony on their third album: Viimane Suusataja (The last cross-country skier). Most of the time a low bass voice and a high tenor. A beautiful combination which, even if they sing in unison in octaves, already sounds very unique. Wonderfully authentic. In the accompaniment we hear the tal harper in addition to sample loops, drums and percussion. A four-stringed bowed instrument that can be played with a bow as well as plucked. In an unbridled fantasy they experiment with rhythms, timbre's and effects. They call their music zombie folk. That's how they say themselves: the instruments are made of dead wood, they are inspired by a dead music tradition and we are two musicians who are on their way to death. A metaphor meant to be funny, but it applies to almost all music. In that respect the imagery is obligatory, but it does bring original music, with openly produced arrangements with beautiful melodies delivered with passion and verve. And that's excellent indeed!
Puuluup: Viimane Suusataja (Ōunaviks)
© Mattie Poels.