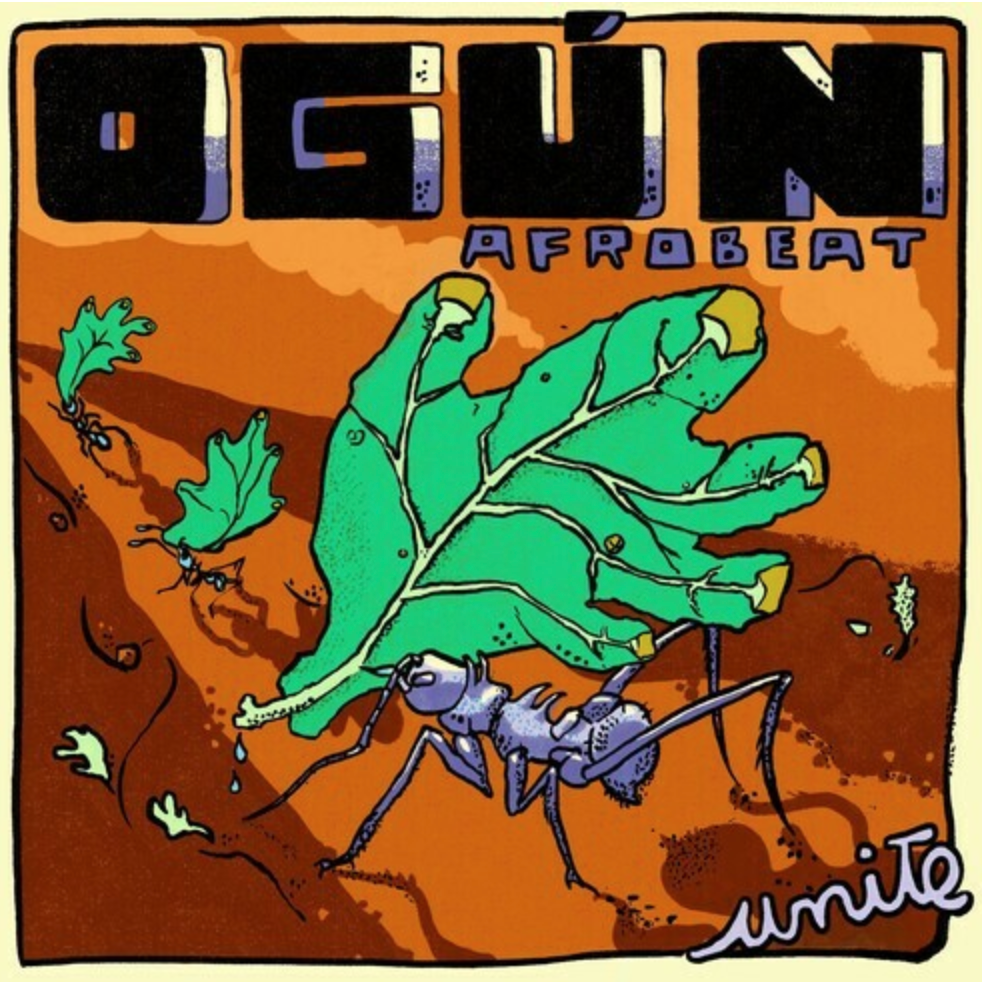 De CD Unité van de band OGÚN Afrobeat is een heerlijk werelds album dat werd opgenomen in Madrid, gemixed in Londen en gemastered in Berlijn.
English version below
Waar muziek is opgenomen, gemixed of gemastered zal de meeste luisteraars een zorg zijn, als het maar goede muziek is. En dat is bij de band OGÚN Afrobeat zeker het geval! Muziek die een breed muzikaal spectrum bestrijkt. De groep bestaat uit tien leden, met o.a. een vijfdelige blazerssectie, bas, drums, gitaar en keyboards. OGÚN Afrobeat is based in Madrid en wordt geleid door de Nigeriaanse drummer en zanger Akindimeji Onasanya (foto rechts). Op het nieuwe album Unité wordt gezongen in het Yoruba, Engels en Spaans en verenigt de groep diverse stijlen met een stevige dosis Afrobeat als basis. Een stijl die in de jaren '60 werd ontwikkeld door de legendarische muzikant Fela Kuti en drummer Tony Allen.
Prachtig hoe de Cubaanse ritmiek van het lied Pastorita zich moeiteloos vleit binnen de Afrobeat, net zoals de Ethiopische klanken in Afroshark. Een lied waarin voortreffelijk wordt gezongen door gast-zangeres Sara Habasha, met een heerlijke jazz-solo op dwarsfluit door Javier Paxariño. In Ashira Dudu wordt de melodie doordrenkt met highlife gitaar-riffs en strakke karakteristieke Afrobeat-loopjes op de baritonsax, gevolgd door een heldere trompetsolo. En dan heb ik het nog niet gehad over het openingslied Orisun en het slotstuk Injustice (met fraaie clavinet). Songs die werkelijk knallen door hun zelfverzekerd timbre, funky feel met strakke baritonsax loopjes. Het stuk Gnawa (heeft niets te maken met de Marokkaanse Sufi) valt op door de synthesizer-sounds van Denis Bilanin, die even lekker soleert met een soort MOOG-sound, gevolgd door fijne orgelstructuren en puntige, repeterende gitaarriffs. Ja en nou is bijna elk nummer van dit energieke album Unité besproken. Maar luister vooral zelf en ontdek de innovatieve, vurige mix van de breed geëxploiteerde West-Afrikaanse-Afrobeat.
English version
The album Unité by the band OGÚN Afrobeat is a wonderfully worldly CD that was recorded in Madrid, mixed in London and mastered in Berlin.
Most listeners will not be a concerned about where the music is recorded, mixed or mastered, as long as it's good music. And that is certainly the case with the band OGÚN Afrobeat! Music that covers a wide musical spectrum. The group consists of ten members, including a five-piece horn section, bass, drums, guitar and keyboards. OGÚN Afrobeat is based in Madrid and is led by Nigerian drummer and vocalist Akindimeji Onasanya (photo left). On their new album Unité the lyrics are in Yoruba, English and Spanish. The music unites in various styles with a strong dose of Afrobeat as a basis. A style developed in the 1960s by the legendary musician Fela Kuti and drummer Tony Allen.
It's wonderful how in the song Pastorita Cuban rhythms flatter effortlessly within Afrobeat, just like the Ethiopian sounds in Afroshark. A song with guest singer Sara Habasha. Her voice is wonderful and superbly, added with a nice jazz solo by flute player Javier Paxariño. In Ashira Dudu the melody is infused with high-life guitar riffs and tight characteristic Afrobeat runs on the baritone sax, followed by a clear trumpet solo. And then I haven't even mentioned the opening song Orisun and the closing piece Injustice (with beautiful & lovely clavinet). These songs are so wonderful in their self-assured timbre, funky feel with tight baritone sax riffs. The piece Gnawa (has nothing to do with the Moroccan Sufi) stands out because of the synthesizer sounds of Denis Bilanin, who solos sound very well with a kind of MOOG sound, followed by fine organ structures and punctual, repetitive guitar riffs. Yes and now almost every song of this energetic album Unité has been discussed. But listen for yourself and discover the innovative, fiery mix of this widely exploited West African Afrobeat.
OGÚN Afrobeat: Unité (Tensegrity / Xango)
© Mattie Poels.