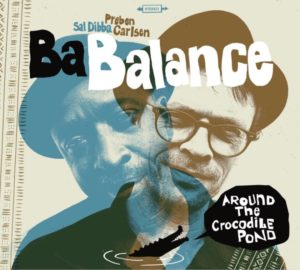 Niet vaak hoor je een CD van een duo dat zo volledig en volwassen klinkt. De Deense gitarist Preben Carlsen en percussionist Sal Dibba uit The Gambia vormen Ba Balance en klinken als een complete band met stevige woestijnrock, blues, pop en zelfs een vleugje folk.
English version below
Duo's zijn er in vele soorten, maar elektrisch gitaar en Afrikaanse percussie is een combinatie die veel minder gangbaar is. Deze vinden we terug in Ba Balance en wordt vertegenwoordigd door gitarist Preben Carlsen en percussionist Sal Dibba.
Preben Carlsen groeide op met de bluesrock in een klein dorp aan de westkust van Denemarken. Hij werkte samen met o.a. de Afrikaanse musici Toumani Diabate, Bassekou Kouyate en Etienne Mbappé en raakte, mede daardoor, steeds meer geïnteresseerd in de Afrikaanse muziek. Percussionist Sal Dibba komt uit Bakau, een kleine vissersplaats in The Gambia (West Afrika). Ook hij werkte samen met kora (West-Afrikaanse harp) speler Toumani Diabate, maar ook met de Nigeriaanse top-drummer Tony Allen. In 2019 besluiten Preben Carlsen en Sal Dibba, na 18 jaar samenwerking, het duo Ba Balance op te richten: de perfecte gitaar / percussie-combinatie.
Het album opent met Djembe. Een krachtige compositie van vervormd gitaarwerk met djembe-begeleiding. Een compositie die aansluit bij de Noord-Afrikaanse woestijnrock. Door het gebruik van effecten als galm, vervorming, delay, looping, tremolo, chorus etc. creëert Preben Carlsen een brede gitaarsound. Hij schreef alle stukken op Around the Crocodile Pond, velen met een link naar West-Afrikaanse muziek uit Mali, maar ook dus naar de Noord-Afrikaanse woestijnrock van de Touareg. Hij wordt daarbij voortreffelijk bijgestaan door Sal Dibba, die thema's omspeelt, accenten moeiteloos ondersteunt en heerlijk poly-ritmische patronen neerzet. De composities zijn zo gearrangeerd dat je geen bas of ander akkoordinstrument mist. Het is juist de suggestie die de muziek spannend en indrukwekkend maakt. Door die suggestie lijkt het alsof je veel meer hoort dan er eigenlijk klinkt. Daarnaast zijn de stukken gevarieerd en Preben Carlsen en Sal Dibba zorgen voor een coherente afwisseling. Zo horen we in Bambadinka ook de kora (de West-Afrikaanse) harp, een 'surfsound' in The Surfer die de melodie over het water laat suizen, Behind the Hills is een groovy stuk in 3-tels maat en is Pretty one een lieflijke compositie met open akkoorden. Around the Crocodile Pond is een fantastisch album: open van sound en vol van kleur. Een aanrader voor de (Afrikaanse) muziekliefhebber!
English version
Not often you hear a CD from a duo that sounds so full and complete. Danish guitarist Preben Carlsen and percussionist Sal Dibba from The Gambia form Ba Balance and sound like a complete band with heavy desert rock, blues, pop and even a touch of folk.
Duos exist in many varieties, but electric guitar and African percussion is a much less common combination. This can be found in Ba Balance and is represented by guitarist Preben Carlsen and percussionis Sal Dibba.
Preben Carlsen grew up playing blues rock in a small village on the west coast of Denmark. He has collaborated with, among others, Toumani Diabate, Bassekou Kouyate and Etienne Mbappé and is increasingly interested in African music. Percussionist Sal Dibba is from Bakau, a small fishing town in The Gambia (West Africa). He also worked with kora (West African harp) player Toumani Diabate, but also with the Nigerian top drummer Tony Allen. After 18 years of collaboration, Preben Carlsen and Sal Dibba decided to start the duo Ba Balance in 2019: the perfect guitar / percussion combination.
The album opens with composition Djembe. A powerful piece of distorted guitar work with djembe accompaniment. A composition that fits in with the North African desert rock. By using effects such as reverb, distortion, delay, looping, tremolo, chorus, etc., Preben Carlsen creates a wide guitar sound. He wrote all the music for the CD Around the Crocodile Pond, many pieces with a link to West African music from Mali, but also to the North African desert rock of the Touareg. He is superbly assisted by Sal Dibba, who effortlessly supports accents and creates wonderfully poly rhythmic patterns. The compositions are arranged in such a way that you don't miss a bass or another chord instrument. It is precisely the suggestion that makes the music so exciting and impressive. That suggestion makes it seem like you hear much more than you actually hear. In addition, the pieces are varied and Preben Carlsen and Sal Dibba provide a coherent variety. In Bambadinka we also hear the kora, the wonderful West African) harp, a 'surf sound' in The Surfer that makes the melody whizzing over the water, Behind the Hills is a groovy piece in 3-beat size and Pretty one is a lovely composition with fine open chords. Around the Crocodile Pond is a fantastic album: open in sound and full of musical colour. Highly recommended for the (African) music lover!
Ba Balance: Around the Crocodile Pond (One World / Xango)
Photo's by Sascha Kajic
© Mattie Poels.