Fraction is het tweede album van de in Bautzen (Duitsland) geboren musicus Maik Krahl. Een trompettist met een warme en lyrische trompetklank. Hij wordt bijgestaan door zijn piano/Fender Rhodes, contrabas, drums-kwartet, in twee stukken aangevuld met gastsaxofonist Seamus Blake.
English version below
Maik Krahl heeft een prachtige trompetklank. Hij speelt zorgvuldig, accuraat met een flamboyante toon. Zijn trompet-klank lijkt op die van een bugel. De trompet met een breder mondstuk en een grotere beker, waardoor de klank wolliger en innemender wordt. Een instrument waar o.a. Chuck Mangione mee zegevierde in zijn Children of Sanchez. Maik Krahl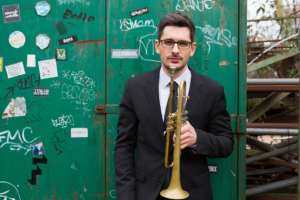 componeerde alle stukken voor zijn nieuwe album Fraction (Fractie). Best een vreemde titel voor een CD van een kwartet dat klinkt als een doorgewinterd geheel. Melodisch heldere composities met uitgebreide thematiek. Composities als Tangent to Tango en Longtime Beauty zijn Maik Krahl's paradepaartjes waarin we een bevlogen trompettist horen die zeer zorgvuldig zijn noten kiest, ze prachtig plaatst en daarmee schittert in vakmanschap. Bijzonder fraai zijn ook de funky stukken als Big Adventure of a tiny Creature (met heerlijk sax-spel van gastmusicus Seamus Blake), het energieke Part of Eternity (met vlammende drums en strak baswerk) en At first Sight met een prachtig geaccentueerde trompet-partij, aangevuld met trompet-vervorming (fuzz) in de solo. Zijn kwartet bestaat verder uit pianist Constantin Krahmer, bassist Oliver Lutz en drummer Leif Berger. Met Fraction bewijst het Maik Krahl Quartet dat er steeds nieuwe voortreffelijke musici aan de horizon verschijnen en dat is geweldig.
English version
Fraction is the second album by musician Maik Krahl, born in Bautzen (Germany). A trumpet player with a lyrical warm trumpet sound. He is assisted by his quartet with piano / Fender Rhodes, double bass and drums, completed in two pieces by guest saxophonist Seamus Blake.
Maik Krahl has a beautiful trumpet sound. He plays carefully, accurately with a flamboyant tone. His trumpet sound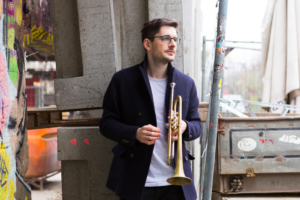 resembles like a flugelhorn. The trumpet with a wider mouthpiece and a larger bell, making the sound warmer and captivating. An instrument on which Chuck Mangione played in his Children of Sanchez. Maik Krahl composed all the pieces for his new album Fraction. A remarkable title for a CD that sounds really complete. Clear melodic compositions with extensive theme's. Compositions such as Tangent to Tango and Longtime Beauty are Maik Krahl's showpieces in which we hear an enthusiastic trumpet player who carefully chooses his notes, places them beautifully and thereby shines in craftsmanship. Particularly beautiful are the funky pieces such as Big Adventure of a tiny Creature (with a wonderful sax playing by guest musician Seamus Blake), the energetic Part of Eternity (with flaming drums and tight bass work) and At first Sight with a beautifully accentuated trumpet part, supplemented with trumpet distortion (fuzz) in the solo. His quartet also consists of pianist Constantin Krahmer, bassist Oliver Lutz and drummer Leif Berger. Fraction is the evidence that good jazz and improvised music, played by splendid musicians, is still worth listening to and great to enjoy!
Maik Krahl Quartet: Fraction (Challenge Records)
© Mattie Poels.