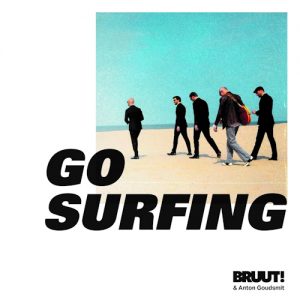 'Go Surfing' is een antwoord van het kwartet BRUUT! en gitarist Anton Goudsmit op de surfsound zoals die in de jaren '60 ontstond in Californië en waar onder andere Dick Dale en vooral The Beach Boys grote successen mee behaalden. 'Go Surfing' etaleert een enerverende en energieke revival van de surfsound.
English version below
Op enthousiaste en doortastende wijze speelt het kwartet BRUUT! samen met gitarist Anton Goudsmit stukken uit het 'surf'-repertoire. In een bezetting van sax, gitaar, hammond orgel, contrabas en drums klinken er frisse arrangementen van klassiekers als King of the surf guitar en een schitterende uitvoering van Surfer girl van Brain Wilson. Maar ook Jolene (van Dolly Parton), een country song en Boogie Stop Shuffle (een jazz-klassieker) van de legendarische jazz bassist Charles Mingus worden op dit album heerlijk omgetoverd tot de surfsound. Waarbij Boogie Stop Shuffle stevig wordt neergezet en zelfs een bigband-sound benadert. Gevolgd door Gringo met een strakke linkerhand van Folkert Oosterbeek op het Hammond orgel. Fraai zijn ook de twee zelf geschreven stukken van BRUUT! die mooi aansluiten op het surf-repertoire. Zoals Brant! met voortreffelijk gitaarspel van Anton Goudsmit met de juiste galm en attack, en Baha waar een grote rol is weggelegd voor saxofonist Maarten Hoogenhuis die zijn instrument zo fantastisch laat galmen met de juiste dosering en vibrato. Het album sluit af met de klassieker Music to watch girls by (van Sidney Ramin). Een compositie die iedereen kent, maar waarvan ook weer…? Oh ja, in die vocale uitvoering van Andy Williams uit midden jaren '60. Op 'Go Surfing' staat dit nummer in een instrumentale versie net zoals alle andere muziek. Heerlijke thema's, voortreffelijke solo's en alles klinkt geweldig in die zo goed-voelende surf sound. Luisteren dus!
English version
'Go Surfing' is a response by the quartet BRUUT! and guitarist Anton Goudsmit to the surf sound that originated in California in the 1960s and with which, among others, Dick Dale and especially The Beach Boys achieved great success. 'Go Surfing' shows an exciting and energetic revival of the surf sound.
The quartet BRUUT! plays with guitarist Anton Goudsmit an enthusiastic and energetic way pieces from the 'surf' repertoire. On saxophone, guitar, hammond organ, double bass and drums they play excited arrangements of classics such as King of the surf guitar and a brilliant performance of Surfer girl composed by Brain Wilson. But also Jolene (from Dolly Parton) a country song and Boogie Stop Shuffle ( a jazz standard) from the legendary jazz bassist Charles Mingus, is played wonderfully firmly on this album and approached even a big band sound. Followed by Gringo with a tight left hand by Folkert Oosterbeek on the Hammond. The two originals of BRUUT! such as Brant! are really beautiful, with excellent guitar playing by Anton Goudsmit with the right reverb and attack. Baha is featured by saxophonist Maarten Hoogenhuis who makes his instrument echo so fantastic with the right touch and vibrato. The album concludes with the classic Music to watch girls by (written by Sidney Ramin). A composition that everyone knows, but of which…? Oh yes, in that vocal version of Andy Williams from the mid-60s. Marvelous! On 'Go Surfing' this song is played in an instrumental version just like all the other music. Great themes, excellent solos and creating the great surf sound. So listen & enjoy!
BRUUT! & Anton Goudsmit: 'Go Surfing' (Munich Records/V2 Records)