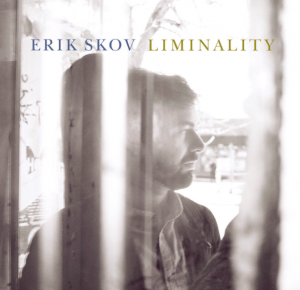 Prachtig debuut-album van de Amerikaanse gitarist (en banjo-speler) Erik Skov die met zijn sextet Liminality een soort landschaps-jazz speelt. In zijn zelf geschreven composities horen we een scala aan fraaie instrument-combinaties waarmee hij luisterrijke klankkleuren creëert.
English version below
Jazzgitarist en componist Erik Skov werkt in de omgeving van Chicago. Hij studeerde aan de Northwestern University/Jazz Studies in 2015 en werkt sindsdien met diverse klassieke en jazzmusici. Zijn debuut-CD nam hij op met zijn sextet Liminality, met saxofonist Dustin Laurenzi, trompettist Emily Kuhn, trombonist Euan Edmonds, bassist Kitt Lyles en drummer Gustavo Cortinas. De naam Liminality komt uit de antropologie en betekent 'het starten van een nieuw proces met bijzonder resultaat'. Een metafoor die uiterst goed past bij deze debuut-CD van Erik Skov. Hij is een gitarist met een nauwgezette timing en sound. Zijn gitaargeluid is fris en helder met een strak en rechtlijnig touché. Skov is een veelzijdig gitarist. Zo heeft hij een ferme klank in Rewake. Een stuk in 3-tels maat waar hij hier en daar polyritmisch over soleert. In Like Sounds horen we hem op akoestische gitaar waardoor hij nog meer subtiliteit etaleert. En zijn spel in Diversion lijkt te zijn geïnspireerd op dat van de legendarische Jim Hall, doordacht en virtuoos. Zijn composities zijn gelardeerd met meerstemmige blazersstukken op sax, trompet (energieke solo in First Light) en trombone (inventieve solo in Traveler's Tale). Bijzonder zijn de daarbij gelijktijdige solo's van de drie blazers. Alsof deze drie instrumenten hun eigen gang gaan en zich niets van elkaar aantrekken: maar gelijktijdig klinkt het als één fraai geheel zoals in het openingsstuk Summer Meditation of Diversion. Dit eerste album van Erik Skov is een dijk van een CD dat een voortreffelijke start is voor een internationale carrière.

English version
Beautiful debut album by American guitarist (and banjo player) Erik Skov, who plays a kind of landscape jazz with his sextet Liminality. In his own compositions, we hear a range of beautiful and instrument combinations with which he creates various sounds and colours.
Jazz guitarist and composer Erik Skov works in the Chicago area. He studied at Northwestern University / Jazz Studies in 2015 and has since worked with various classical and jazz musicians. He recorded his debut CD with his sextet Liminality, with saxophonist Dustin Laurenzi, trumpet player Emily Kuhn, trombone player Euan Edmonds, bass player Kitt Lyles and drummer Gustavo Cortinas. The name Liminality refers to anthropology and means 'starting a new process with special results'. A metaphor that fits extremely well with this debut CD. He is a guitarist with meticulous timing and sound. His guitar sound is fresh and clear with a clean and linear touch. Skov is a versatile guitarist. He has a tight approach in Rewake. A piece in 3-beat size on which he plays a solo polyrhythmically. In Like Sounds he plays acoustic guitar, which means that he displays even more subtlety. In Diversion Erik Skov seems to be inspired by the legendary Jim Hall, thoughtful and virtuoso. His pieces are interspersed with polyphonic wind instruments on sax, trumpet (energetic solo in First Light) and trombone (inventive solo in Traveler's Tale). Special are the simultaneous solos of the three horns. As if these three instruments go their own way and ignore each other: but at the same time it sounds so beautiful as we can hear in the opening piece Summer Meditation or Diversion. This first album by Erik Skov is a absolutely great CD! An excellent start for an international career.
Erik Skov: Liminality  (OA2 Records / Challenge Records)
Photo by Zack Sievers
© Mattie Poels.