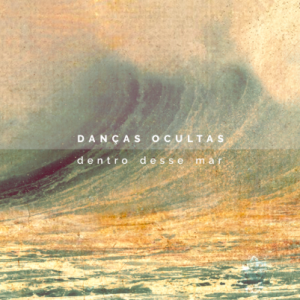 De Portugese groep Danças Ocultas bestaat uit de vier diatonische accordeonisten Artur Fernandes, Francisco Miguel, Filipe Cal enFilipe Ricardo. Met enkele gastmusici spelen zij lyrische muziek, impressionistische folk die doordrenkt is met melancholie, aangevuld met vocale stukken die een grote link met de fado hebben.

 English version below



De vier accordeons van Danças Ocultas staan garant voor melancholische muziek. Subtiel en zinnenstrelend, met een fraaie weemoed die doet denken aan de saudade. Het Portugese collectieve en weemoedige gevoel dat gerelateerd is aan de fado. Op Dentro desse mar (In deze zee) wordt het viertal bijgestaan door zangeres Dora Morelenbaum en haar vader, de cellist (en ook de producer) Jaques Morelenbaum die met zijn cello-spel deze weemoed soms nog wat aanzet. Zoals te horen is in de schitterende instrumentale ballade Bailar em Silencio, waar de klarinet van Tiago Abrantas de melodie ondersteunt met een warme en zachte kleur. Mooi is het mandoline- (mooie tremolo) en cavaquinho-spel van Luis Barcelos in Buzios, aangevuld met de percussie van Robertinho Silva en Marcello Costa (samen gaan ze ook los in Soldado). Fraai zijn ook de twee stukken Caixinha de Música en Soldado in 5-tels maat, die met een schitterend thema je steeds alert houdt door de onregelmatigheid van het ritme. Het stuk Dessa Ilha (mooi gezongen door Dora) heeft een thema dat doet denken aan de Sefardische muziek. De muziek van de verdreven Joden uit Spanje en Portugal eind 15de eeuw. Naast Dora Morelenbaum horen we ook de prachtige stem van Carminho. Een zangeres die een ferme fado-indruk achterlaat. Dentro desse mar is een droom van een CD waar de diatonische accordeons centraal staan. Zij vertellen muzikaal wat er moet worden verteld, en doen dat op zo'n subtiele, oprechte en ingetogen wijze, dat je er stil van wordt.
English version
The Portuguese band Danças Ocultas consists of the four diatonic accordionist players: Artur Fernandes, Francisco Miguel, Filipe Cal and Filipe Ricardo. With a few guest musicians they play lyrical music, impressionistic folk steeped in melancholy, supplemented with vocal pieces that have a great link with the fado.
The four accordions of Danças Ocultas guarantee melancholic music. Subtle and delightful, with a beautiful nostalgia reminiscent of the saudade. The Portuguese collective nostalgic feeling that is related to the fado. On Dentro desse mar (In this sea) these great four musicians are assisted by singer Dora Morelenbaum and her father, the cellist (and also the producer) Jaques Morelenbaum, who puts  some melancholy to the music with his cello. As you can hear in the beautiful instrumental ballad Bailar em Silencio, where the clarinet of Tiago Abrantas supports the melody with a warm and soft color. The mandolin (beautiful tremolo) and cavaquinho played by Luis Barcelos in Buzios is complemented by the percussion of Robertinho Silva and Marcello Costa (together they go wild in Soldado). The two pieces Caixinha de Música and Soldado are also attractive in their 5-count beat, which keeps you alert due to the irregularity of the rhythm. The piece Dessa Ilha (beautifully sung by Dora) has a theme that is reminiscent of Sephardic music. The music of the expelled Jews from Spain and Portugal at the end of the 15th century. In addition to Dora Morelenbaum, we also hear the beautiful voice of Carminho. A singer who put the music into a fado impression. Dentro desse mar is a dream of a CD, where the diatonic accordions are put in the centre of the music. Danças Ocultas tells what musically needs to be told, and they do it in a subtle, sincere and in a modest way that it makes you silent. Great music!
Danças Ocultas: 'Dentro desse mar' (Galileo/Music&Words)
Pictures Pedro Claudio.
© Mattie Poels.