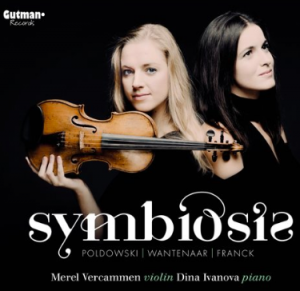 Er is veel muziek gecomponeerd voor viool met pianobegeleiding. Wil je in deze bezetting opvallen, moet je bijzonder repertoire kiezen. En dat is precies wat violiste Merel Vercammen en pianiste Dina Ivanova hebben gedaan. Twee stukken uit de 20ste en één uit eind 19de eeuw.
English version below
Het zijn beslist geen gemakkelijke composities die violiste Merel Vercammen en pianiste Dina Ivanova hebben uitgekozen voor hun debuutalbum 'Symbiosis'. In een aaneenschakeling van melancholische, onvoorspelbare maar vooral doortastende muziek klinken er composities die voortdurend wisselen van timbre. En wat daarnaast bijzonder is, op 'Symbiosis' staat naast de 'Sonate in A Major' van César Franck ook werken van twee vrouwelijke componisten: Mathilde Wantenaar en Irene Regina Wieniawska, alias Poldowski (1879-1932). De CD opent met haar 'Sonate in D minor'. Dit werk is een muzikale vertelling in drie delen waarbij viool en piano elkaar niet alleen schitterend aanvullen maar ook elkaars 'tegenpolen' zijn; waarbij de viool de piano begeleidt maar ook de piano de viool. Deze wisselende relevantie per instrument is bijzonder fraai uitgekristalliseerd door Vercammen en Ivanova. De 'Sprookjes: Musical Tales for Violin and Piano' van de in 1993 geboren Mathilde Wantenaar bestaat ook uit drie delen. Een mystieke trilogie waar Laat-Romantische muziek flirt met de impressionistische signatuur dat klinkt in een mythische gelaagdheid, waarin Vercammen en Ivanova elkaar muzikaal naadloos aanvoelen. Dat horen we ook in de derde compositie, de 'Sonate in A Major' van de Franse componist César Franck die het stuk in 1886  schreef (hij was toen 65) voor de bruiloft van een vriend. Erg mooi is het 'Allegretto poco mosso' en het 'Allegro', het tweede deel waar beide instrumenten een verhaal vertellen van absolute schoonheid, waar trots en voortvarendheid moeiteloos worden ingeruild voor heimwee en verlangen. Een terugkerend bruilofts-thema dat een keerpunt is in ieders leven, waar het jonge paar een verbintenis aangaat en (schoon)ouders hun kinderen 'vaarwel' zeggen. Een nostalgisch gegeven dat prachtig muzikaal werd vertaald door César Franck en weergaloos uitgevoerd door Merel Vercammen en Dina Ivanova.
English version
A lot of music has been composed for violin with piano accompaniment. If you want to be special in this line-up, you have to choose a special repertoire. And that is exactly what violinist Merel Vercammen and pianist Dina Ivanova have done. Two compositions from the 20th and one from the end of the 19th century.
Certainly no easy compositions that violinist Merel Vercammen and pianist Dina Ivanova have chosen for their debut album 'Symbiosis'. In a succession of melancholic, unpredictable but especially energetic music, compositions sound that are constantly changing in timbre. And what is completely special, on 'Symbiosis', besides César Franck's 'Sonata in A Major', is also work composed by two female composers: Mathilde Wantenaar and Poldowski, or Irene Regina Wieniawska (1879-1932). The CD opens with her 'Sonata in D minor'. This work is a musical story in three parts in which violin and piano not only complement each other beautifully but are also each other's 'opposites'; where the violin accompanies the piano but also the piano accompanies the violin. This varying relevance per instrument has been particularly beautifully crystallized by Vercammen and Ivanova. The 'Fairytales: Musical Tales for Violin and Piano' by Mathilde Wantenaar (1993), also consists of three parts. A mystical trilogy where Late Romantic music flirts with the impressionistic signature that sounds in a mythical stratification in which the music fits seamlessly. We hear something similar in the third composition, the 'Sonata in A Major' by the French composer César Franck, who wrote the piece in 1886 (he was then 65) for a friend's wedding. Very beautiful is the 'Allegretto poco mosso' and the 'Allegro', the second part where both instruments tell a story of absolute beauty, where pride and energy are effortlessly exchanged for nostalgia and longing. A recurring wedding theme, because a wedding is a turning point in everyone's life, where the young couple makes a commitment and parents say 'goodbye' to their children. A nostalgic composition that was beautifully musically translated by César Franck and unparalleled performance by Merel Vercammen and Dina Ivanova.
Merel Vercammen & Dina Ivanova: 'Symbiosis' (Gutman Records)
Photo's: Marco Borggreve
© Mattie Poels.