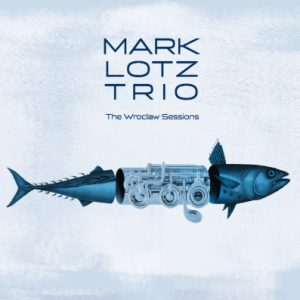 Fluitist Mark Alban Lotz nam de trio-CD 'The Wroclaw Sessions' op met de Poolse bassist Grzegorz Piasecki en drummer Wojciech Bulinski. Op dit album klinkt geen akkoordinstrument, geen piano, orgel of gitaar. Dat geeft veel muzikale vrijheid maar vraagt ook iets meer van de gemiddelde luisteraar…..
English version below
In maart 2018 wordt Mark Lotz na een masterclass en concerten in Polen uitgenodigd door contra-bassist Grzegorz Piasecki om samen met drummer Wojciech Bulinski opnames te maken in Wroclaw. Een stad in het zuiden van Polen waar het trio het album 'The Wroclaw Sessions' opneemt. De omstandigheden zijn niet optimaal. De studio is slecht geoutilleerd, er is weinig tijd en drummer Bulinski is ziek en heeft koorts. Maar het resultaat is er niet minder om. Sterker nog: In der Beschränkung zeigt sich erst der Meister ('In de beperking toont zich de meester'). De stukken wisselen fraai van timbre en ritmiek. Bovendien gebruikt het trio diverse klankkleuren. Zo is het stuk 'Franz' (van Michael Moore) een soort perpetuum mobile-melodie die maar door lijkt te gaan en daardoor bezwerend wordt. 'Raaste Men' (van Lotz en Chaurasia) is een modaal-oriëntaals stuk met een fantastische fluit-solo, met een soort orgelpunt gespeeld op de contrabas; een liggend bas-patroon op steeds dezelfde toon. We horen een prachtig sferische uitvoering van fluit en bas in 'Song for Delilah'. De Afrikaanse klank in 'Pata Pata' laat de muziek ongelooflijk swingen en 'Slap, Kick & Stop' bestaat uit innovatieve fluit-percussie, gevolgd door het funky 'Little Shiva'. Fantastisch hoe deze drie vernieuwende musici met minimale middelen de muziek maximaal neerzetten. Zij verstaan de kunst-van-het-weglaten en spelen alleen dát wat er werkelijk toe doet. Enerverend, inspirerend en innovatief!
English version
Flutist Mark Alban Lotz recorded the trio CD 'The Wroclaw Sessions' with Polish bass player Grzegorz Piasecki and drummer Wojciech Bulinski. There is no chord instrument on this record, no piano, organ or guitar. It gives these musicians a lot of musical freedom but it also requires a little more from the average listener …..
In March 2018, after a master class and concerts in Poland, Mark Lotz was invited by contra-bass player Grzegorz Piasecki to make recordings in Wroclaw with drummer Wojciech Bulinski. A city in the south of Poland where the trio recorded the album 'The Wroclaw Sessions'. The circumstances were not optimal. The studio was poorly equipped, there was little time and drummer Bulinski was ill and had a fever. But the result is no less. In fact, as the German say: 'In der Beschränkung sich erst der Meister' ('In the limitation the master shows himself'). The pieces change beautifully in timbre and rhythm. In addition, the trio uses various sound colors. The composition 'Franz' (by Michael Moore), for example, is a kind of perpetuum mobile melody that seems to go on and therefore becomes enchanting. 'Raaste Men' (by Lotz and Chaurasia) is a modal oriental piece with a fantastic flute solo and a kind of organ point in the double bass: sustained bass notes. We hear a beautiful spherical performance of flute and bass in 'Song for Delilah'. The African sound in 'Pata Pata' makes the music swing incredibly and 'Slap, Kick & Stop' consists of innovative flute percussion, followed by the funky 'Little Shiva'. It is fantastic how these three innovative musicians play music with minimal resources. They understand the art of omitting and only play what really matters. Exciting, inspiring and innovative!
Mark Lotz Trio: 'The Wroclaw Sessions' (Audio Cave)
© Mattie Poels.