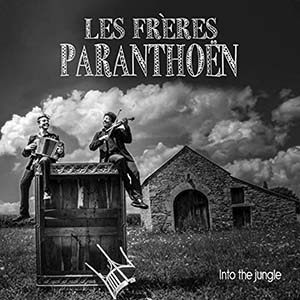 Een duo dat klinkt als een heel orkest, dat zijn Les Frères Parathoën (de broers Parathoën) uit Bretagne. Enerverende folk van violist Alan en zanger/diatonisch accordeonist Youen. Hun debuutalbum 'Into the jungle' is een aaneenschakeling van tintelende West-Franse dans- en luister-folk.
English version below
De broers Alan en Youen Parathoën spelen al zo'n 25 jaar samen in de groep Spontus samen met gitarist Erwan Bérenguer en contrabassist Yann Le Bozec. Als duo horen we Alan en Youen nu terug op de duo-CD 'Into the jungle'. En dat is een hele sprong, om nu met z'n tweeën het muzikale spectrum te bespelen, maar dat doen ze verbluffend goed. Zij benutten de muzikale ruimte volop die ze nu als duo hebben. Op deze wijze komt hun virtuositeit volledig tot z'n recht. Accordeonist Youen heeft een fraaie balg-techniek voor de accordeon (zoals in 'Vivement le retour' met een bourdon-linkerhand!) waarmee hij feilloos de snelle dansloopjes speelt, inclusief versieringen die onmiskenbaar zijn voor de Bretonse folk. Dat geldt overigens ook voor violist Alan. En naast deze Bretonse dans-folk zoals 'Agnus' of 'Into the Jungle' gaan deze vakkundige musici ook op zoek naar zijpaden van de folk. Zo horen we in 'Komz a raer din' en 'Un de oan e bord er mor' een dualiteit tussen zang en viool waarbij beide partijen elkaar fraai aanvullen in een gemêleerde twee-stemmigheid die enigszins doet denken aan de middeleeuwse estampie. Les Frères Parathoën zijn niet alleen echt biologische broers maar ook in de muziek vormen ze 'n eenheid, die na dit debuut-album absoluut naar meer smaakt.
English version
Les Frères Parathoën (the Parathoën brothers) from Brittany is a duo that sounds like an entire orchestra. Exciting folk by violinist Alan and singer / diatonic accordionist Youen. Their debut album 'Into the jungle' is a succession of tingling West-French dance and listening folk.
For about 25 years the brothers Alan and Youen Parathoën have been playing together in the band Spontus with guitarist Erwan Bérenguer and double bass player Yann Le Bozec. As a duo, Alan and Youen can now be heard on the duo CD 'Into the jungle'. And that's a challenge, to fill the whole musical spectrum with just the two instruments, but they are amazing. They use the whole musical range. In this way we can easily hear their love for folk music and their virtuosity. Accordionist Youen has a beautiful bellows technique for the accordion (as in 'Vivement le retour' with a bourdon left hand!). He easily play the fast jumping tones, including the ornaments that are unmistakably for Breton folk. This also applies to violinist Alan. And in addition to these Breton dance folk music such as 'Agnus' or 'Into the Jungle', these skilled musicians search also for other folk inspirations. For example in 'Komz a raer din' or 'Un de oan e bord er mor'. A great duality between the voice of Youen and the violin of Alan in which both parts complement each other beautifully, in a mixed two-part voice that is somewhat reminiscent of the medieval estampie. Les Frères Parathoën are not only biological brothers, but also form a fine unity in music. We look forward for their second album!
Les Frères Parathoën: 'Into the jungle' (Klam-Records/Xango)
© Mattie Poels.