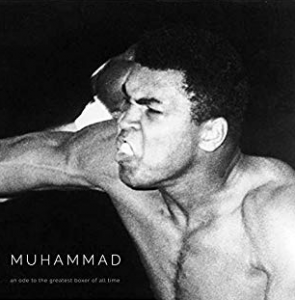 Op 30 oktober 1974 vond in het hart van Afrika een van de meest legendarische bokswedstrijden plaats. Deze wedstrijd tussen  George Foreman en Mohammad Ali vormt de basis voor de muziek van het sextet Ikarai. In een moderne cross-over gaf de groep een concert op 18 oktober 2018 in Hengelo dat nu integraal op de CD 'Ikarai plays Muhammad' is verschenen.
English version below
Wie kan het zich nog herinneren. Begin jaren '70, midden in nacht gingen in Nederland de lichten aan om niets te missen van de boxwedstrijd tussen Mohammed Ali en George Foreman. Die gebeurtenis wordt fraai weerspiegeld in de muziek van Ikarai. De groep speelt letterlijk in een box-ring waar ze een soort muzikaal gevecht met elkaar strijden. Een echte strijd wordt het echter niet, daar is de muziek te melodisch en te harmonisch voor. Toch worden hier en daar flinke muzikale klappen uitgedeeld die refereren aan de box-slagen, aangevuld met de box-bel voor de verschillende 'Rounds'. Ritmische composities worden gelardeerd met korte interview quotes en audio-samples van de voice-over opnames van de boxwedstrijd tussen Ali en Foreman. De teksten passen als een puzzel in de muziek, hier en daar zelfs opmerkelijk mooi ritmisch getimed. In een fraai muzikaal exposé horen we drie strijkers, piano, bas en drums. De prachtige composities werden geschreven door contrabassist Camiel Jansen. Stukken die qua helderheid en structuur aansluiten bij zijn instrumentgenoot Avishai Cohen, herkenbare jazzmuziek met klassieke muziek- en tango-invloeden. Prima gearrangeerd werk met voldoende ruimte voor improvisatie voor o.a. Camiel Jansen en pianist Julian Schneemann. 'Ikarai plays Muhammad' is na 'Fly' het tweede album van dit sextet waarmee de groep een metaforisch frisse brug slaat tussen gearrangeerde en geïmproviseerde muziek.
English version
On October 30, 1974, one of the most legendary boxing matches took place in the heart of Africa. This match between George Foreman and Mohammad Ali forms the basis for the music of the sextet Ikarai. In a modern crossover, the group gave a concert on October 18, 2018 at Hengelo (Netherlands). The full concert has now been released on their CD 'Ikarai plays Muhammad'.
The Dutch people still remember: early 1970s, in the middle of the night, they got up to see the boxing match between Mohammed Ali and George Foreman. That event is beautifully reflected in the music of Ikarai. The group literally plays in a box ring where they fight a kind of musical battle with each other. However, it does not become a real struggle, the music is too melodic and too harmonic for that. Yet here and they create a musical fight that refers to the boxing match, supplemented by the box bell for the different 'Rounds'. Rhythmic compositions are interspersed with short interview quotes and audio samples from the voice-over recordings of the boxing match between Ali and Foreman. These voices fit into the music like a puzzle, here and there even remarkably beautiful rhythmically timed. In a beautiful musical exposé we hear three strings, piano, bass and drums. The beautiful compositions were written by double bass player Camiel Jansen. Pieces that match clarity and structure with his instrumentalist Avishai Cohen, recognizable with classical music and tango influences. Well-arranged work with enough room for improvisation for, among others, Camiel Jansen and pianist Julian Schneemann. 'Ikarai plays Muhammad' is, after 'Fly', the second Ikarai album in which the group builds a metaphorically fresh bridge between arranged and improvised music.
Ikarai: 'Ikarai plays Muhammad' (Eigen Beheer)
© Mattie Poels.