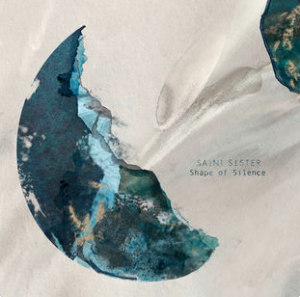 Speelt het duo Saint Sister uit Ierland nou folk of (synth)pop? Nou beiden en het maakt eigenlijk ook niet uit welke stijl ze spelen. Hun muziek is prachtig. Sereen, met fraaie samenzang gelardeerd met sound scape's en een sterk gevoel voor een dromerige sfeer met melodieën die beklijven.
English version below
Het duo Saint Sister, Morgan MacIntyre en Gemma Doherty, wordt opgericht in 2014. 'Shape of Silence' is hun debuut-CD. Een werkelijk prachtig album met teksten over gebroken relaties, emigratie en een jeugd die wordt opgezadeld met een gesplitst Ierland. Niet dat de muziek door dit laatste thema politiek getint is, maar de weemoed druipt er wel van af en maakt de composities sterk en persoonlijk. We horen raakvlakken met het latere werk van Clanned, The Cranberries en flarden Laurie Anderson. De begeleidingen zitten vol computerwerk met sounds, samples, loops en akoestisch harpspel. Smaakvol gearrangeerd, bescheiden en zo nu en dan zelfs fluweelzacht met gemêleerde achtergrond-vocalen. Morgan MacIntyre en Gemma Doherty zingen (soms) hele melodieën tweestemmig waardoor er warme en verbindende melodieën klinken en er een coherent geheel ontstaat. Mooie harmonieën die door de begeleiding innig worden ondersteund. 'Shape of Silence' is een schitterend debuut dat in een oneindige sereniteit subtiel de stilte omarmt.
Concert van Saint Sister op 27 nov. '18 Paradiso Noord / Tolhuistuin
English version
The duo Saint Sister from Ireland play beautiful music. Serene harmonies larded with soundscape. Their music has a strong feeling and a dreamy atmosphere with melodies that keep spinning round in your mind.
Saint Sister, Morgan MacIntyre and Gemma Doherty, was founded in 2014. 'Shape of Silence' is their debut CD. A great album with lyrics about broken relationships, emigration and a youth that has to deal with a split Ireland. Their folk oriented music is not politically, but the sound is lovely melancholic and expressed in strong and personal compositions. We hear common ground with the later work of Clanned, The Cranberries and fragments of Laurie Anderson. The accompaniments are full of computer sounds and samples, loops and acoustic harp playing. Tastefully arranged, modest and sometimes even soft with fine and smooth background vocals. Morgan MacIntyre and Gemma Doherty sing most of the time whole melodies in two vocal parts, so the melodies really connects and a coherent song is created. Beautiful harmonies that are warmly supported by the accompaniment. 'Shape of Silence' is a brilliant debut that subtly embraces silence in an infinite serenity.
© Mattie Poels.