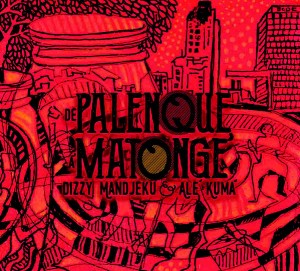 Het album 'De Palenque a Matonge' is een vibrerende cross-over van Afro-Colombinaanse en Congolese muziek. Wie wars is van de  muzikale hokjesgeest zal deze CD omarmen en genieten van de Colombiaanse groep Alé Kumá en de Congolese gitarist Dizzy Mandjeku die zorgen voor een buitengewoon fraaie samenwerking.
English version below
Aanstekelijke muziek gespeeld door vijf Colombiaanse en vier Congolese muzikanten die op zeer innovatieve wijze allerlei stijlen met elkaar mengen en mixen. Het zijn de ritmes die de boventoon voeren en de soukous, rumba, cumbia, son of kaseko verraden; veelal een mix waar stijlen soms per couplet of refrein elkaar afwisselen en je steeds wordt verrast. Een bonte lappendeken van genres die moeiteloos aaneen worden geregen tot dansbare muziek. Gitarist Dizzy Mandjeku is een oud gediende binnen de Congolese muziek. Hij speelde in OK Jazz en werkte samen met Papa Wemba en Papa Noël. Tegenwoordig woont hij in Brussel en kwamen we hem tegen bij de folkzanger Milow, de vocale groep Zap Mama en Stromae. Zijn stijl is fris en zeer ritmisch met een twinkelend gitaargeluid. Dat geldt overigens ook voor de composities, die echt liedjes zijn met pakkende melodieën, strakke solo's en fraaie meerstemmigheid. Wellicht is het even wennen aan deze nieuwe mix, maar wie een avontuurlijk luisteraar is, zal smullen van Alé Kumá met Dizzy Mandjeku die op 'De Palenque a Matonge' alle muzikale paden larderen die zich nog onbegaanbaar waanden.
Concerten in okt. 2018

; 12-10 De Doelen Rotterdam / 13-10 Bimhuis Amsterdam / 14-10 Latin Crossroads / 19-10 4AD Diksmuide
English version
The album 'De Palenque a Matonge' is a vibrating cross-over of Afro-Colombian and Congolese music. For those who are adventurous listeners will love this CD and enjoy the Colombian group Alé Kumá and the Congolese guitarist Dizzy Mandjeku who provide an exceptionally nice collaboration.
Contagious music played by five Colombian and four Congolese musicians who mix different styles in a very innovative way. It is the rhythms that predominate and betray the soukous, rumba, cumbia, son or kaseko; often a mix where styles sometimes alternate each verse or chorus and so you are will be surprised. A colorful patchwork of genres effortlessly strung together into danceable music. Guitarist Dizzy Mandjeku is an old member of Congolese music. He played in OK Jazz and worked with Papa Wemba and Papa Noël. He now lives in Brussels and we met him at the folk pop-singer Milow, the vocal group Zap Mama and Stromae. His guitar style is fresh and very rhythmic with a fine twinkling sound. That also applies to the compositions, which are really songs with catchy melodies, tight solos and beautiful polyphony. Perhaps it will take some time getting used to this new mix, but whoever is an adventurous listener will love the music by Alé Kumá and Dizzy Mandjeku, who combine musical styles on the album 'De Palenque a Matonge' which you didn't expected.
Alé Kumá / Dizzy Mandjeku: 'De Palenque a Matonge' (Zephyrus Records)

© Mattie Poels.