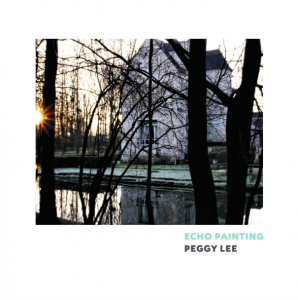 Nee, niet de zangeres maar de celliste en componiste Peggy Lee uit Vancouver (Canada) schreef de muziek voor de schitterende CD 'Echo Painting'. Een scala aan hymne-achtige improvisatorische stukken markeren dit zevende album van een veelzijdige artieste. Opgenomen met een 10-koppige band van 4 blazers, 2 strijkers, 2 gitaren, basgitaar en slagwerk.
English version below
Peggy Lee wordt geboren in Toronto en studeerde cello aan de University of Toronto. Eind jaren '80 gaat ze zich bezighouden met strijkkwartetmuziek en raakt meer en meer geïnteresseerd in crossovers van klassiek en jazz. Ze verhuist naar Vancouver waar ze muziek gaat schrijven voor het EDAM (Experimental Dance And Music) en verbreedt haar muzikale horizon door te werken met musici uit diverse disciplines. Als ze in 2015 wordt gevraagd door Coastal Jazz and Blues Society gaat de improvisatie-wind nog veel harder waaien en stelt ze een band samen van 10 jonge en oudere musici. Voor deze musici schrijft ze de compositie 'Echo Painting'. Een prachtig werk dat zijn première in 2016 krijgt en nu is uitgebracht op CD. De afzonderlijke delen zijn een mengvorm van hymne-achtig werk met gedragen, veelal door blazers gespeelde, melodieën hier en daar doorspekt of vervangen door collectieve 'chaos'. Bijzonder zijn 'Incantation', 'Nice Collection', 'Hymn' en het slotstuk 'The Unfaithful Servant' dat wordt gezongen door Robin Holcomb die met een breekbare stem de aandacht opeist. Fraai is ook de pedal-steel gitaar van Bradshaw Pack in 'Nice Collection' dat zo onverwacht en lieflijk om de hoek komt kijken. Celliste Peggy Lee stelt zich qua cello-spel bescheiden op en is alleen in 'Painting Echo's' duidelijk hoorbaar. Gevolgd door georganiseerde wanorde in het intro van 'Foreground'. De compositorische aanpak van 'Echo Painting' is weliswaar niet baanbrekend maar de composities zijn smaakvol, hartverwarmend en het orkest klinkt hecht, spontaan en oprecht. En dat bezorgt een mens kippenvel, keer op keer!
Full concert at Ironworks Vancouver
English version
No, not the singer but the cellist and composer Peggy Lee from Vancouver (Canada) wrote the music for the beautiful CD 'Echo Painting'. An exposure of hymn-like improvisational pieces marks this seventh album by a versatile artist. Recorded with a 10-piece band of 4 horns, 2 strings, 2 guitars, bass guitar and percussion.
Peggy Lee was born in Toronto and studied cello at the University of Toronto. At the end of the eighties she was engaged in string quartet music and became more and more interested in crossovers of classical and jazz. She moved to Vancouver where she wrote music for the EDAM (Experimental Dance And Music) and broadens her musical horizon by working with musicians from various disciplines. When she was asked by the Coastal Jazz and Blues Society in 2015, she got more interested in improvisation music. For a band of 10 young and older musicians she composed the wonderful piece 'Echo Painting'. A beautiful work which got its premiere in 2016 and is now released on CD. The individual parts are a mixture of hymn-like work with solemn, mostly wind-played melodies here and there punctuated or replaced by collective 'chaotic' parts. Special are 'Incantation', 'Nice Collection', 'Hymn' and the final piece 'The Unfaithful Servant' that is sung by a Robin Holcomb who demands attention with a fragile voice. Also nice is the Bradshaw Pack's pedal-steel guitar in 'Nice Collection', so unexpectedly and sweetly disappearence. Cellist Peggy Lee is modest in terms of cello playing and is clearly audible only in 'Painting Echoes', followed by organized disorder in the intro of 'Foreground'. The compositional approach of 'Echo Painting' is not groundbreaking, but the compositions are tasteful and the orchestra sounds tight and very professional, spontaneous and sincere. And that makes 'Echo Painting' a splendid and lovely record!
Peggy Lee: 'Echo Painting' (Songlines / Challenge Records)
© Mattie Poels.