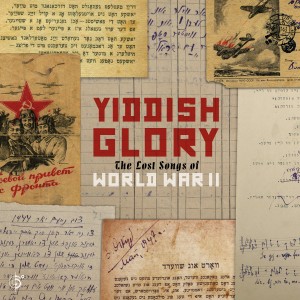 'Yiddish Glory – The Lost Songs of World War II' is een album met een fraaie collectie liederen die werd ontdekt in het voormalig Sovjet archief in Kiev. Verloren muziek en teksten die geschreven werden door Holocaust slachtoffers en overlevenden en nu worden uitgevoerd door musici met een klassieke en folk-georiënteerde achtergrond, met een verbluffend resultaat.
English version below
Tijdens de IIde W.O. werden honderden jiddische liedjes door Moisei Beregovsky verzameld en opgenomen voor het Kiev Cabinet of Jewish Culture. Het project werd echter nooit uitgebracht, aangezien Beregovsky werd opgepakt tijdens het Stalin regime. Per toeval kwam in 2000 Anna Shternshis, professor aan de University of Toronto, in aanraking met deze muziek en besloot in samenwerking met producer Dan Rosenberg de muziek uit te brengen. Het resultaat is een aaneenschakeling van jiddische juweeltjes, uitgevoerd door o.a. de leden van het Russisch Gypsy trio Loyko, de accordeonist (bajan) virtuoos Alexander Sevastian en de vocalisten Psoy Korolenko en Sophie Milman. Gezongen wordt er in het jiddisch, een aan het Duits verwante taal, geschreven in het Hebreeuws van rechts naar links. Liederen over de ondergang van Hitler, het vaarwel zeggen om naar het front te gaan. Een lied over het vasthouden van machinegeweer om de vijand (de Duisters) te doden en een tekst over het werken in een oorlogstuig fabriek. Fraai is het vioolspel van Sergei Erdenko (van trio Loyko) die mooi zijn Roma-achtergrond laat doorklinken in zijn spel. Het album 'Yiddish Glory – The Lost Songs of World War II' is verdeeld in twee soorten muziek: de dans georiënteerde ritmische stukken, gezongen door Psoy Korolenko die met zijn 'trotse' wijze van zingen de muziek fier en indrukwekkend laat klinken. En de ballade-achtige liedjes die worden gezongen door de heldere stem van Sophie Milman, zoals het loflied voor 'Kazakhstan' en 'Shpatsir in Vald'. En dan zijn er ook nog drie stukken waarop Isaac Rosenberg (12 jaar) te horen is, die door zijn jonge stem een onschuldig teint toevoegt. Het album 'Yiddish Glory – The Lost Songs of World War II' illustreert een weerspiegeling van een wrede tijd die door middel van deze mooie melodieën enigszins draagbaar werd en de geschiedenis hoorbaar maakt voor nieuwe generaties.
English version
'Yiddish Glory – The Lost Songs of World War II' is an album with a fine collection of songs discovered in a former Soviet archive in Kiev. Lost music and lyrics written by Holocaust victims and survivors and now performed by musicians with a classical and folk-oriented background, with a stunning result.
During W.O. II hundreds of Yiddish songs were recorded and collected by Moisei Beregovsky for the Kiev Cabinet of Jewish Culture. Beregovsky was arrested during the Stalin regime, so the project was never released. By accident Anna Shternshis, professor at the University of Toronto, came in contact with this music. In 2000 she decided to relaunch the music in collaboration with producer Dan Rosenberg. The result is a succession of Yiddish jewels performed by, among others, the members of the Russian Gypsy trio Loyko, the accordionist (bajan) virtuoso Alexander Sevastian, and the vocalists Psoy Korolenko and Sophie Milman. The lyrics are in Yiddish, a German-related language, written in Hebrew from right to left. Songs about the 'demise of Hitler', 'saying goodbye to go to the front'. A song about 'holding machine guns to kill the enemy' (the Germans) and lyrics about 'working in a factory of weapons'. The Roma background of violin playing by Sergei Erdenko (from trio Loyko) is really beautiful and gently marks his playing. The album 'Yiddish Glory – The Lost Songs of World War II' is divided into two types of music: the dance oriented rhythmic pieces, sung by Psoy Korolenko who gives the music a proud and impressive sound. And the ballad-like songs that are sung by the clear and wonderful voice of Sophie Milman, such as the song of praise for 'Kazakhstan' and 'Shpatsir in Vald'. And then there are also three pieces by the young singer Isaac Rosenberg (12 years old), who adds an innocent complexion. The album 'Yiddish Glory – The Lost Songs of World War II' illustrates a cruel time that became somewhat portable through these beautiful melodies and so this history becomes audible for new generations in a splendid way!
Yiddish Glory The Lost Songs of World War II (Six Degrees)
photo Roman Boldyrev
© Mattie Poels.